We sat down with Eric Meloche, Director of Food & Beverage and Culinary at Al Bustan Palace, a Ritz-Carlton Hotel in Muscat, to discuss his long-standing career with Ritz-Carlton outlets across the globe, and how the hotel's commitment to sustainability has resulted in Eric and his team sourcing their ingredients from local landmarks.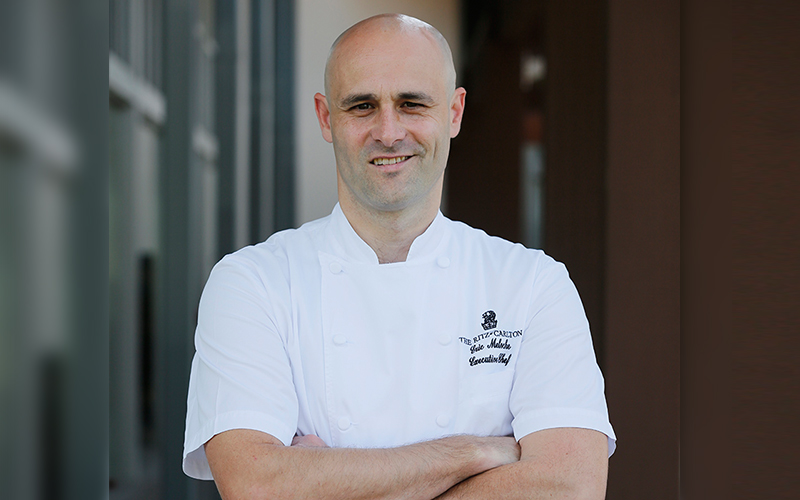 Can you tell us more about the outlets you oversee at Al Bustan Palace?
Al Khiran Kitchen is our indoor and outdoor dining restaurant serving buffet breakfast and international dinner buffet daily, including a themed Seafood Night on Thursday, and an Arabic Night on Friday.
Our specialty restaurant set by the sea, Beach Pavilion Bar & Grill, serves the freshest local produce and seafood. Guests can book a private cabana for a magical dinner experience under the stars, or try the seasonal Friday Brunch.
For those looking for a taste of Asia, our award-winning Chinese restaurant, China Mood, serves up an authentic menu prepared by expert chefs.
Turkuaz is a pop-up Turkish restaurant serving a la carte specialties, along with Turkish tea and coffee. This is a newly introduced concept in the Sultanate and we hope it will attract a new segment of guests to come and enjoy dining with us.
BLU Bar offer light snacks and refreshing beverages throughout the day by the pool, and the majestic Atrium Lounge serves a selection of teas, and the acclaimed Afternoon Tea offering.
Out of the six outlets, which is your favourite and why?
It really depends what I am craving!  Each of our restaurants has a specific character, feel, and its own personality. I really do like them all. If I want Peking duck, then I go to China Mood. For a nice cut of meat or delicious fresh seafood platters, I opt for Beach Pavilion Bar & Grill, our beachfront venue. If I am out with my family, then we would go to Al Khiran Kitchen to enjoy a lavish buffet and great options for children. Having said that, at the moment I am mostly tempted by Turkuaz, our newly-launched Turkish pop-up restaurant. It serves authentic Turkish cuisine prepared by our Turkish chefs, including visiting chefs from The Ritz-Carlton, Istanbul.
What signature, must-try dishes can we expect to find on the menus?
At Turkuaz, signature dishes include 'Icli Kofti' – better known as stuffed meatball, 'Etli Manti', traditional dumplings, 'Adana Kebab', hand-minced meat kebab mounted on iron skewer and grilled on charcoal and the famous 'Firin Sutlac', rice pudding. After dinner, guests can immerse themselves in a daily cultural practice and sip on Turkish tea which in Turkish tradition is offered to others as a sign of friendship.
Are there any offers that our readers should be aware of that are happening currently at any of the outlets?
We are excited to announce 'Super Brunch' at Beach Pavilion Bar & Grill on April 5th 2019,  which is an enhancement to our regular Friday Brunch, with extended seating space in the gardens and on the beachfront, more opportunities to experience our show cooking specialties, and exciting family entertainment. This will truly be a unique event and a fantastic way to close the brunch season.
We have also reintroduced 'Arabic Nights' at Al Khiran Kitchen on Fridays which are proving quite popular. Our guests coming from all around the world and across Muscat enjoy this succulent buffet and our Arabic specialties, including shawarma, live cooking stations, mouthwatering kunafa among other delicious options.
Tell us more about the creation of "Cat Island Sea Salt" and how this came about.
When you are at the hotel, you are surrounded by majestic mountains and the pristine waters, therefore connecting our culinary offerings with the environment comes very naturally and falls in line with our commitment to sustainability.
'Cat island' (famously known as it resembles a cat) is a popular diving location just on the shores of the resort, known for its rich marine environment. We tested water for the site and made a batch of seasalt that was successful, and this is how "Cat Island Sea Salt" was born.
Are there any other exciting projects that you're working on currently? 
We recently launched a new menu at our award-winning restaurant, China Mood. It includes set menus, dim sums and wok creations. We are also working on launching our own in-house honey. Right now, we have two hives at the resort (away from the guest facilities) and we look forward to our first harvest!
Can you briefly summarise how your cooking career has led you to where you are today?
Throughout my career, I was fortunate to be able to work and travel across the world. Oman is the fifth country I live in. I must say I have had great mentors and worked with fantastic professionals who have played a role in shaping me as a Chef.
You've worked in kitchens all over the world. How does running a kitchen in Oman differ from experiences you've held elsewhere?
Kitchens are similar all over the world, however the Sultanate has a rich food culture, and it's always exciting to learn something new in the kitchen. I am grateful to the Omani chefs who I gotten to know, where we have had the opportunity to showcase Omani cuisine in the best possible way. Our culinary team is fortunate to have such abundant local products to work with.
Have you had any kitchen nightmares during your career?
When I was working in Florida, at The Ritz-Carlton, Amelia Island, there was a hurricane approaching the resort, while our hotel was fully occupied. The hurricane was eventually downgraded to tropical storm, however we lost all power in the hotel kitchens. We quickly found ourselves having to improvise and cook outdoor, under the pouring rain, using propane. You can imagine that the umbrellas we used were no use as they were blown away by the wind, we were all soaking wet while trying to cook whatever we could for our in-house guests. This will always remain as one of the most memorable experiences of my career.
What are your favourite ingredients to cook with and why?
I most enjoy working with fresh vegetables, for all the opportunities they offer.  California was amazing for this.  The farmers market culture is thriving there, and you can find incredible fruits and vegetables sometimes available for only one month or two. As a chef, this allows a lot of creativity and fun in the kitchen, with endless opportunities for tasting menus, seasonal dishes. It's a chef's dream.
Your favourite place in the world to visit for culinary offerings and why?
San Sebastian, for their generosity and their friendliness. I went there once looking for inspiration and to explore the tapas culture, and I was blown away by the positive vibes this destination showcases. I remember sitting at a counter in a tapas bar, asking our neighbor what they were having, as it looked appealing. The next thing I know, the chefs were bringing full plates of the dishes to our table, excited for us to try them.
What has been your fondest culinary experience to date?
Professionally, taking part in a Make-a-Wish event in California, when I was working at The Ritz-Carlton, Half Moon Bay. There was a citywide event organized with more than 50 restaurants participating, preparing their signature dishes. Guests attending the dinner did not know in advance which dish (from which restaurant) they would be eating, it was a total surprise. The concept was epic, something that really struck me, and it was for a cause that is tied up to our company culture, which made it even better.