Sponsored: In an exclusive interview with Chef Antonio Bachour, we delve into the exciting pastry event at The Lotus Lounge, and his passion for creating exquisite treats infused with the finest Dilmah teas.
This tantalising pastry pop-up is presented by Anantara The Palm Dubai Resort in collaboration with Dilmah, bringing none other than the renowned Chef Bachour to the forefront from November 10. Look forward to Chef Bachour's creations matched with an exclusive range of herbal brews as well as infused beverages – a refreshing, imaginative complement to the desserts.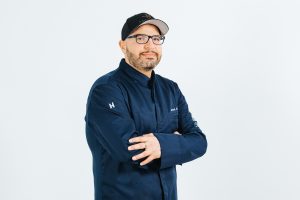 Can you share your journey to becoming a world-renowned pastry chef?
From a tender age in my family's bakery in Puerto Rico, I embarked on a culinary voyage that honed my pastry craft in local hotels before expanding to prestigious roles in Miami and New York, including a formative stint at Talula and Scarpetta. My tenure as Executive Pastry Chef at St. Regis was marked by innovation, earning me recognition as one of America's top pastry chefs and culminating in being awarded The Best Pastry Chef in the World in 2018 and 2022.
My creations, featured in distinguished culinary publications and my seven pastry books, are the result of collaborations with luminaries like Massimo Bottura and Joan Roca. I continue to share my passion through my restaurants and global pastry classes, blending traditional techniques with international influences to inspire and excite palates across the world.
You've received several prestigious awards in your career, including being named the world's best pastry chef. What do you think sets your pastry creations apart from others?
The distinction in my pastry creations comes from a relentless pursuit of innovation paired with respect for classic techniques. I believe in using the finest ingredients, precise execution, and an artistic presentation that makes each dessert not just a treat but an experience.
Can you provide insight into your creative process when developing new pastry creations?
My creative process is a blend of science and art. Inspiration can strike from anywhere—nature, travel, or even a cup of tea. It involves a lot of experimentation, tasting, and refining to ensure that the final product is both aesthetically pleasing and gastronomically delightful.
You're participating in a pastry pop-up event with Anantara The Palm Dubai Resort. What can attendees expect from this event, and what inspired the collaboration with Dilmah?
At the Anantara The Palm Dubai Resort pop-up, guests can expect a sensory journey that celebrates the intersection of tea and pastry. The collaboration with Dilmah was inspired by the opportunity to infuse their fine teas into my creations, bringing a unique dimension of flavours for guests to enjoy. Attendees can expect delectable tea-infused mocktails, and of course, some of my artistic creations to pair with their special afternoon tea.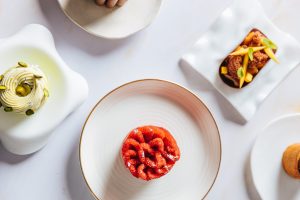 Your desserts incorporate Dilmah teas. Can you share some insights into how you've incorporated these teas into your desserts, and what flavour combinations can attendees look forward to?
Incorporating Dilmah teas into my desserts, I look to balance and complement the tastes allowing for a more unique flavour profile. For instance, a robust tea pairs wonderfully with the richness of chocolate, while a lighter, aromatic tea can elevate a fruit-based dessert.
Which is your favourite creation on the menu and why?
My favourite creation on the menu has to be the Mont Blanc Tart. It's a classic with a twist, embodying the essence of my pastry philosophy There's something truly magical about the blend of textures and flavours in this dessert. The sable dough provides a perfectly buttery and crumbly base that contrasts exquisitely with the rich, nutty notes of the chestnut frangipane. The chestnut spread layers in a velvety depth, while the vanilla-flavoured chestnut vermicelli cream adds a luxurious and aromatic dimension that elevates the tart. Topped with the delicate sweetness of the maroon candy, each bite is a harmonious symphony of taste and a testament to the craftsmanship of pastry art.
How do international experiences influence your pastry creations, especially in a place as culturally diverse as Dubai?
My international experiences have been instrumental in shaping my pastry creations, infusing them with a blend of global influences while showcasing the diversity of flavours that a melting pot such as Dubai offers. From the precision I learned in Puerto Rico to the sophisticated palates catered to in New York and Miami, every place I've worked has added a layer to my culinary approach.
This has allowed me to embrace and celebrate the variety of tastes and textures in my desserts. Dubai's cultural diversity inspires me to continually evolve, using exotic ingredients, unique pairings, and innovative techniques that resonate with an international clientele. Each creation is a reflection of a journey – not just my own, but also that of every guest who discovers a sense of place and memory in every bite.
The Lotus Lounge. November 10-12, from 2-5pm. AED225 per person including tea, coffee, and specialty pastries. AED290 per person including tea, coffee, and specialty pastries with two glasses of sparkling grape. AED340 per person including tea, coffee, and specialty pastries with unlimited sparkling grape. AED590 per person including tea, coffee, and specialty pastries with unlimited bubbly. Call +9714 567 8304 or email restaurants.dubai@anantara.com.