Sponsored: Qwerty has announced the arrival of Michelin-starred Chef Tomás Gormley, co-owner and joint Chef Director of Heron in Edinburgh, Scotland, who will be bringing his culinary expertise to the city
Look forward to a memorable dining experience with two distinct menus themed under "The Best of British with a Michelin Twist" to elevate the current spectacular offerings at Qwerty and contribute to the upcoming "Qwerty Best of British Summer Program". The exciting collaboration further includes the Ladies' tasting menu special showcasing signature dishes such as Beef Wellington Michelin-style, Hispi cabbage, Watercress veloute, Summer vegetable, and one of the amuse bouche featuring Cured mackerel, squid ink, cod's roe and wasabi.
With an impressive culinary background spanning the now-closed Le Roi Fou, the two-star Andrew Fairlie at Gleneagles, and 21212 during its Michelin-starred era, Tomás Gormley has honed his skills across some of the nation's renowned restaurants. Notably, as the head chef at The Lookout by The Gardener's Cottage, Tomás was recognized as one of the six UK chefs to watch at The Staff Canteen Awards 2020. Tomás and his restaurant partner, Sam Yorke, currently hold the distinction of being the youngest chefs in Scotland to attain a Michelin star for their restaurant, Heron.
Ahead of the highly-anticipated event, we speak to Chef Tomás Gormley on everything to look forward to at Qwerty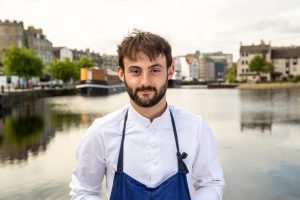 How did you get started in the culinary field?
I started cooking in a cafe after having spent a few years away from Edinburgh studying, I never really planned on working in kitchens, just needed a job and that's all that was available to me at the time! Once I realised this was a career, I could really take myself forward with I kept pushing myself to work in the best kitchens I could.
How do you feel about bringing your culinary expertise to Dubai for the special event? 
Excited for sure, I've visited Dubai a few times but always as a guest. I'm looking forward to coming here and cooking with a new team in a different space.
What excites you most about showcasing your skills and dishes to the Dubai audience?
The culinary scene in Dubai has grown so much over the last couple of years and I think the standard of cooking here is really taking off, to get to cook for a new audience is always a real pleasure.
Given the theme of the event and the special dishes you'll be preparing, what kind of experience do you hope to create for guests attending?
I'm hoping that people really get to enjoy themselves with friends, family and good food. Scottish produce is really important to me so to be able to showcase that here is something I'm really looking forward to.
What are the two special main dishes that you will be curating for the Ladies' Night?
Everyone loves a Wellington, don't they? I'm not doing anything too crazy with it, just a well-prepared Wellington and a fricassee of girolles, peas and broad beans. These are the things we're enjoying back in Scotland just now so I wanted to bring a little of that with me.  For vegetarians, I'm cooking Dill brined hispi cabbage with Watercress veloute and fresh Summer vegetables.
What are your thoughts on the F&B scene in the Middle East?
I think it's an incredible destination for food. My fiancée is from Syria and grew up in Dubai so I get to eat and learn many Middle Eastern dishes. Dubai has such a diverse range of restaurants, open all hours, it's a food culture I can really get behind.
What dishes can diners expect in the four-course set menu? 
I've tried to showcase the produce that's at its very best in Scotland and the rest of the UK right now. So I'll be using a range of ingredients that I love using this time of year. Isle of Wight tomatoes are one of my favourite things in the world, so I'll be serving them peeled with a tomato, strawberry, lemongrass gazpacho, and whipped crowdie, a Scottish soft cheese.
Would you consider opening a restaurant in Dubai and can you tell us about your future endeavours?
Never say never! I have family out here now so if the right opportunity presented itself I'd give it a go. Right now, I'm focussing on our second restaurant 'Skua' in the Stockbridge area of Edinburgh. It's a bit more casual than Heron, with small plates and an exceptional drinks programme.
Ladies Tasting Menu. June 21. 6pm-11pm. With any main course purchased, women can avail two hours of beverages and a complimentary amuse-bouche tasting menu. For men, AED159 for main course and two beverages.
Interactive Dinner. June 22. From 7:30pm. AED199 per person including concoctions. Call +97152 144 7348. Visit Instagram.