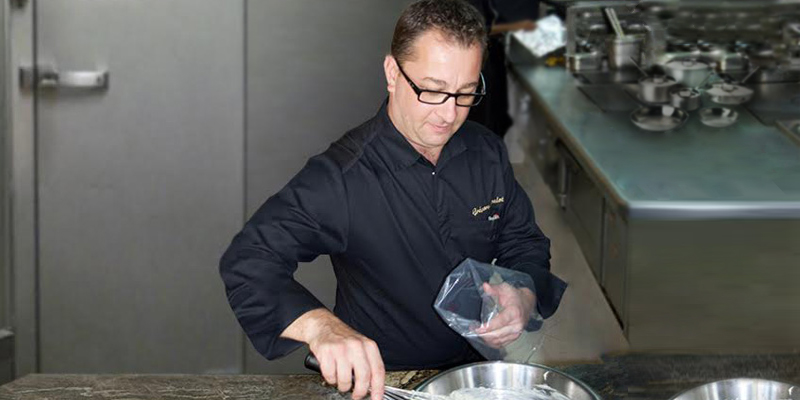 In your opinion what are the most exciting up and coming trends with Japanese cuisine?
Probably seeing Japanese people start to open their minds towards their cuisine. They have been doing internships and trainings in Europe for years, but you are only now seeing Japanese chefs fuse western flavours into their cooking styles. The influence of the Michelin Guide in Japan is one of the elements that is helping to push this.
What's your personal signature dish?
Without a doubt I would say the "Ebi no Gyoza, prawn, banno negi, watercress & wasabi dressing" and "Foagura, foie gras & shiitake gyoza, mushroom & ginger essence". These are both extremely unique dishes you will not find on any other menu in Dubai.
If you could only have four ingredients in your cupboard, what would they be?
Shichimi Togarashi for the complexity of its flavors and spices once roasted, fresh Sansho Leaves to prepare a Japanese pesto with udon noodles, Yuzu Skin due to my passion for citric flavours, and olive oil.
Which chef do you admire?
From Japan, I really admire Jiro Ono for his dedication to the art of sushi. He is not a Chef or a restaurant owner but a real food lover and is dedicated to his passion and work. From Europe, I would say I most admire Jacques Chibois, as he taught me how to be the Chef I am today, and I really remember his advice and lessons every day.
Which talent would you most like to have that you don't possess?
My list would be extensive, as I don't think I have that many talents! All I know is how to understand and work with the ingredients I have in front of me.
On a personal level, what qualities that you possess have contributed to your success?
Probably my determination and the fact that I never give up, always fighting to achieve my goals.
What do home cooks tend to get wrong when making sushi?
That's easy -the rice. This is the most complicated part in making sushi, as each step is key to its success, including the soaking, cooking, seasoning, mixing, cooling and storing. You need to practice this many times to perfect the texture, consistency, flavor & temperature.
Is there one food that you're secretly obsessed with having at home?
I always dream about having tuna loin from Tokyo Tsukiji Market at home.
Which ingredient do you hate to work with?
All processed products in general, which is why every ingredient we use at Kyo is homemade from scratch.
In your opinion, what do many home cooks get wrong when making Japanese cuisine?
They go wrong when they start thinking that Japanese cuisine is limited to sushi and mixing soy sauce with wasabi. It's a question of culture habits and education, and takes years to understand exactly how to perfect the Japanese taste, but its really worth the time and effort.