With the 51st National Day here, we highlight the incredible work of Emirati talent in the F&B culinary industry.
This UAE National Day, BBC Good Food Middle East speaks to the region's renowned Emirati chef and restaurateur at LENTO, Faisal Naser, on his love for Emirati cuisine and the shift in the culinary scene since he first made his way into the industry.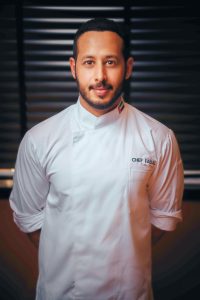 What do you love the most about Emirati cuisine?  
It's very special. It has an Indian and Persian influence as well as Bedouins' minimalistic approach with ingredients, it's hearty and tops the list of comfort foods. 
An Emirati dish that holds a special memory for you and why? 
One of my favourite dishes is a classic Arabic stew called Saloona, a thick fish stew packed with flavours from spices, dill and black lime. It was my dad's trick of making me eat fish as I never liked seeing the whole fish as a young kid. He would flake the fish into a small bowl, cover it with stew and tell me it was chicken.  
How has the UAE's culinary scene evolved? 
Growing up in the 80s I have seen it change a lot, people had limited options – the shawarma shops and the Levantine cuisine, and a few burgers and pizza brands came later in the 90s. Now, name a cuisine that you will not find authentically serving great food in the UAE? Thai, Vietnamese, Korean, Italian, French, Japanese – you name it! And it's not made for specific communities but everyone wants to have a bite and try. It's wonderfully evolving.