Emirati chef and restaurateur, Faisal Naser, has launched LENTO Dubai starring a brand-new menu and a minimalist-industrial look
LENTO, which translates to 'slow' in Spanish, has opened its second dining destination in the UAE, in Dubai. Following the success of LENTO Abu Dhabi by Emirati chef and restaurateur, Faisal Naser, featuring artisanal smashed burgers and scrumptious fried chicken, the Dubai-based setting is an evolution of Naser's culinary curiosity.
Apart from LENTO Abu Dhabi's specials, LENTO Dubai will also offer globally-inspired dishes that will be showcased as limited-edition specials.
A teaser of these specials include Aji amarillo prawns (Peruvian yellow peppers and prawn bisque), Seafood paella (monkfish & prawns), Chiu chow chili wings (with fermented honey), Honey lasagna and Emirati fish n chips (battered fish, Emirati masala sautéed veg, triple cooked chips, tamarind and black garlic aioli with grated lumi) – a dish which he once cooked with Anthony Demetre (chef and owner of UK Michelin-starred restaurant Wild Honey).
Highlight burgers include the Mushroom & Swiss (double patties of grass-fed wagyu, LENTO spice umami spice rub, double Swiss gruyere cheese, caramelised onions, brown butter and porcini aioli, caramelized onions), Honey butter fried chicken (local fresh fried chicken dipped in fermented honey and butter emulsion with ranch coleslaw, cheese) and Picante umami (double patties of grass-fed wagyu, smashed American cheese, green salsa, spicy umami sauce, shallots & chopped jalapeños).
Desserts include Naser's take on French toast, Lentoast (French toast of creme anglaise, yuzu and salted caramel gelato), alongside his highly addictive Brownie box (six indulgently fudgy brownies made with Valrhona chocolate).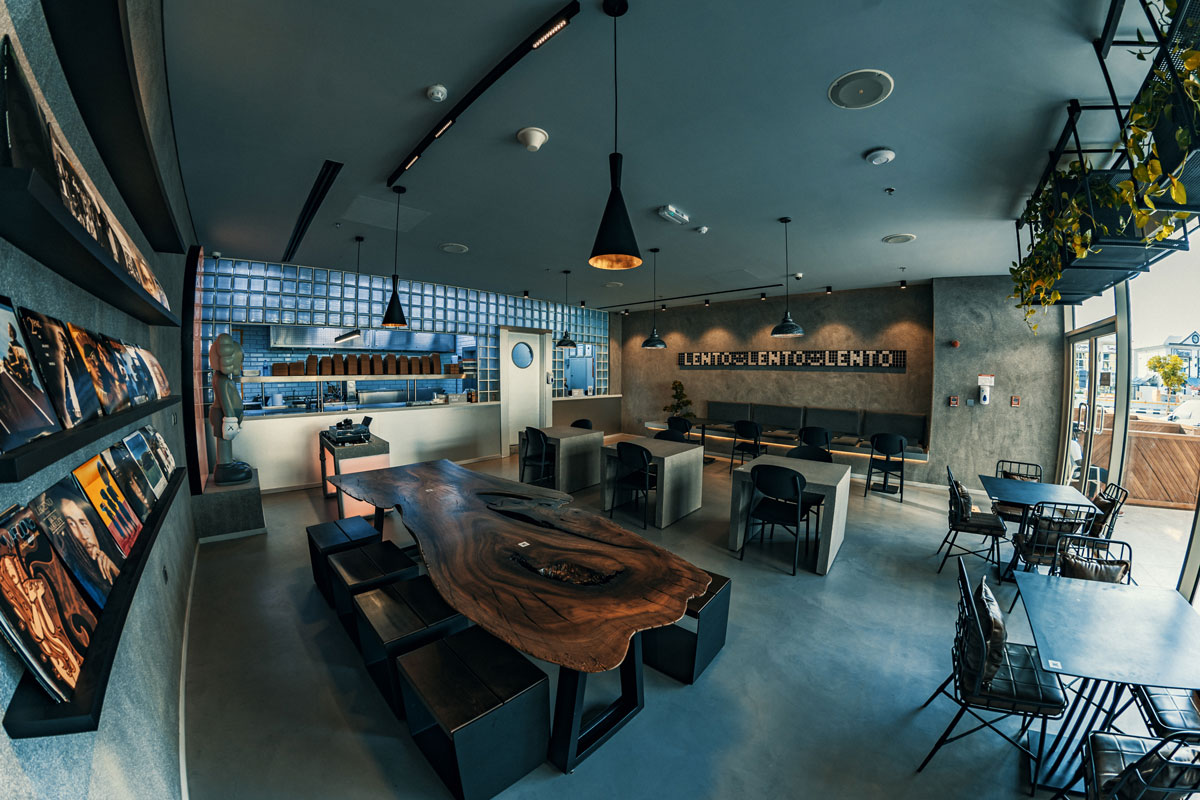 The 30-cover restaurant showcases a minimalist-industrial look. The monochromatic grey palette is complemented by plush tan leather, repurposed wood and wild foliage. Standout elements of the sleek interior include the KAWS-inspired sculpture situated at the DJ booth and hip-hop vinyl records displayed on the wall.
LENTO represents how Naser likes to take his time when in the kitchen. Naser states, "My ethos is quality over quantity and therefore artisanal over commercial. I believe that the best flavours come from slow preparations. At LENTO I use the same concept in the fast-food frame. We make 90 per cent of all ingredients from scratch. The menu and food look simple but there's a lot going on in each dish. In my cooking, I make sure there is always a slow element or slow condiment in everything I cook – black garlic, aged cheese or special homemade vinegar."
 LENTO Dubai, situated at 2 Al Wasl Road, is open for dine-in and collections. Visit Instagram.