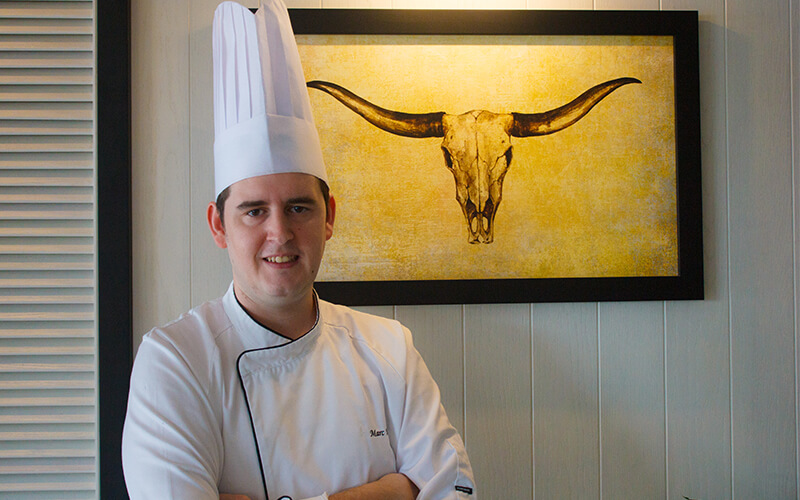 What can our readers expect from the dining experience at Bebemos?
People that will come to Bebemos will experience traditional food and drinks from Barcelona.  From the dishes' presentation to the Joan Miro wall paintings, Bebemos will take you to a journey to you straight to the Barcelona atmosphere. Every single detail has been thought through to make the experience as authentic as possible.
We'd love a sneak preview of the menu. What signature, must-try dishes would you recommend?
Every one that will come to Bebemos must try our croquetas, which come in three different flavours. Using a traditional recipe with a creamy texture, guests can enjoy the full taste of the main ingredient. Paellas will be a highlight on the menu, transporting diners to the feeling of sharing this dish on the seafront – just like in Barcelona.
Are there any offers that will take place in the coming months that our readers should know about?
The opening of Bebemos will come with a lot of surprises.  On the terrace, guests can expect a large-scale, live paella station, served alongside popular Spanish drinks and tapas pairings. We will also host special nights to spotlight Spanish culture, plus lots more.
How has your extensive career working in Barcelona influenced the Bebemos menu here in Dubai?
I spent three years working in Ca la Nuri Platja – one of the most famous paella and seafood restaurants in Barcelona. Here, I learned how to create paella in the Barcelona style – and have brought that influence to Bebemos in the UAE. We've also incorporated some popular main course dishes, such as chuleton and suquet monkfish stew.
What speciality Spanish ingredients can we expect to see on the menu?
We work closely with our suppliers to use the same ingredients in Bebemos that we would if the restaurant was in Barcelona. We're serving up Spanish ingredients across all aspects of our menu, from cheese to cold cuts, as well as different types of peppers – from padron, piquillo, and piparras, to milk lamb, Manzanilla olives, and of course – smoked paprika.
Why did you become a chef?
My grandmother inspired me to become a chef. From a young age, she was the one who sparked my passion for cooking. She always sat me next to the stove in the kitchen whilst she was cooking, and I would look on in awe, and as I grew older, she taught me lots of tasty recipes and introduced me to traditional Catalan food.
What are your three favourite ingredients to cook with and why?
Garlic, as it can be used in a variety of ways – be it raw, fried or roasted, yet each technique gives a different flavour to the overall dish. I'm also a huge fan of seasonal mushrooms; in Barcelona, you have access to these mushrooms during 3-4 months of the year, within a three-hour drive. Finally, hake is a very common fish in all of the fish markets in Barcelona. It's one of my favourite ingredients because of its soft, meaty texture, which goes perfectly with a variety of garnishes, from Bilbaina sauce, clams, and asparagus.
Your favourite place in the world to visit for culinary offerings and why?
For me, it would have to be the Basque County in northern Spain. Here, you can just smell the gastronomy culture in all corners of the cities. I had the pleasure of working here for two years, in two of the county's top restaurants: Mugaritz, in San Sebastian, and Nerua in Bilbao.
What has been your fondest culinary experience to date?
I have fond memories of two particular experiences that I believe have changed the way I perceive a restaurant kitchen. At Asador Etxebarri in the Basque Country, they cook the best quality products on the market using different types of wood. All dishes are packed full of flavour, with each plate better than the previous. Secondly, at Maido in Lima, Peru, they make delicious Nikkei food, which is a mix of Japanese and Peruvian. The textures, techniques and mix of flavours that are used between refined Japanese and Peruvian ingredients never fails to amaze me.