We catch up with celebrity chef Jean-Georges Vongerichten, to find out his recipe for success.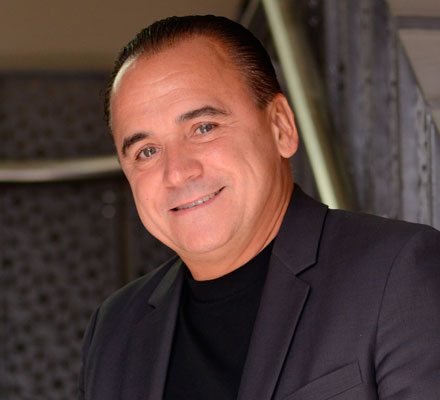 The dapper Alsatian chef, Jean-Georges Vongerichten, had just stepped off a flight from Japan when we met with him. Yet, he was wide awake and as enthusiastic as an energiser bunny (jetlag, perhaps?), eager to show us the development of his new restaurant at the Four Seasons Resort Dubai at Jumeirah Beach.
A typically charming French man, with a contagious smile, thick accent, and effortless style, he clearly has a real passion for food – after all, he has been in the industry for 40 years! Add savvy businessman and restaurateur to the mix, and you'll still be amazed at how down to earth the chef is. Married to cookbook author, TV personality and chef Marja (from Kimchi Diaries), the family man has three children – Louise, Chloe and Cedric; both Louise and Cedric are in the culinary field as well.
Jean-Georges has over 25 restaurants all over the world, including renowned brands like Jean Georges, Spice Market, and ABC Kitchen in cities like New York, Las Vegas, Bora Bora, and Paris, some of which have received three Michelin stars. The chef's entry to the Middle East was with Spice Market and the award-winning Market by Jean-Georges at W Doha, with the first Dubai outpost of Jean-Georges set to open this month.
Known for being extremely hands-on in all his projects, Jean-Georges gets involved with not just the menu and chefs' training, but all the little details down to tiles and paints – he couldn't wait to show us around the work-in-progress venue, still packed with workers and construction materials. We got an exclusive first-look as well as got to chat to him about the life-changing factors that shaped his climb to the top.
We're very excited about you finally opening up shop here. Tell us a little bit about the concept.
It's going to be two restaurant concepts in one, a business lunch and fine dining dinner venue on one side, and on the other casual side, we will offer the best of what we have in New York. On the casual side, we will have a wood-fired pizza oven. I want to show the people who come here that they get a 100 per cent of me. I want them to get that from the plates, glass, and silverware they touch, or seats they sit on. It all has my personality in it, as I want to give the full experience to people. We will be serving shisha as well, as I think it is part of the culture here. When I came here and saw the way people dine and go out, I thought it was very classy. The shisha will be a unique experience too though – there's nothing simple about it, and it will be Jean-Georges style. You know, it's easy to write a menu, but a restaurant is much more than that! This one will be an experience, and I'm excited about it.
Why now and here?
It's important to find the right location. I like this area a lot because it's very residential. I want to work with the locals as well, to bring my food to the community.
Speaking of community, will you be making a few tweaks to the menu to entice the local palate?
Yes, I'm changing the menu a little bit for the market. I'm working on a platter which will have hummous, and baba ganoush, but with different flavours. I feel people like the sharing concept here. Apart from this, we also have a lot of other sharing dishes like pizza, and truffle fontina.
From France to New York, and now Dubai – tell me, how did you break into the industry?
It was a mistake – I didn't dream about being a chef as a child. My parents had a coal company back home in Alsace, which was four generations old. I was the oldest boy and was supposed to take over the family business, so was sent to an engineering school when I was 15. I hated it though, and didn't want to learn the craft. I got thrown out after six months because of bad attendance, and being so repulsed by it. My father was obviously very upset, and I didn't know what to do with myself. But then for my 16th birthday, we went to a 3 Michelin-star restaurant, Auberge de l'Ill. Back in the 70s, people only went out on occasions, and we were a large family of 12, so it was a big deal. I was absolutely stunned with the way the waiters moved, and the food was amazing – I didn't know you could make a living out of food! My father saw that, and when the chef came over, he joked and said, my son is good for nothing, maybe he can help you wash dishes or peel vegetables, and the chef said indeed, because they were actually looking for an apprentice. I started after a week, and have loved every minute of it since, for the past 40 years.
Did you go to culinary school?
I actually got an apprentice scholarship. I worked at the restaurant for four days, and then went to school for two days. I ended up being the best apprentice in France as well. It's funny, I went from being the worst guy in school, to the best apprentice. I found my passion at 16! After that, I went to the South of France to work at L'Auberge du Pont de Collonges with Paul Bocuse. The experience was amazing, and after eight years of being in France, I went to Asia, and worked for one month in Hong Kong, one month in Singapore, and six months in Japan. Going there changed my life!
How exactly?
When I went to Bangkok, I was 23, and I felt like Christopher Columbus coming into a new continent. I remember when the plane door opened, I knew I was somewhere else. The aroma resembled a paradise of spices. Thailand has one of the best aromas of the world, and it was a total revelation. Asian cuisine changed my life. It's who I am today!
What in particular about Asian cuisine makes it so special for you?
I remember seeing ginger, chillies, lemongrass, and I didn't know what a lot of these ingredients were. When I discovered it, I started blending it with French cuisine. I like that the first bite (of any Asian dish) is as exciting as the last! I would never put a dish on the menu if it wasn't.
You're a French chef, based in US, who serves a combination of French and Asian cuisine. Do you still manage to retain your 'French'ness?
In New York, everyone grew up with Chinese food, just like how in the UK everyone did with Indian food. So everyone was used to the flavours already.
I love New York for its diversity. You can have excellent, authentic food from various cultures. Back in 1986, when I started blending cuisines, people went crazy – it was a new thing. I think over the years, my 'Frenchness' has gone down. The dishes were 60 per cent French about 20 years ago, but now it's gone down to about 30 per cent.
How important is receiving a Michelin star to you?
A Michelin star is something I grew up with. First at the restaurant I was an apprentice at – which had three – and then at Paul Bocuse's restaurant. I worked at three-star Michelin restaurants before going to Asia, and when the stars finally came to New York, I said 'wow I'd like to get it' and I did! It's a nice ego boost, but it's very tough to get it as well. They look for consistency more than anything else, but I'm very disciplined. It's important to be consistent with your food, because sometimes people come back and expect that same dish. We pre-measure everything to make sure it's always consistent. A lot of food, after two-three bites, becomes boring. Most of the food in the world is like this, because a lot of chefs don't eat their own food – they taste a little, but that's it. I never put a dish on the table before eating it from A-Z. I test the acidity, spices, seasoning. A lot of chefs do pretty plates, and are very creative in terms of looks, but you can't put a dish on a menu if you don't eat it. You just have to.
You have written numerous cookbooks and appeared on TV shows as well. What's next on the horizon?
I've done five cookbooks, and I'm working on an ABC kitchen cookbook. It's all about local produce, and will release next September. We are also opening another organic, vegetarian restaurant in New York soon.
What is the most important piece of advice you would give upcoming chefs?
My advice to young chefs would be to look for adventure. We don't invent new food groups anymore. You have chicken, game, turkey, there's no new birds coming in. It's the same with meat and seafood. So the role of a chef should be to take the best chicken and make it new with their own flavours and combinations. Technique is as important, as it's a modernistic way of living. But on normal days, people want to eat things like a delicious roasted chicken, or stew or curry. Take these, and bring something new to the table. It's also important for chefs to keep learning and exploring. Today, a lot of cooks don't travel because everything is available on the internet. I had to buy books, and travel to find out where black pepper came from – I went to Cochin, to a black pepper plantation where I saw women buying pepper. There was no internet back then, but it made me learn. I think for a young cook today, it's so much easier to learn things, but you miss that great adventure.