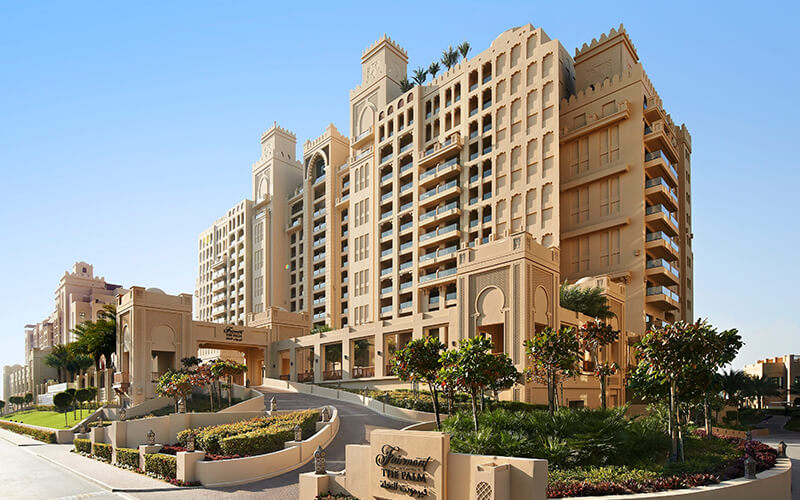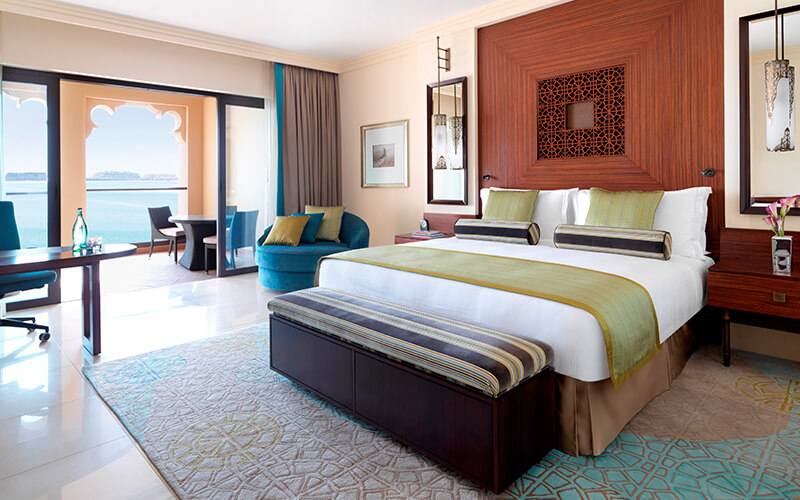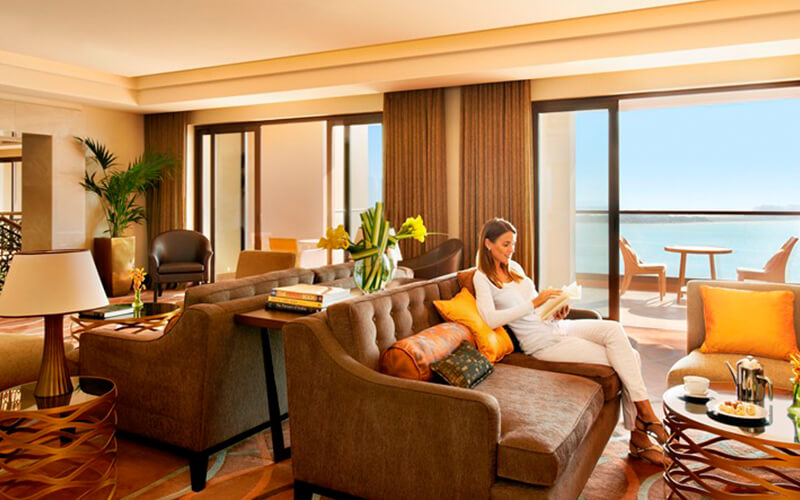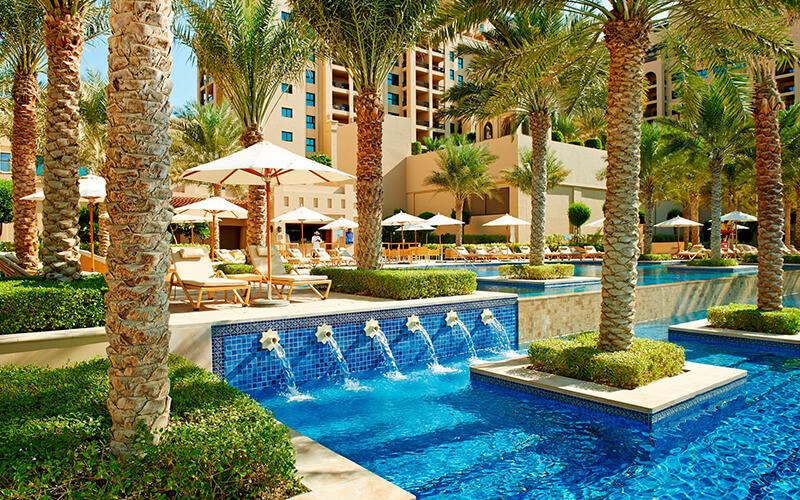 A long-standing, firm favourite of Dubai's five-star hospitality scene, Fairmont The Palm offers a Mediterranean resort-style escape without the need to venture outside of Dubai's urban surroundings. Suitable for both couples and families alike, the hotel is home to ten dining outlets, four swimming pools and several onsite activities to keep everyone happy. Situated on the main trunk of Palm Jumeirah, the Fairmont boasts the best of both worlds when it comes to views – from the bright lights of Dubai Marina's skyline, to the sweeping sea views across the Arabian Gulf.
Upon arriving at the hotel for our one-night visit, we are escorted to the ninth floor to meet the resort's dedicated Fairmont Gold team. Checking in as part of the hotel's "Gold" experience entitles us to a number of onsite benefits during our stay, such as access to the Gold Lounge, complimentary evening drinks and canapes, and free clothes pressing.
We stay in a Deluxe Room with a sea-view during our visit – just one of the resort's 391 guest rooms available. The room features a king-sized bed, large bathroom with rain shower, walk-in closet and spacious balcony. The views, as mentioned earlier, reflect Dubai's identity as a stunning, urban beachfront hub for holidaymakers.
DINE
Spoilt for choice with dining venues to try, we opt for lunch at Blowfish. Its laid-back grab-and-go vibe is perfect for a quick bite in between sunbathing sessions – made all-the-more convenient by its pool-level location on the lower-ground floor. We take our seats on the restaurant's terrace at the white, wicker tables and benches, vibrantly decorated with tropical green foliage.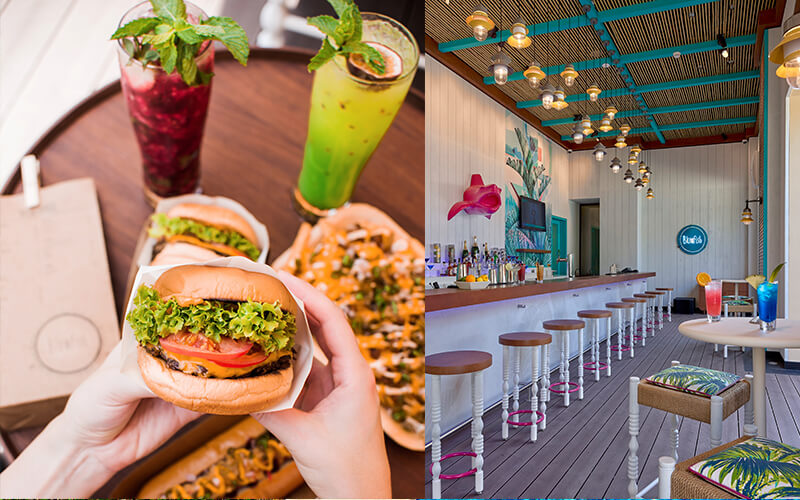 The menu is packed with tempting (and sinful) treats, but we each opt for a Blowfish burger with a side of loaded fries and onion rings to share. Juicy patties topped with gooey cheese and a hearty helping of spicy mayo – what's not to love? Don't miss the delicious chocolate milkshakes, too.
For dinner, we head to BBC Good Food Middle East's best restaurant newcomer 2018 – Little Miss India. Like Blowfish, and the majority of eateries at Fairmont The Palm, it is located on the lower-ground floor of the hotel. The restaurant's exterior is as impressive as its interiors, with a tribal art taxi acting as the outdoor centrepiece on the terrace – one of the heavily painted trucks that is frequently spotted in south Asia. We make our way inside through antique wooden doors to our table in the dining area, which is decorated with vibrant artwork and polished brass walls. Here, we also have a full view of the open kitchen.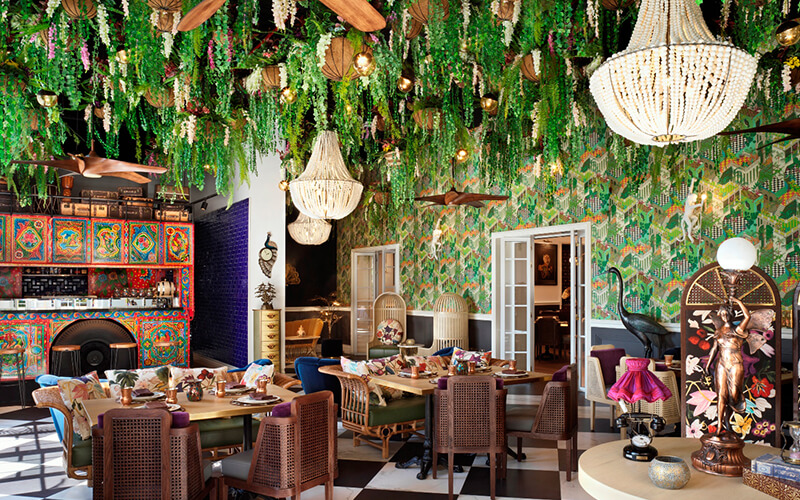 Our evening at Little Miss India is faultless from start to finish. Our waiter, Amal, is a delight to deal with and is extremely knowledgeable on the dishes and their heritage. We're recommended a number of dishes to try and begin with the Bhatta da Smoked Lamb Chops to share. They arrive at our table in a smoking jar, which (though impressive to witness) also retains the flavour and ensures that the chops stay tender.
For mains, we try the home-style chicken curry (which is a Little Miss India signature dish, according to Amal) and the Goan shrimp curry. The shrimp curry has a slightly lighter gravy than the chicken curry, but both are rich in flavour and utterly delicious.
The next morning, we head to breakfast in the Gold Lounge. Here, we enjoy eggs made to order, French toast, pancakes, and an impressive spread of cold cuts, cheese and cereals. One of my favourite benefits as a Fairmont Gold guest is trying out the complimentary afternoon tea offering, hosted daily in the Lounge from 2pm until 4pm. Like a true Brit, I can't turn down the offer of fresh warm scones, slathered in clotted cream and jam and served alongside a piping hot coffee. I'd highly recommend a visit during your stay – it acted as a perfect lunch alternative on our second day.
GET ACTIVE
Though you may find this hard to believe, amongst all this eating I did find time to check out Fairmont The Palm's fantastic fitness offerings. The hotel's large modern gym may be adequate for most in ensuring you stay fit on your holiday, but there were two group classes that caught my eye which I was keen to try; PRAMA and Aqua-Spin.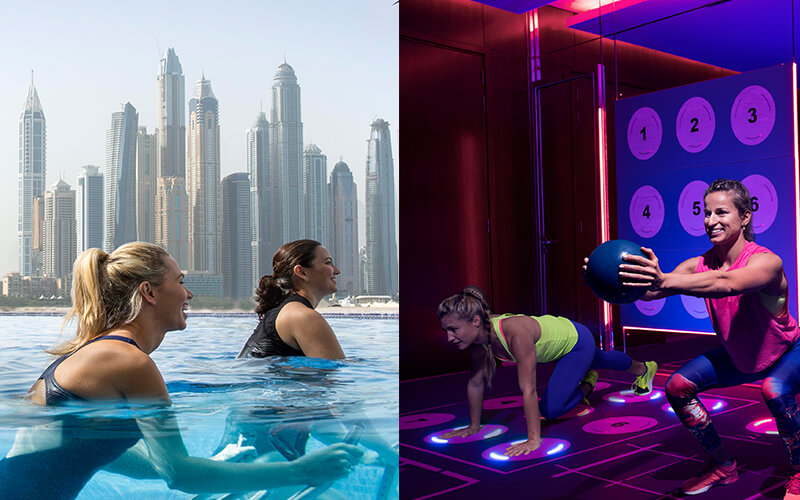 PRAMA is a high-intensity circuits workout held in a dark studio, with disco LEDs and an upbeat playlist. The entire session is controlled by software that enables sensors to react to your movements, altering the tempo of the class to suit your fitness needs. During the 45-minute class, we complete three rounds of eight stations, working intensely for 30 seconds on each exercise. Certain stations relied on the sensor technology to light-up particular areas of the room in order for you to complete the exercise. Stations include mountain climbers, wall-balls, burpees, cable squats and weighted lunges. It's an ideal option for those looking for an all-round strength and cardio conditioning session, made all-the-more fun by the addition of colourful sensor technology!
On Saturday morning, I head to Aqua-Spin at the South Residence Pool, just next to the adults-only pool on the lower-ground floor. Using stationary bikes specially made to be submerged in water, participants pedal using the waters resistance in order to exercise. Our instructor, Hannah, divides the class into three distinct sections: spinning, circuits and Tabata, each involving short-burst cardio intervals for a maximum-intensity training experience. As a regular spin-goer myself, I didn't feel that the class was overly exerting, and came away thinking it's a bit of fun. But I soon eat my words and discover that the class clearly works, as I am genuinely surprised to wake up the next day with some seriously sore muscles!
PRAMA and Aqua-Spin are charged at AED 55 for hotel staying guests, and AED 85 for non-staying attendees.
For those looking for a brief weekend break with great food, stunning views and the option of some fun fitness thrown in too, then Fairmont The Palm is the ideal spot for a mini vacation.
Details: To learn more about Fairmont The Palm, or to make a booking, please visit the website or call 04 457 3388. To read more of our local staycation reviews, click here.