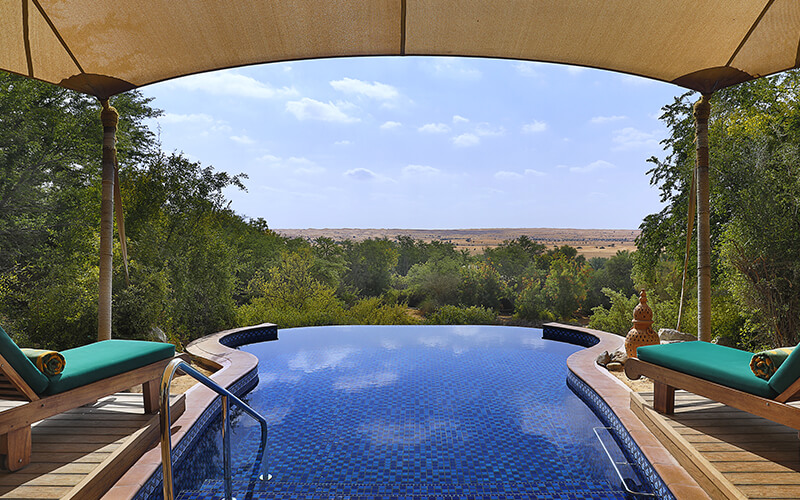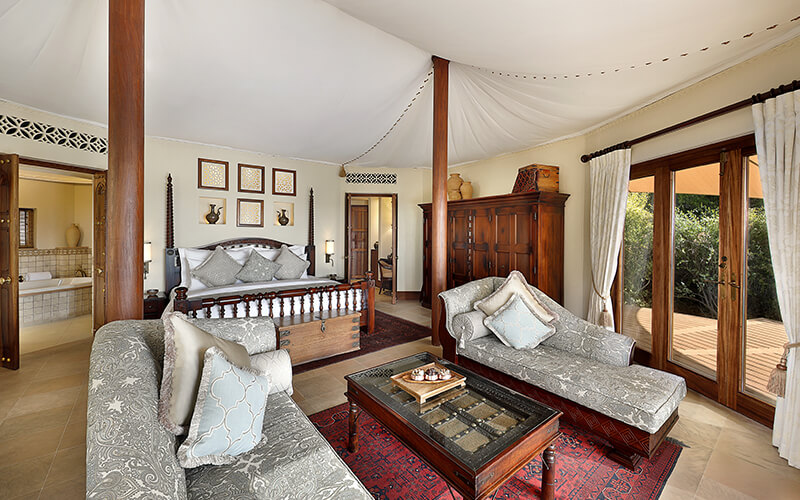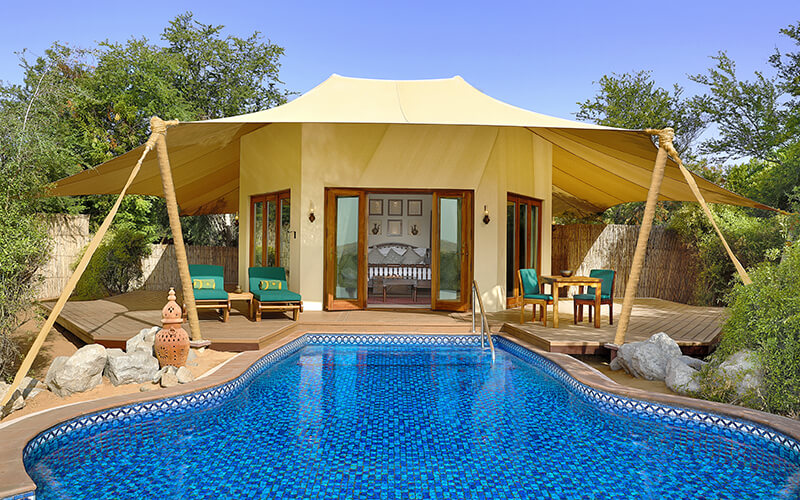 A bucket-list destination for those looking to experience UAE traditions in a super-luxe wildlife resort.
Sitting on the decking admiring the rolling golden dunes beyond our suite's pool edge, I spot a young, curious gazelle pop his head through the bushes. He gingerly makes his way through the shrubs to stand just a few feet away from me outside our suite. Desperate to grab my camera to capture this rare (or so I think) moment, I decide against it and try to keep as still as possible. Before long, he finishes grazing and staggers off around the side of the villa, no doubt to find his next eating spot. I curse myself for not getting the shot on camera, eager to prove to those back home that I was this close to these stunning animals. Yet within the hour, two gazelles, as well as a majestic-looking Arabian oryx make their way to our suite – the oryx's large, imposing horns adding not only height to the animal, but ferociousness, too (don't worry, I'm assured that they're harmless when unprovoked.) To be so close to wildlife while in such a luxurious, five-star setting seems almost unfathomable, yet Al Maha Desert Resort seems to effortlessly find the perfect mid-ground between the two.
The brainchild of His Highness Sheikh Mohammed bin Rashid Al Maktoum, who is known as a firm supporter of wildlife conservation and a fierce protector of desert traditions, Al Maha opened back in 1999. In the twenty years since, it has significantly evolved and now houses 42 private suites, 130 species of birds, and more than 500 Arabian oryxes and 550 gazelles (according to the latest figures).
ACCOMMODATION
Of the 42 suites onsite, ranging from the Presidential, Emirates and Royal suites to the more popular Bedouin suites, we stay in the latter during our weekend trip. Following check-in, we are escorted to our suite via golf buggy, passing countless grazing animals en-route. It's worth noting that during the summer heat (we visit in late July), a buggy is the best way of getting around the resort. Guests are asked to simply dial 0 from their suite, and a driver will arrive within minutes.
Inside the suite, there is a (super comfy) super king-sized bed, a large seating area and spacious bathroom, featuring a walk-in shower, king-size bath, "his and her" sinks and luxury amenities. Handcrafted furnishings and artefacts are dotted around the room – perhaps the most notable being the coffee table, which is made from a beautifully carved door and is said to be a hallmark of traditional Indian design.
The pièce de résistance, however, is the private infinity pool just beyond the suite's double doors. Temperature controlled to your liking and offering undisturbed views across the dunes, it's the perfect spot to stay cool in the summer heat and appreciate the resort's serenity.
DINING
Hotel reservations at Al Maha are booked on a full-board basis, inclusive of three meals excluding beverages (except coffee, tea and mineral water). The onsite restaurant, Al Diwaan, serves up a selection of Mediterranean, Arabic and International cuisine, and is located at the main reception building (again, take a buggy!) But you may also choose to have any of your three meals in the comfort of your own suite or on your outdoor decking (free of charge), which I'd definitely recommend – especially for breakfast.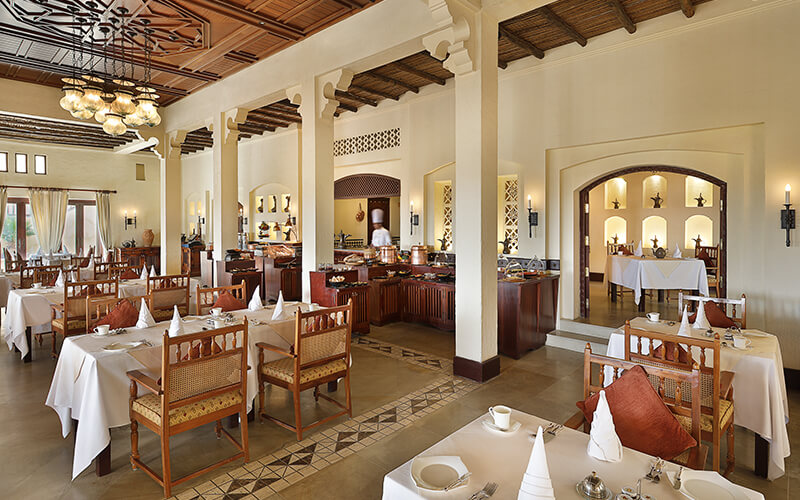 We sit indoors at Al Diwaan on our first night for dinner, but the restaurant also has a stunning terrace that overlooks the desert dunes for the cooler months. Indoors, the restaurant's thatched roof and exposed wooden beams give an authentic Arabian feel to the place, and its dimly lit tables for dinner make it seem all the more romantic. Diners are actually provided with small reading lights to study the menu – it's that dark.
The dinner menu offers plenty of choice across all three courses, so there's sure to be something that takes your fancy. We try the wagyu beef carpaccio and the burrata to start, followed by a meat feast of lamb rack and rillettes with cauliflower and perl onion jus, while my partner tries the Argentinean beef fillet, served with thyme mash potato, Girolles mushrooms and beef bacon powder. Both dishes are cooked perfectly, rich in flavour and delicious. If you're a cheese lover, save some room for dessert and opt for the savoury option as I'd highly recommend trying the chefs cheese selection. A very generous portion, the board would easily serve two and comes with ample crackers and a sweet apple and date chutney.
For an extra special dinner date (and one for the cooler months), guests can also book to dine under the stars on the reserve's dunes. Complete with low tables, Persian carpets and flame torches, this is the epitome of romantic dining – barefoot, under the desert's night sky with only candlelight to see.
As mentioned, we order breakfast to our suite and enjoy a selection of fresh-to-order eggs, pancakes, bircher muesli, and a fresh fruit platter. There is a great selection of both hot and cold dishes on the menu, with no limit to the amount of dishes that you can order.
ACTIVITIES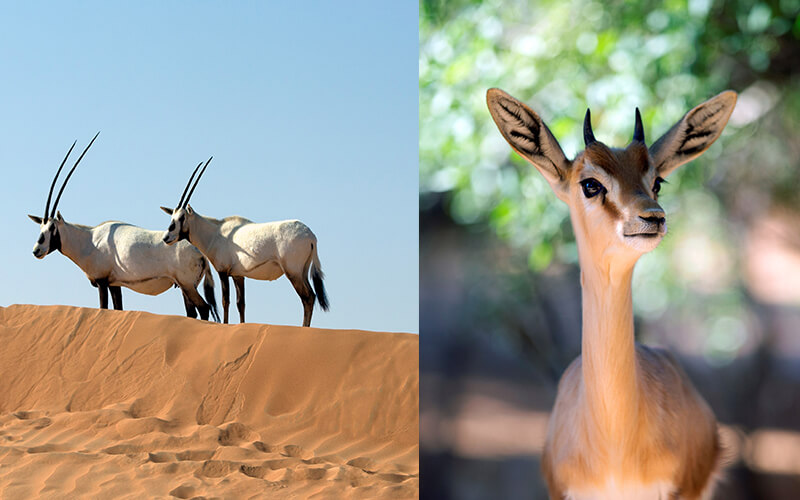 Guests staying at Al Maha receive two complimentary activities per night, with options ranging from wildlife drives, to sundowners on the dunes, to early morning falcon shows, plus much more. On the wildlife drive, we spot countless oryxes and gazelles, and scour the reserve for its numerous bird species – all while learning so much about the forming of dunes, desert plants and the reserve itself from our field guide, Duncan. Snap the perfect sunset shot at the sundowners' activity, or if you're a thrill seeker, book on to the early morning dune-bashing activity – breakfast is recommended after the drive!
The bottom line:
Al Maha is an idyllic spot that centres around privacy and exclusivity, making it the perfect romantic getaway for couples looking to escape the hustle and bustle of the city.
Details: For more information, or to make a reservation at Al Maha, visit al-maha.com or call 04 832 3300. If you enjoyed this article, you may be interested to read more of our local hotel reviews here.