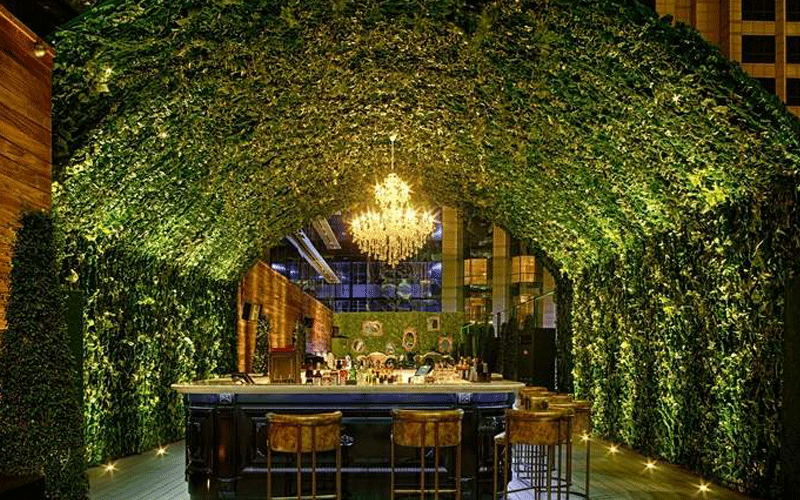 What's the concept?
Hidden away on the seventh floor of the Conrad Dubai, VII Terrace and Lounge is a popular after-dark spot with well-heeled young crowds in the city. The walls and ceiling are covered in leaves with wooden floors and antiquated furniture – making Vii feel like something plucked from a Victorian fantasy novel.
Food highlights
The menu is built to be shared, there's sushi, (the dragon maki and salmon teriyaki rolls are delicious). The grilled chicken skewers and beef tenderloin bar-style platters are also moreish and worth a try. There's an infinite selection of drinks created by the in-house mixologists, along with the traditional fare of red, white, bubbly and various hops. Rather annoyingly, both the food and drinks menus are only available on a scarce number of restaurant-owned iPads, meaning that you may have to wait to see the menu if another table (or two) are also being served.
How was the service?
Staff were friendly and helpful, although when BBC Good Food Middle East visited, the drinks had to be reordered a few times due to the order being forgotten. This was probably a reflection of the fact the venue was at full capacity, and could have benefited from more staff on duty.
What's the atmosphere like?
Expect the lounge and bar to be packed even mid-week, diners can expect a party atmosphere often with live music into the early hours. For those looking to continue their night, there's Vi nightclub situated next door, with private booths available to book.
To reserve a table email Reservations@viidubai.com or head over to reserve out