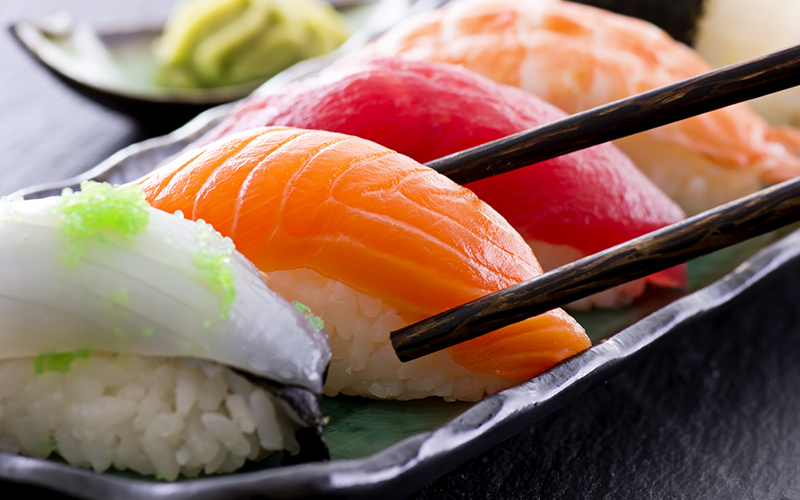 What's the concept?
When the restaurant first launched in 2014 it positioned itself as a fine dining restaurant serving up the same izakaya-style sharing food as its counterpart in Australia (Toko Sydney). Toko Dubai tried to replicate much of the glamour of the Sydney-based eatery, inviting well known celebrities including Will Smith to the launch. Two years later however, the restaurant cut all ties with the Australian branch, and in late 2016 rebranded itself as Downtown Toko. Since changing hands, the restaurant has shifted focus away from theatrical fine dining to the more low-key theme of "Asian streetfood."
What's the food like?
From 12-3pm weekdays, the restaurant serves a stripped back business lunch menu. For starter there's a range of no-nonsense Asian favourites: Vietnamese spring rolls, Xiao Long Bao and fish dumplings are all on the menu. For main course the grilled salmon (which is marinated in a saikyo miso, and served with a chili miso sauce) is delicious as is the Peking duck roll (served with mixed sesame seeds, California rolls and spring onion). For dessert, there's only one choice on the menu – a selection of traditional mochi ice cream (including mango, coconut and green tea, along with the less traditional flavours of chocolate and strawberry).
How was the service
For many diners, the most important aspect of business lunch is the speed of which it is served. In this aspect, Toko certainly performs well. The staff were quick to serve drinks and menus upon arrival at the restaurant. Each course was brought out speedily, meaning that the meal took no longer than one hour. The staff were both friendly and knowledgeable, making the dining experience all the more enjoyable.
What was the atmosphere like?
The restaurant was about half full when BBC Good Food Middle East visited, with business people from the surrounding Downtown Dubai area. During the cooler months the restaurant has a fantastic secluded garden area to the rear of the property. The interior design has not changed much since the original launch – but this is no bad thing, the open plan seating, dark wood paneling and open kitchen all add positively to the restaurant ambiance.
Details: Business lunch available for AED 55-95 per person without drinks. For more information visit Downtown Toko.