Sponsored: Hidden out of plain sight on the lower ground floor of the majestic Jumeirah Al Qasr, The Hide is the first culinary concept from Jumeirah Group to be reimagined in a series of major developments to its beachfront gastronomic portfolio.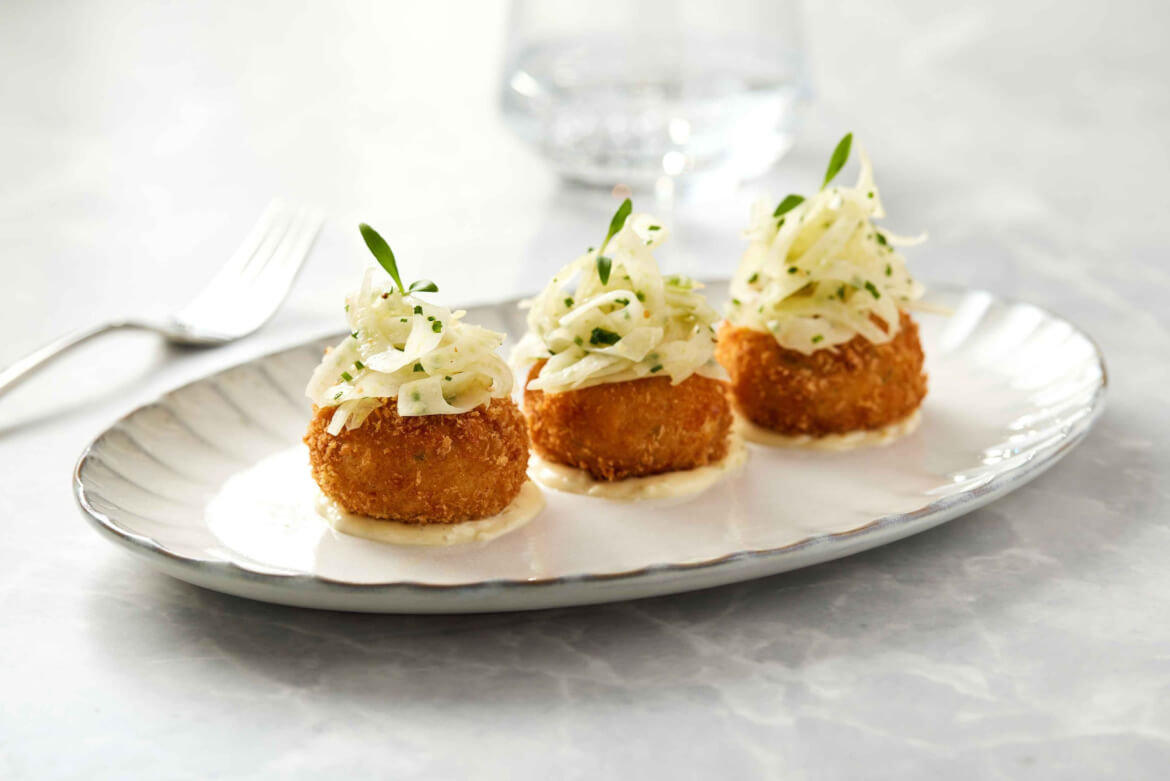 We walked into a sophisticated deco-style grill and bar, that draws inspiration from old school glamour and offers ambient lighting, striking interiors and alluring décor. Vintage photographs adorn the indoors setting, with an ornate circular bar to one corner and an open-plan grill offering a glimpse into work of The Hide's culinary team.
The outdoor terrace features intimate seating amidst a lush garden, which is where we chose to dine.
The highlights:
The menu is an impressive creation from Executive Chef Eric Turgeon, that boasts modern meat cuts, treasures from the sea, healthy grills, vegetarian plates and plant-based options.
I have to admit, it took us a short while before we could decide on Appetizers. The Grilled prawn with sauce vierge (a French sauce made with diced tomatoes, olive oil, herbs and lemon juice) and topped with micro herbs arrived shortly; followed by a Charred octopus with Sriracha yuzu and avocado purée. Each dish, distinct in its seasoning, texture and presentation, offered a fine start to our evening. The shelled Grilled prawns were cooked to perfection and featured summery notes and a mild tang; while the Octopus was brimming with a sweet and spicy, slightly crunch bite which paired beautifully with the creaminess of the avocado.
If you have a yearning for a refreshing concoction, take a peek at the beverage menu that is teeming with an innovative selection. Treat yourself to a winning sip and look forward to flavours from fresh grapefruit and pineapple, orgeat lime, lemon, ginger, lavender, cinnamon, orange and even a deeper chocolate for that after dinner nightcap. Stunning presentation aside, the balanced blend of essences allows for each ingredient to shine through.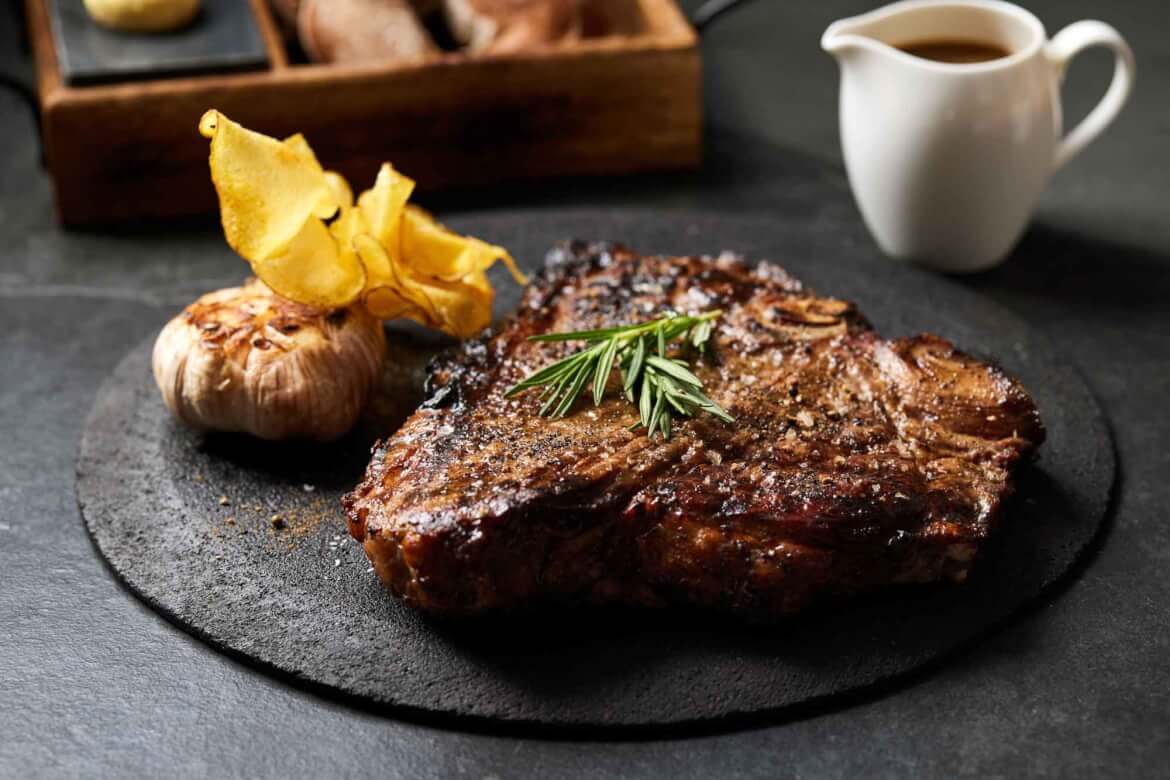 Diners are offered option aplenty for mains, and my dining partner decided to indulge in a Cabassi Wagyu 350g ribeye with a Béarnaise sauce and Truffle mac n' cheese to accompany; while I opted for a lighter bite apt for a healthier January, an Alaskan halibut with Lemon butter and Sautéed baby spinach on the side.
The steak was buttery and luscious, while the halibut was sublime. Both mains were served with roasted garlic that squeezed out into a serving of sweet, nutty, garlicky goodness. If you are unsure about which side to order, we recommend the truffle mac n' cheese – a portion enough to share. Expect a rich, velvety, lush bite.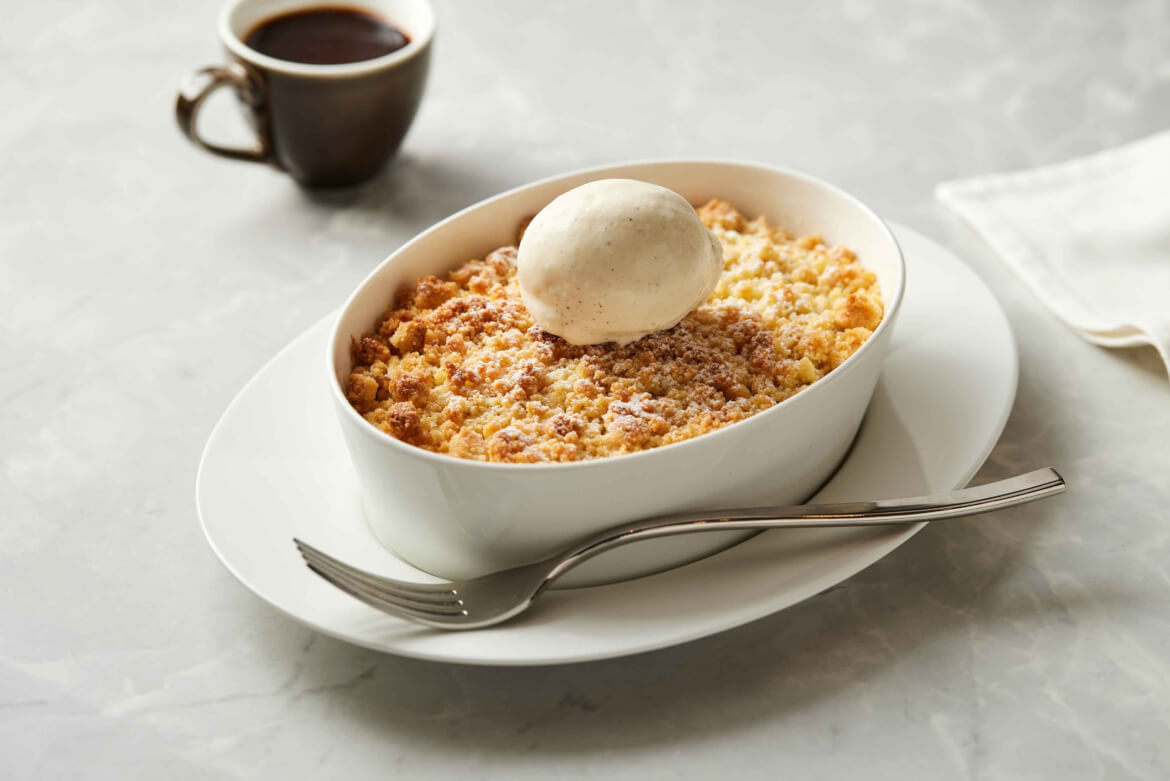 Dessert was a staff-recommended Crème brûlée with an Irish cream twist, topped with fresh strawberries, blueberries, blackberries and raspberries; and a beautifully presented Chocolate rocher comprising textures of chocolate, salted caramel, cookie crumble and macadamia nuts. Each a stunner in its own way, we polished our plates clean.
The verdict:
Perfect for date nights, friendly gatherings, cosy chats, business meetings and even a solo dinner.
Book now:
Daily from 6-10:30pm. Dine à la carte. Call +9714 432 3232. Visit the website or Instagram.