Array
(
    [ref_id] => 380
    [photo_file_name] => robertos-abu-dhabi.jpg
    [posted_by] => Sophie Voelzing
    [text_display] => <p>
	 <em><span style="background-color: initial;">Sister to its Dubai-based branch, Roberto's recently opened doors in Abu Dhabi– and doesn't disappoint...</span></em>
</p>
    [cover_photo_file_name] => robertos-abu-dhabi-cover.jpg
    [slider_images] => 
)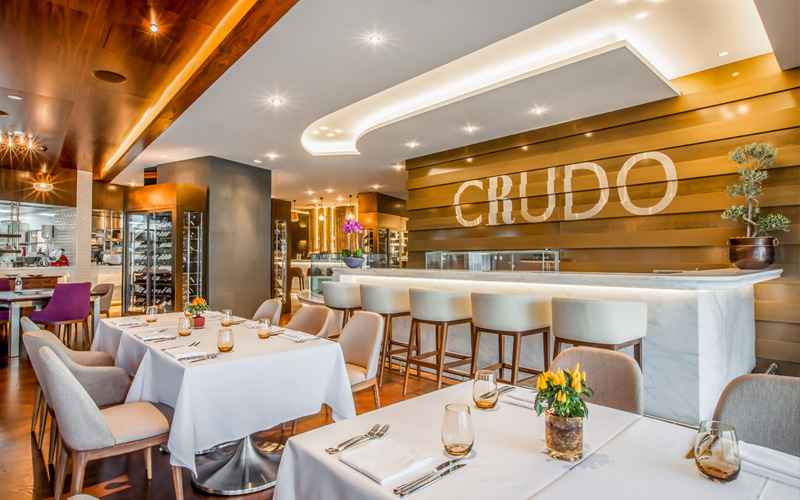 What's the concept?
Sister to its Dubai-based branch, Roberto's recently opened doors in the capital – and doesn't disappoint. Although only open for a few months, the dining experience here is already refined. It's an elegant and classy, white tablecloth type of restaurant – without the stiffness. The ambiance is relaxed yet offers a fantastic buzz fueled by tunes from the DJ, and various open kitchens.
What are the food highlights?
The menu explores options including insalate, zuppe, pizza, antipasti, crudo (from the live Crudo Bar within the restaurant), paste, risotto, pesci, carni and finally, dolci and formaggi (don't miss chef's modern take on tiramisu) – so make sure you go hungry! Dishes of the evening for me included the tuna tartare with sour cream and avocado – all quite subtle flavours, but the dish was brought to life with zesty tastes. It was light, utterly delicious, and didn't leave you feeling full before main arrived. For mains, the wagyu beef tenderloin with truffle, mashed potatoes and asparagus, plus the grilled Canadian lamb tenderloin with polenta, black truffle, porcini mushrooms and asparagus, were both presented beautifully and cooked to perfection.
How was the service?
There's Italian charm here – and it helps that many of the front of house team are native to Italy. They're all on the ball and operate like a well-oiled machine, providing attentive, but not in-your-face service.
What's the atmosphere like?
It's a fantastic spot to spend an evening, from pre- or post-dinner drinks out on the waterside terrace, a beautiful tasting meal (with great portion size – I loved that I didn't feel uncomfortable after dinner), to a visit to the Roberto's Lounge, where you'll find seasoned mixologists and a DJ on the decks – it's an all-rounder for the perfect evening out.
Around AED 350 for 3-courses, not including beverages. Address: Roberto's Abu Dhabi, Rosewood Hotel, The Galleria Mall, Abu Dhabi, UAE. For more information click here