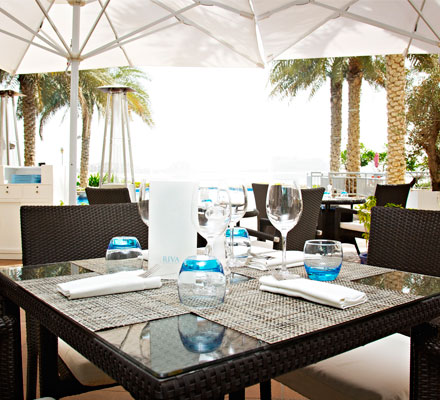 What's it like: Before heading to this beach club and restaurant, my friend and I didn't expect to be dining by a beautifully-lit pool, surrounded by lanterns and date palms, a thatched beach bar, spacious cabanas all around, and stunning views of the Burj Al Arab in the distance.
With Palm Jumeirah residents walking their dogs or catching up with friends over a drink, and children playing with their scooters, this really feels like your friendly neighbourhood casual eatery. Inside, the restaurant boasts a Mediterranean vibe, with white-washed walls and leather couches, and large wooden tables, while the outdoor terrace features rattan dining tables and chairs, fairy lights thrown over bushes, and cabanas by the bar – it's a no-brainer we chose to sit outside.
To start with, we chose bruschetta with juicy tomatoes and olives, salmon tartare, and eggplant parmigiana. All dishes were served in generous portions, good for two, and the salmon tartare had large meaty chunks of the fish, with a slight hint of citrus and herbs. We love a parmigiana that's oozing with cheese and this one ticked all the boxes! For mains, you can add your own pizza toppings to a Margherita – I chose pepperoni, bressaola, capers, tomatoes, chilli, and buffalo mozzarella, and it arrived as a rectangular-shaped pizza on a brown wooden platter. It was freshly baked, cheesy, filling, and definitely something I would order again. My dining partner chose the truffle and parmesan spaghetti – you can choose the pasta of your choice –and it had a distinct truffle aroma, but wasn't anything out of the ordinary. We shared a hot chocolate fondant for dessert – the perfect way to beat the winter chill!
If you want to go: Dhs250 for two (without drinks). Call 04-4309466.
Best for: Relaxed family evening