Twiggy Family, the highly-anticipated addition to Park Hyatt Dubai, is a family-friendly haven that extends the success of its neighbour, Twiggy by La Cantine. Drawing inspiration from the Riviera's festive spirit, Twiggy Family opens its doors to guests of all generations, boasting a blend of relaxation, dining, and wholesome entertainment.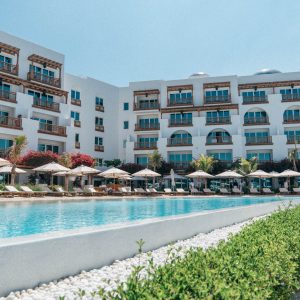 The centrepiece of Twiggy Family is an exquisite, temperature-controlled lagoon fringed with inviting cabanas and sunbeds. Ensuring non-stop amusement for young ones, the establishment features dedicated play zones and engaging indoor and outdoor activities, entertainment options, classes, and games.
The highlights
The family-friendly menu celebrates simple Italian and Mediterranean classics with a menu that includes seafood platters, poke bowls, light sandwiches, pizzas, and pasta. The dedicated children's menu further offers a range of childhood favourites such as chicken strips, pizzas, ice cream, and frozen milkshakes.
To kick things off, we treated ourselves to the Wagyu beef carpaccio with shaved parmesan and rocket leaves. The Crispy chicken bites, served with parsley aioli, and the Fried calamari with scallions and spicy mayonnaise provided a warm and satisfying start. After relishing the delectable starters, we decided to cool off with a refreshing swim.
Wrapping ourselves in towels, we returned to our sunbeds, where a refreshing array of beverages awaited us. The Lagoon ice tea, a blend of fresh watermelon, peach cordial, lemon & mint, and black tea, was the perfect choice. The Bellini, crafted with peach purée, peach cordial, and bubbles, presenting a delightful and light option. The little one enjoyed the Oreo cookies milkshake, adding a touch of sweetness to his experience.
For the main course, we opted for a variety that satisfied every palate. From the kid's menu, we chose the Grilled cheese sandwich, which the little one thoroughly enjoyed. Meanwhile, my dining partner and I relished the crispy and succulent Chicken Milanese and the spiced Ciabatta pressed sandwich, showcasing roasted chicken and piquillo pepper.
To bring our sumptuous meal to a hearty close, we indulged in the All chocolate dessert, a heavenly creation with layers of chocolate ice cream and brownie, topped with whipped cream and caramel sauce.
Book now
Contact +9714 602 1105.