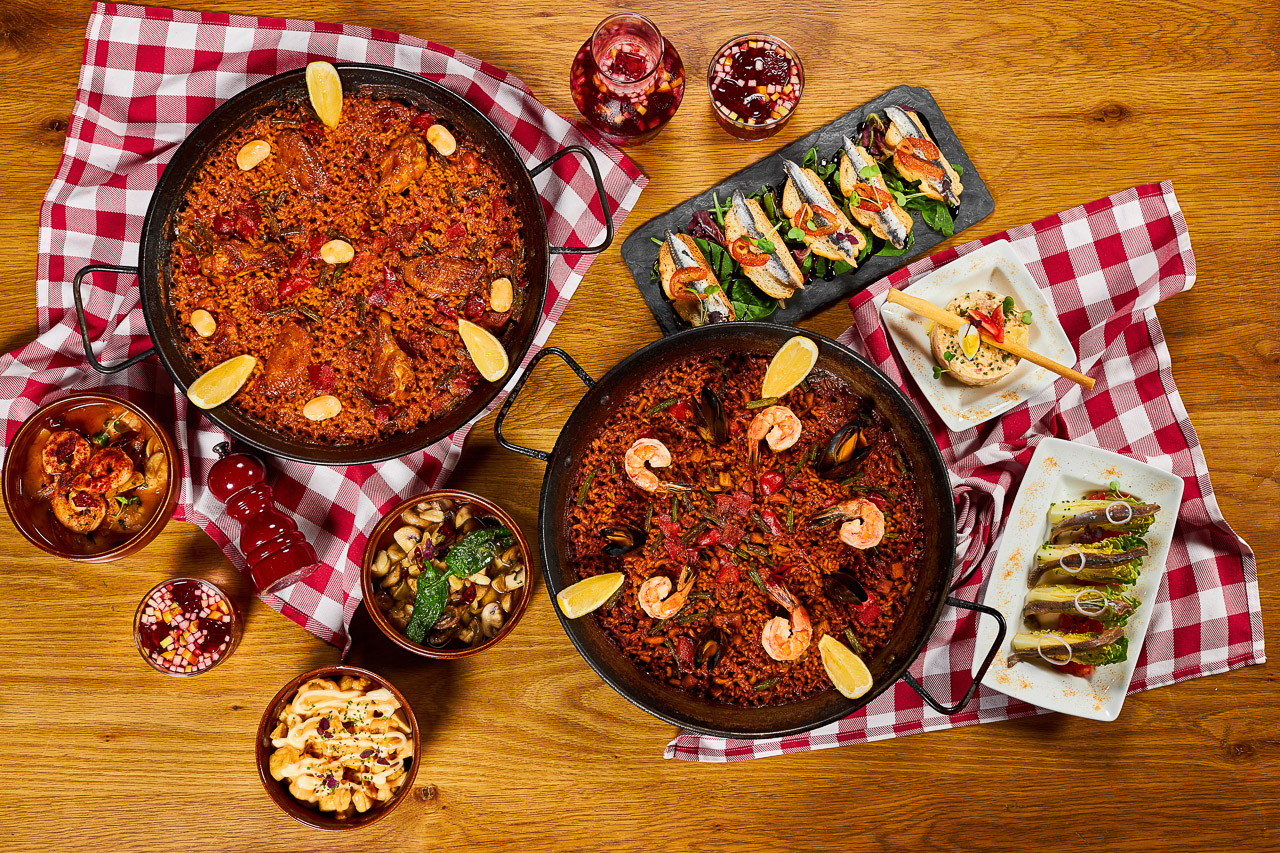 A laid-back sunny Friday afternoon calls for Spanish Friday fiesta. With flavoursome Spanish bites and fruity creative concoctions in mind, we made our way to Salero Tapas and Bodega, located at Kempinski Hotel Mall of the Emirates.
The brunch promised a taste of Spain, with distinctive tapas and sharing-style platters for the afternoon. As you walk into the venue – typical with Spanish-style décor – the setting exudes an ambience of elegance and warmth. From the walls to the ceiling, this tucked away gem is well-thought of in every aspect.
The highlights:
The first thing that caught our attention was the live, open-cooking counter perched at the centre of the dining area. It was a sight to see the chef in action and we were immediately looking forward to the afternoon. In no time, our table was covered with a bread platter and cold and hot tapas, along with smoky cold cuts. What we liked about this brunch was that the food kept coming to the table in a continuous stream, we didn't have the worry about flagging down staff to order a specific dish.
Sometime, simple is perfect. And the warm, crunchy bread topped with roasted garlic and a drizzle of olive oil was a delightful start to a gastronomic brunch. The cold tapas included Ensaladilla rusa (Spanish potato salad with tuna), Tabla de quesos (assorted Spanish cheese) and Cecina de León (cured beef ham).
This was followed by hot appetizers such as the popular Patatas bravas (fried potatoes with aioli and chili sauce), Croquetas de pollo y Croquetas de setas (chicken and wild mushroom croquettes), the mouthwatering Berenjenas a la miel (fried eggplant sprinkled with cane honey), a light Tortilla de patata Española (Spanish omelette), Pulpo a la gallega (boiled octopus with potatoes and smoked paprika), Gambas al ajillo (sautéed shrimps with garlic and chilli), Boneless oxtail sliders and the melt-in-your-mouth Cordero confitado (lamb confit). We thoroughly enjoyed tucking into each plate for two and I even had to fight my dining partner for the last sautéed shrimp – our favourite. Perfectly cooked and flavoured, with a slight heat to it.
When you do visit, try the Spanish-inspired sips. Refreshing, with a punch, don't be surprised if you catch yourself swaying to the beat of the melodies being strummed on the guitar. Did we mention there's live music too?
Mains showed up in the form of the much-loved Paella, a dish we couldn't wait to indulge in as it was being cooked right in front of us. The plate is enough for two and diners receive the option of a seafood or chicken paella.
By then, we had just enough space left for dessert, which comprised Crema Catalana (caramelised Catalan cream) and Churros with hot chocolate. Warm, comforting and with the theatrics of being brûléed live, the mild vanilla-flavoured dessert was a delight. We also loved that the churros were just the right amount of sweet.
The verdict:
A mellow family-friendly afternoon in a sophisticated ambience with beautiful Spanish tunes, gastronomy and sips.
Book now:
Friday Fiesta brunch from 1-4pm. AED325 per person (inclusive of tapas and soft beverages), AED375 per person (inclusive of tapas, paella, desserts and Spanish beverages), AED475 per person (inclusive of tapas, paella, desserts, Spanish and house beverages) and 50 per cent off for kids aged 6-12. Call +9714 409 5999 or email dining.moe@kempinski.com. Visit Instagram.