From its early days of hosting exclusive supper clubs at undisclosed locations, Hawkerboi has now secured a permanent home at The Park in Jumeirah Lake Towers. Drawing inspiration from the bustling street-food scenes of Malaysia and Thailand, diners can tuck into Asian-inspired hawker cuisine meticulously prepared in the sprawling open kitchen.
The dining venue presents a vibrant atmosphere with upbeat tunes, red neon accents and dim lighting, striking a perfect balance between a laid-back setting and a lively ambience across its main dining area, bar, and two inviting terraces.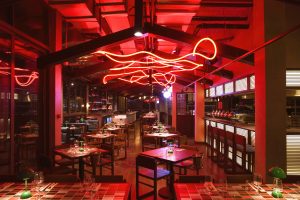 The highlights
A standout feature on Hawkerboi's menu is the innovative use of culinary techniques. From the sizzling grills to the aromatic steamed and roasted signature woks – adding a unique touch that imparts a smoky essence to the dishes.
Our culinary journey began with the tantalizing Lamb ribs, coated in Xin Jiang spice, accompanied by mushroom relish, which elevated the richness of the dish. The Chicken & truffle shumai is teeming with exquisite flavour, while the addition of black vinegar provides a tangy and subtle sweet note. The must-try Duck gyoza boasts a crisp exterior and delectably juicy filling, served with ponzu sauce that offers a citrus kick and umami, tying the dish together beautifully.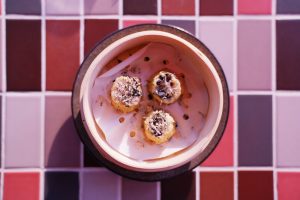 As we ventured into the main course, the Peking roast-style duck served with traditional accompaniments such as pancakes and cucumber slices stole the show for its crispy skin and tender meat.
The Prawn drunken noodles featured succulent prawns nestled among the aromatic noodles, alongside a medley of spices, notes of lemongrass, and the satisfying crunch of green beans.
The dessert selection continued to impress, with the grilled BBQ pineapple infused with lemongrass and lime. The pineapple was a sweet and tangy delight served beside a refreshing mango sorbet.
Book now
Email whois@hawkerboi.com or visit website.