Sited at The Pointe, Chuan boasts unrivalled views of the Palm Fountain and the Atlantis. The inspiration behind the authentic Chinese restaurant is rooted in the time-honoured principles of Feng Shui and the Chinese rivers – the Yangtze, Yellow, and Songhua – which symbolise the country's cultural heritage. Diners can relish in the epitome of Asian hospitality at the venue, which has been frequented by a noteworthy clientele including members of the royal family.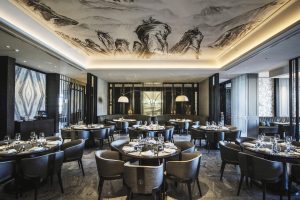 During a brief tour, one can observe the contemporary-meets-traditional interiors that include the ancient Foo lions at the entrance, an alfresco dining terrace, an alluring and opulent glass grape cellar, and a sprawling two-story dining area equipped with private dining rooms and a lavish lounge area. The walls of the entryway display are intricately etched with Chinese family names, while captivating Chinese artwork embellishes the dining venue.
The highlights
The restaurant presents an extensive menu brimming with over 180 dishes, prepared by a team of around 80 specialized chefs, leaving no stone unturned in catering to a wide range of palates. Admittedly, it took us a short while to decide on our order with the multitude of delectable options on the menu. To begin with, we were served complimentary crispy prawn crackers with green chilli in soya sauce while we awaited our sharing-style appetizers.
The Szechuan "KonShui" shredded chicken, doused in Sichuan oil with thinly-cut cucumber slices, provided delightful notes of spicy and sweet. From the dedicated dim sum menu, we savoured the Beef pancakes featuring a crispy pastry filled with exquisitely cooked beef and onion. The combination of flavours blended seamlessly, resulting in a melt-in-your-mouth emulsion that is a must-try for anyone visiting the venue. As we enjoyed our dinner al fresco, my dining partner and I ordered a Pink passion and a Passion fruit mojito, all while admiring the mesmerising displays of the Palm Fountain.
The renowned Peking roast duck was next, a signature Beijing dish prepared using skillful techniques passed down through generations. The delicacy is marinated for a period of 48 hours and cooked to perfection in a woodfire oven, which is why the dish requires to be pre-ordered. The aromatic duck is served to the table by one of Chuan's chefs, starting with the crispy and tender skin of the roasted bird, served alongside a sugar dip.
Enjoy the succulent meat wrapped in delicate pancakes, complemented by the rich sweetness of soybean paste, the refreshing crunch of scallions and cucumber strips, and a touch of heat from the spicy sauce. After a hearty main, we opted for a crispy and soft Spicy chicken with red chillis accompanied by the Angus beef in hot stone pot featuring a savoury sauce infused with garlic, ginger, and chilli.
Desserts called for a refreshing Classic mango pomelo sago – an indulgent summer dessert to sweeten our palate and conclude our dinner.
Book now
Contact +9714 564 3888 or visit chuanseafood.com.