Array
(
    [ref_id] => 602
    [photo_file_name] => Miss_Lily's_800x500.png
    [posted_by] => Sophie Voelzing 
    [text_display] => <p>
	<span style="background-color: initial;">Serving up flavours of the Caribbean, New York-born Jamaican eatery Miss Lily's Dubai is a funky spot tucked away on the fifth floor of Sheraton Grand.</span>
</p>
    [cover_photo_file_name] => Miss_Lily's_200x181.png
    [slider_images] => 
)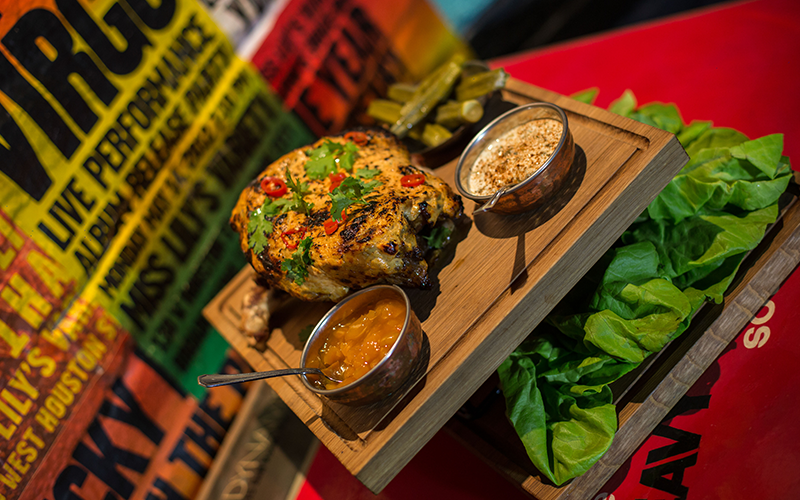 What's it like?
Serving up flavours of the Caribbean, New York-born Jamaican eatery Miss Lily's Dubai is a funky spot tucked away on the fifth floor of Sheraton Grand. Inside, the scene is colourful and exudes bold character that's urban, super cool and laid-back. Music takes centre stage here with Jamaican artists' vinyl record covers plastered over the walls, as music to match plays infectiously in the background – even the tabletops are giant records. We visited Miss Lily's Dubai on a busy Wednesday evening and the atmosphere was alive and buoyant with reggae charm (expect dancing before dessert). Offering dinner service, a vibrant nightlife scene and as of July 14, a new Friday daytime brunch (from 12-5pm every Friday, priced at AED 250 and AED 390), the outlet is made up of a dining room area, as well as a separate bar and lounge. Seated in a booth, it's easy to feel at ease in the dimly lit, intimate interiors – it's homely, and the type of place that could easily become your next local.
What are the food highlights?
Prepare for a flavoursome feast – the food here offers punchy flavours, superb use of spice, and a variety of textures. Broken down into several sections, the menu starts with 'to share' small plates including the likes of jerk corn, hot pepper shrimp, salt cod fritters and ackee hummous – a Jamaican twist on a local favourite. The jerk corn is a must-try. At eye-glace, it doesn't look too exciting, but one mouthful and I'm addicted. The flavours are outstanding and incredibly moorish with creamy toasted coconut and jerk mayo mixed in. From the appetisers, we share a serving of Red Stripe battered cod fish tacos, served with a spicy escovitch, followed by my favourite dish of the evening – Miss Lily's 'world famous grilled chicken'. Trust me, it's called that for a reason. Juicy, succulent and dripping with jerk flavour, this dish was a tasteful explosion, paired with mango chutney and cucumber escovitch. From the 'family style to share' selection we dug into a portion of the melt-in-the-mouth garlic roasted lamb shoulder, which fell off the bone without effort, and was playfully served DIY style, with a selection of condiments and crisp lettuce cups for holding everything together. Plus, the slow-roasted pimento short rib with charred scallion, pick-a-peppa gravy and mushroom salad, which was succulent, hearty and wholesome – finger lickin' good, comfort food at its best! Don't miss a dish of traditional rice and peas on the side. As you can imagine, there wasn't room for dessert at this point, however, if you're one with a sweet tooth, options include delights like Nutella-filled donut holes, and banana mousse with baked meringue and lotus puree.
How was the service?
Authentic, energetic and helpful, the team here are professionally personable. Dressed in casual, funky outfits like most of the outlet's visitors, staff here blend in with the customers, adding to the relaxed vibe. Our server, David, felt like a friend by the time we left.
The bottom line:
Fantastic, casual food that isn't over the top. Miss Lily's is a hidden gem in Dubai, offering a generous serving on genuine, unpretentious fun. I'd highly recommend making a reservation as it books up in advance, and saving this place as a grown-up night out spot. With jerk chicken and punch cravings, we'll be heading back soon for round two (and to try the curry goat stew).
Details: Priced at around AED 250 per person for three-courses, without beverages To book a table, call +971 4 3562900 or e-mail reservations@misslilysdxb.com.