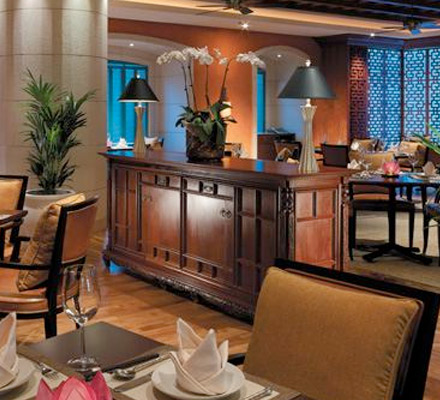 What it's like: Picture this – wooden furnishings, dim lighting, pink lotus lamps and oriental-style wooden ceiling fans, all topped off with a hint of lemongrass aroma. These are the first things you notice when you arrive at this award-winning restaurant. With simple but elegant décor, knowledgeable staff and an extensive menu that leaves you second-guessing your options every time a waiter walks by with aromatic sizzling platters, Hoi An has everything from seafood, meats and chicken, to a large selection of healthy vegetarian dishes, on offer.
My partner and I began with a recommendation from the staff ,which was also indicated by a picture on the menu – a touch I thought would be of great help to novices of Vietnamese cuisine – and chose to share a platter of deep-fried crispy spring rolls stuffed with shrimp and shiitake mushrooms, and served with rice noodles, coriander and Thai basil. Presentation-wise, the dish was enticing as I had to prepare the appetiser myself – wrapping the spring rolls in lettuce before dipping into a sweet and sour sauce. The rolls were light and crispy. Being an avid lover of crab meat, I chose the mud crab for mains, which was doused in sweet Thai basil and black pepper sauce, and topped with herbs and roe. The staff recommended a side of mixed fried rice wrapped in lotus leaf – which was sticky but had a bit of crunch, and tasted divine. My partner chose the sizzling tiger prawns with dill, onions and lemongrass. The prawns were tender while the herbs gave the dish a subtle aroma, allowing the sauce to shine through. For dessert, we shared a chocolate fondant with raspberry sorbet – the fondant was warm and decadent, while the tangy sorbet offset the sweetness of the chocolate perfectly!
If you want to go: Around Dhs500 for two, without drinks. Call 04-4052703.
Best for: A relaxed evening out
– Nicola Monteath