Array
(
    [ref_id] => 1332
    [photo_file_name] => 
    [posted_by] => Sophie Voelzing
    [text_display] => <p>
	 <em><span style="background-color: initial;">Newly-opened in DIFC, GAIA is a contemporary taverna serving authentic and fresh Greek-Mediterranean cuisine with a modern touch.</span></em>
</p>
    [cover_photo_file_name] => square.jpg
    [slider_images] => 384.|1.jpg,|385.|3.jpg,|386.|2.jpg
)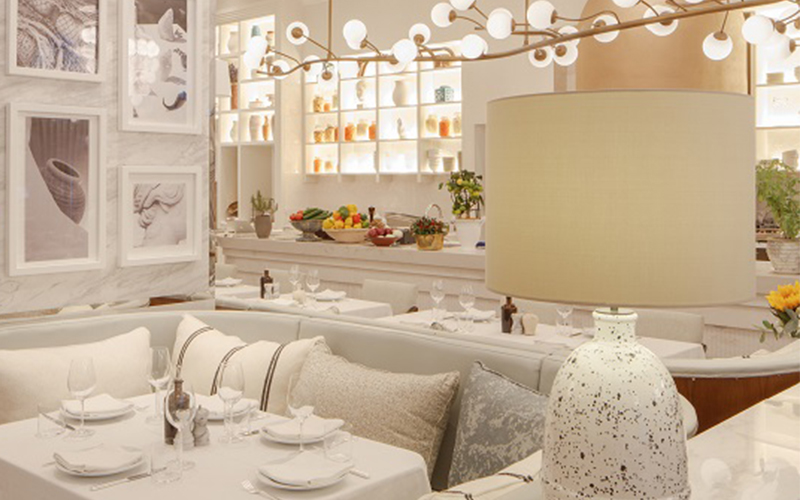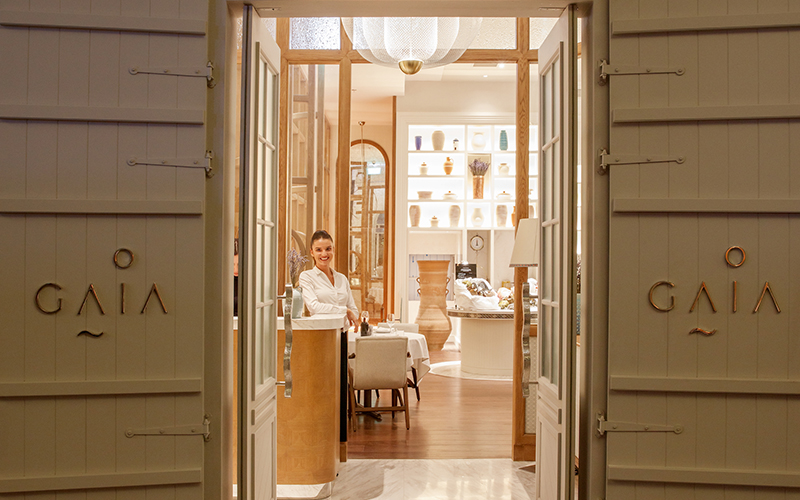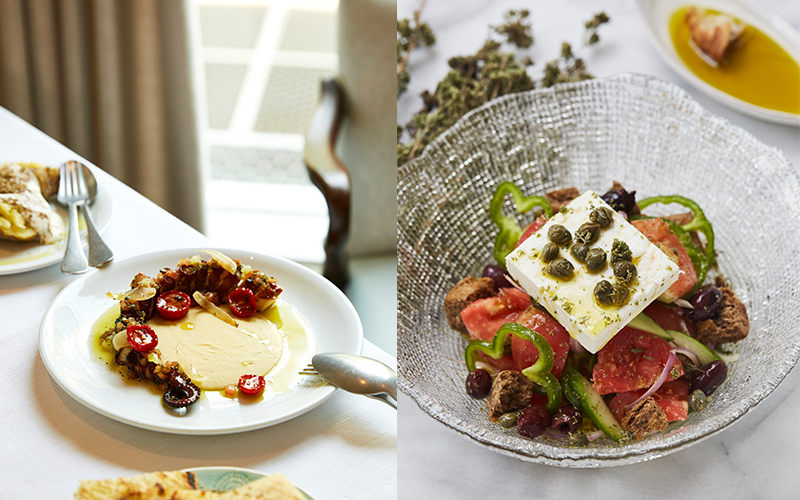 What's it like?
Newly-opened in DIFC, GAIA is a contemporary taverna serving authentic and fresh Greek-Mediterranean cuisine with a modern touch.
Locally well-known for his tenures at two of Dubai's leading French restaurants, Le Petite Maison and La Serre, chef Izu Ani is the culinary mastermind behind GAIA – he's also the guy behind Carine at Emirates Golf Club, Izu Brasserie and Bakery at City Walk Dubai, and The Lighthouse at D3. It's safe to say you're in safe hands when this chef's in the kitchen.
Inside GAIA, the restaurant is near to fully booked, so I'd recommend making a reservation if you plan on visiting. There's a fantastic social buzz about the place, and the restaurant and bar areas are stunningly decorated with neutral, calming hues of grey and beige. GAIA is extremely chic and sophisticated, and the gentle rose gold and solid marble furnishings really add a touch of elegance to the venue.
Taking center stage at GAIA, there's an ice market where you can view and select fresh fish and seafood from, all with the help of the restaurant's in-house Fishelier, who is on hand to make recommendations tailored to your preferences.
What are the food highlights?
GAIA is all about going back to basics, keeping food humble, authentic and really showcasing the beauty of natural flavours in quality ingredients.
The menu is sharing-style friendly, portions are generous in size and the unfussy dishes boast perfected simplicity.
Start your dining experience with the trio of spreads, or 'alifes' in Greek. Each of the spreads are equally as delicious as the next, comprising smoked cod roe with lemon juice and olive oil, blended fava beans with lemon juice and olive oil, and lastly grilled aubergine with tomatoes, roasted garlic and parsley.
As expected, you'll find the traditional Greek salad on the menu, however, we choose to share the watermelon salad, which was incredibly refreshing and served with feta, almonds, basil and mint.
From the menu's raw section, the sea bream carpaccio is not to be missed. The hearty portion is playfully presented as a full fish, head-to-tail, with sashimi-style slices of sea bream carefully positioned to look like scales.
The grilled octopus which came next was admittedly my favourite dish of the evening. The meaty yet tenderly cooked pieces of octopus are served on top of pureed fava beans and sweet onion, and is truly a delight to eat.
As selected from the fish market, my dining partner and I choose to share turbot for our main course, which was whole-baked in a salt crust infused with orange and sage. As a fish lover, food doesn't get much better than this. Fantastic ingredients, prepared simply.
We ordered sides of chili and garlic broccoli and whole grilled potatoes to accompany the fish, but sadly they never showed up at the table. An error the service team were extremely apologetic about and took full responsibility for having not punched the order in fully. These things happen.
By this stage in the meal we were quite full, but my dessert-loving husband persuaded me to try the 'tsoureki', which is brioche smothered in dark chocolate, with vanilla ice cream – they look almost like giant profiteroles, and taste just as good, but be warned the portion is massive.
How was the service?
The team at GAIA are friendly, welcoming and on-hand to ensure you're having a great dining experience.
The bottom line:
GAIA offers high-quality food that's cooked superbly. Be sure to book a table as the restaurant gets quite busy, particularly on weekends.
I wish I could reveal more, but be sure to ask about the secret club downstairs – it's a brilliant spot for after dinner. There's also a kitsch souvenir shop located on the lower level of the restaurant, complete with trinkets, olive oil and shells, reminiscent of a Greek seaside town, plus an exclusive Chef's Table, with twelve seats for those looking for a more intimate dining experience.
Want to go? Located in Gate Building 4, DIFC, GAIA is now open daily for lunch from 12pm to 3pm and dinner from 7pm to 2am. For more information and reservations, please call 04-2414242 or visit gaia-dubai.com.