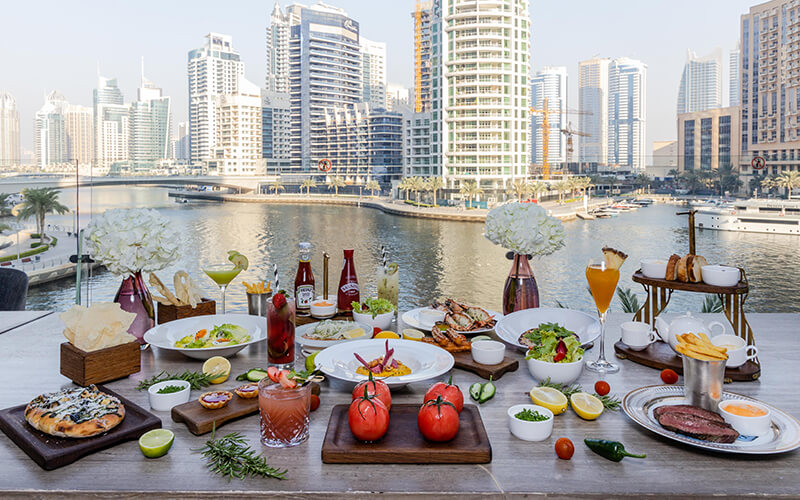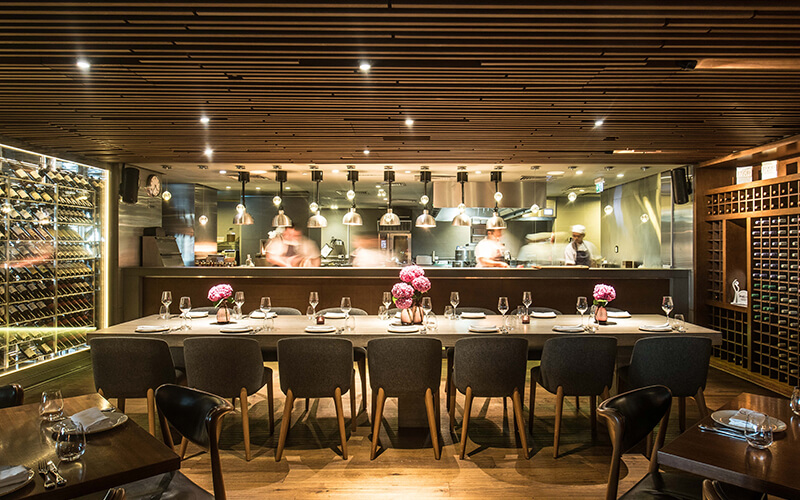 What's it like?
If you're looking for a laidback brunch with high quality food served straight to the table, Social Brunch is a winner.
The restaurant, by English celebrity chef and restauranteur Jason Atherton, serves contemporary British-Mediterranean cuisine in a buzzing yet sophisticated atmosphere – bringing a slice of London's best to Dubai.
Come Fridays, Social Brunch takes over the restaurant, giving guests the option to sit in or out to enjoy three and a half hours of unlimited food and beverage. The restaurant's picturesque outdoor terrace, which offers front row views over Dubai Marina's waterway and features a gin garden, is an excellent spot to spend a Friday afternoon. But, not to worry if the weather's a touch too hot, floor-to-ceiling windows span the restaurant's exterior, bringing the outdoors in.
What are the food highlights?
The kitchen, led by chef Will Stanyer, prepares a selection of impressive sharing-style bites to start the brunch experience. Goat's cheese churros paired with a truffle honey dipping sauce are first to be devoured – they're the type of dish that you'll want to re-order, time and time again. There's also a Scotch quails' egg and English breakfast 'tea & toast' to sample, each of which go down a treat.
Small plates to share ensue, featuring one of Marina Social's signature dishes, the burrata stuffed tomato, drizzled with aged balsamic – it's easy to suss why this is one of the restaurant's most ordered dishes. Served alongside, we also enjoy eggs royale topped with brown butter hollandaise, and a juicy wagyu cheese burger slider.
The menu switches up for mains, and each guest is given the choice of one dish. We chose to order the Black Angus flank steak with truffle fries and Portobello mushroom, and the mouthwatering grilled king tiger prawns with garlic butter and fries. With each of the dishes sounding equally as tempting, we decided to share between us and I'm glad we did as each dish impressed. Other options on the menu included ragu of Welsh lamb with tagliatelle, 'KFC' Josper-grilled chicken thighs, fillet of salmon with potato puree and slow-roast tomato, and lastly wild mushroom & truffle sourdough pizza with buffalo mozzarella and taleggio.
We struggled to find space after such a generous meal, but couldn't resist a small taste of dessert. On offer from the sweet cart is traditional soft-serve ice cream (great for the kids), Marina Social's very own take on a mars bar with salted caramel ice cream, and apple crumble & white chocolate cheesecake.
The bottom line:
Social Brunch takes place every Friday from 1pm to 4.30pm, followed by happy hour, and is a wonderful spot for enjoying an afternoon with a small group of family or friends. Brunch packages start at Dhs290 with soft beverages, and three other premium packages are available.
*Please note that Social Brunch is currently paused due to the COVID-19 pandemic.
For more information or to make a reservation, call 04 446 6664, e-mail reservations@marinasocialdubai.com or visit marinasocialdubai.com.
For more of our UAE restaurant reviews, click here.