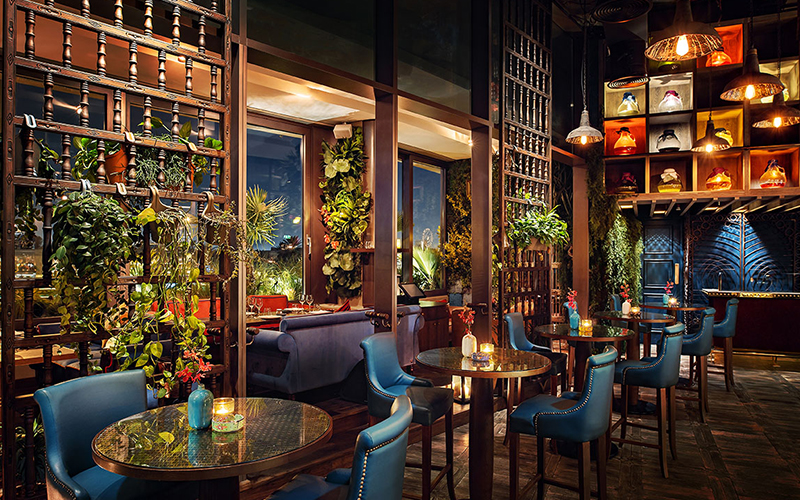 What's it like?
From the moment you step through Coya's doors, expect to be hit with a wave of tasteful fun. Alive with Peruvian vibrance, the atmosphere is inviting and a warm welcome ensures you're in for a good time. Your brunch journey begins at the Pisco Lounge, where expert bartenders are on hand to whip up perfected pisco sours – or learn to make one yourself at the interactive DIY pisco bar. The décor is busy (in a good way) and abundant with rich colours – I find my eyes continuously wandering the walls in awe of detail to Coya's South American roots, particularly to the endless jars of pisco that sit infusing with varied ingredients – and not forgetting the gorgeous city skyline views.
What are the food highlights?
Combining all three concepts you usually find individually at other brunches, Coya's restaurant has a small, but plentiful buffet laid across the ceviche counter, it offers main dishes brought to your table from an a la carte menu, and it goes to sharing-style for dessert. The food is stunning, and at times surprising with explosions of unexpected flavour – although we'd not expect any less with the kitchen headed up by chef Benjamin Wan, who won 'Chef of the Year' at the BBC Good Food Middle East Awards 2016. Overall, food highlights include the red snapper ceviche with truffle and ponzu, and mains of spiced beef fillet and Chilean sea bass cazuela with Nikkei rice.
How was the service?
Coya's team were attentive – without being intrusive. With many originating from Latin American roots, it gave the restaurant real authenticity and service staff could explain dishes with confidence and fascinating traditional stories. Moving to the lounge, Coya's barmen practice world class showmanship – they know their stuff, and it's a pleasure to watch.
The bottom line:
A vibrant brunch with high-quality F&B to enjoy with friends or your other half. Lively brunches in Dubai sometimes verge on boisterous, tacky territory, however, Coya successful maintains a classy, yet vibrant and entertaining atmosphere – thumbs up all around! It's a sell-out most weeks, so make sure you book in advance.
Details: Each Friday, 12.30-4pm AED 498 with house beverages. For reservations email reservations@coyarestaurant.ae.