Indulge in a gastronomic and scenic delight at Prime68, located on the 68th floor of the five-star JW Marriott Marquis Dubai in Business Bay. This new-generation steakhouse redefines the art of fine dining, presenting a seamless fusion of top-notch ingredients and contemporary elegance.
The breathtaking vistas will leave you in awe, especially if you secure a table by the window during your reservation, making it an absolute treat for those who love heights.
The highlights
From the very beginning, the Amuse & Bread set the tone for what turned out to be an extraordinary culinary journey. The signature bread rolls were a delightful fusion of tastes, with the beef cecina, herb butter, and truffle gouda adding a rich and savoury touch. The Deviled egg was a burst of flavours with the yolk emulsion, pickled mustard seeds, and herbs.
To complement the delicious food, we opted for two mocktails – Happy and Frosted. The Happy mocktail blended orange, mango, and pineapple juices with a hint of grenadine, offering a refreshing and tangy kick. The Frosted mocktail, with its combination of blackberry, orgeat, and orange juice, left us feeling energised.
The Caesar salad, with its anchovies and garlic parmesan, brought a classic and robust taste, while the Burrata with herbs and truffle citrus dressing and the Fin de claire oysters accompanied by ikura-yuzu ponzu added a touch of elegance to the meal. The beef steak tartar was a standout, with bone marrow, capers, gherkins, shallots, and chives coming together in a symphony of flavours. Our favourite was undoubtedly the Braised beef sliders, featuring brioche buns, caramelised onions, gherkins, and smoked paprika aioli.
The mains continued with the USDA Prime New York Striploin cooked to perfection and accompanied by a luscious bearnaise sauce. The Grilled jumbo prawns with chimichurri were juicy and perfectly seasoned, and the Crisp corn-fed chicken with bourbon peppercorn added a comforting touch to the spread. The sides were equally indulgent; featuring the truffle mac & cheese, french fries, and grilled greens to complement our rich mains.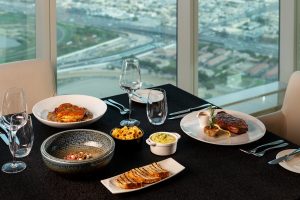 The grand finale was the dessert, and it did not disappoint. The Creme brulee, infused with Madagascar vanilla bean and adorned with the perfect burnt sugar crust, was a delectable treat. The Chocolate dessert, featuring manjari cremeux, macerated strawberries in the middle, and a praline crunch with shavings of brown and milk chocolate on top, was the ideal end to our meal.
Book now
Every Saturday from 1pm-4pm. AED245 per person, including soft beverages. AED395 per person, including house beverages & sparkling grape. Visit website.