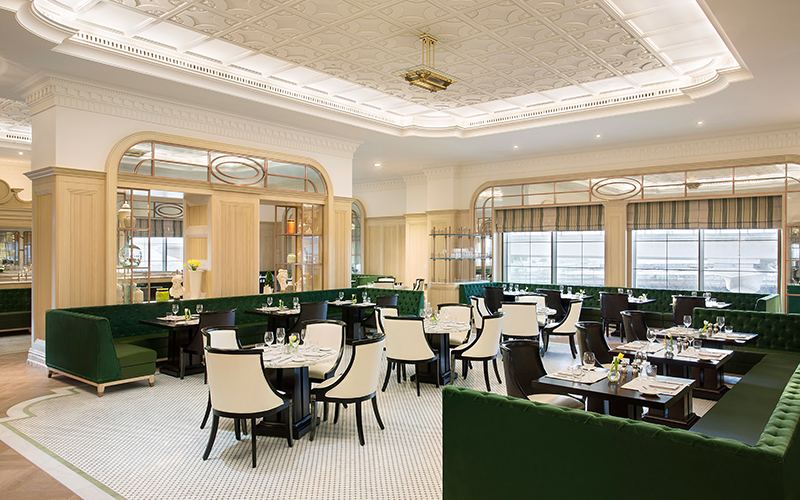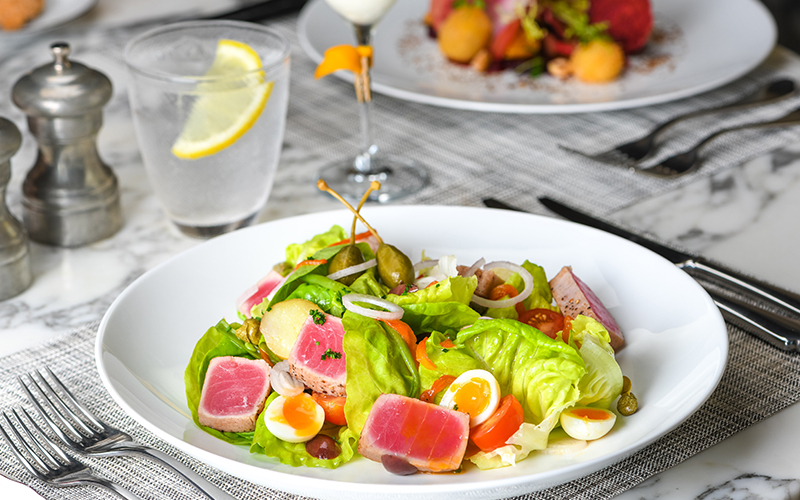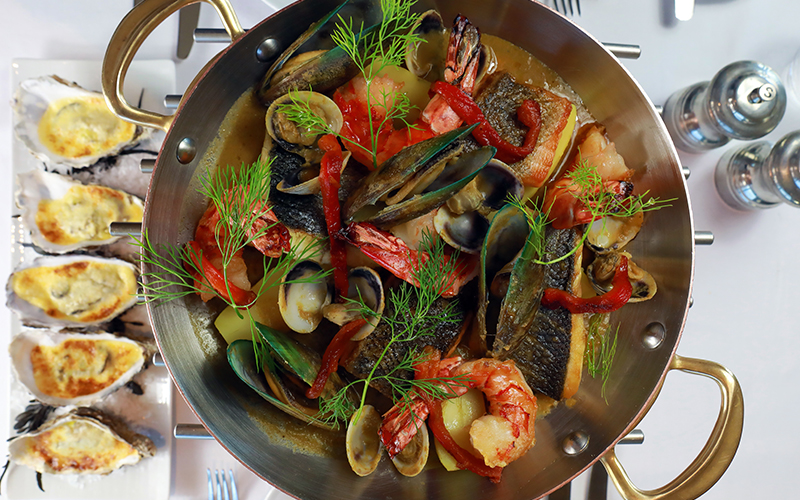 What's it like?
The nature's in the name with Habtoor Palace – the venue is one fit for royalty with vast columns at its entrance, its renowned dome roof and a vast lobby complete with marble staircase and huge chandeliers.
BQ is in keeping with this grandeur. Take the stairs, turn left and you'll find yourself at BQ, one of the hotel's most prominent and ineffably classy restaurants.
Upon arrival you're instantly intoxicated with BQ's aura, the venue an immediate fit for a classy, French dining experience, with art deco furniture and high ceilings. You're greeted by extremely friendly staff – thankfully bucking the stereotype of stuck-up French waiters, who BQ claims are all Francophone (we didn't test this too rigorously, mais c'est la vie).
The newly-launched Paris, Paris! dining experience, taking place every Thursday evening, begins with a welcome drink and a greeting en français from BQ's staff. Subdued lighting and tabletop candelabras complement the room's elegant décor, with French live music adding extra authenticity to the atmosphere.
BQ is large and spacious, and has several distinct seating sections. We were seated at a table just off to the side of the main area, which meant we were away from the main bustle of the place.
What are the food highlights?
Paris, Paris! features gourmet sharing dishes prepared under the supervision of  chef Mickael Bertho, with tableside service and live cooking stations.
Starters, main courses, and desserts are shared, while soup, meat, and dessert courses are presented on tableside guéridons. Live stations throughout the room serve freshly made crepes, a variety of fine cheeses and wine and beer.
The dining experience begins with four entrée options. Smoked salmon, potato blinis and crème fraîche come together nicely for the saumon fumé, crêpe vonnassienne; the fois gras au torchon is a delight; while the tartine de chèvre chaud is one for the cheese lovers. My personal favourite of the entrées was a French classic beautifully done – feuilleté d'escargots, escargots in puff pastry. Snails aren't everyone's cup of tea, but as a garlic lover I was more than impressed with what BQ served up. The soupe à l'oignon au guéridon (onion soup) rounds off the entrée course nicely.
The fruits de mer selection is next, and offers a refreshing follow-up. My personal highlights were the salmon and sea bass tartare dishes – both featuring exquisite texture with a fresh lemon zest. They're supported by old favourites in the form of prawn cocktail and oysters.
The main course options are rich bouillabaisse and superbly prepared côte de boeuf.
The beef was very well presented, and truth be told the ideal size portion – I was already stuffed following the generous portion of  the fruits de mer and entrées. The cote de boeuf was cooked very nicely, my dining partner and I opting for the recommended medium temperature, while the sauteed mushrooms and broccolini offering a fitting accompaniment.
The grape-and-cheese course then set the stage for a visit to the crêpe and French toast station, and both options provided a simple, sweet finale to what a classy evening of fine dining.
The bottom line:
Paris, Paris! is an excellent form of Thursday night escapism for those who love all things French. A standout evening of sophistication, and a great way to treat yourself after the working week. A high-end five course meal, good wine and polished surroundings – what's not to like?
Details: Every Thursday from 7pm-11pm. Packages start from AED 225 per person inclusive of soft beverages. For more information or to make a reservation, call 04 4355577 or e-mail dining@hiltonalhabtoorcity.com