Array
(
    [ref_id] => 96
    [photo_file_name] => ananta.jpg
    [posted_by] => 
    [text_display] => <p>
	 <em><span style="background-color: initial;">It's only natural for The Oberoi, Dubai, to have an Indian restaurant – being part of an Indian chain of hotels...</span></em>
</p>
    [cover_photo_file_name] => ananta.jpg
    [slider_images] => 
)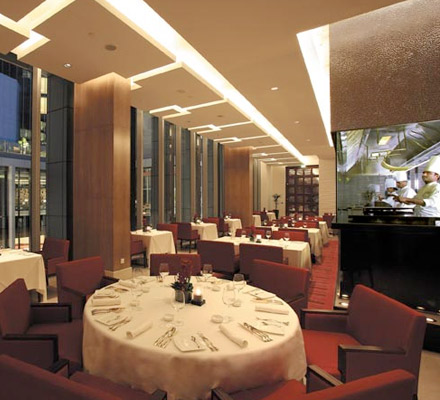 What's it like: It's only natural for The Oberoi, Dubai, to have an Indian restaurant – being part of an Indian chain of hotels. The word Ananta, translates to 'without end' in Sanskrit, which is exactly what a meal here offers in terms of flavour and aromas. Ananta's interiors are stylish, simple and minimalist – no intricate embellishments or heavy fabrics here – with a show kitchen in the middle, where we enjoyed watching one chef flipping rotis, while the other grilled meats. A maroon and beige colour scheme, with tall wooden pillars near the large floor-to-ceiling windows, give the space a modern, sophisticated vibe. My partner and I sat beside the window which offered views of the fountains below.
After settling down with refreshing saffron martinis, we decided to order dishes to share, for starters. Our first appetiser was a crispy fried idiyappam (rice flour hoppers) with Malabar prawns and coconut and onion relish, roasted shallots and raw papaya. We both relished these crunchy but succulent prawns, but since there were only three, we chose to also order the Kandhari murgh tikka – morsels of chicken on skewers with crushed pomegranate and chili inside. The closest thing I can compare it to is a shish tawouk, an interesting version of it. For mains, I had to try the butter chicken (Murgh makhani) which was slightly sweet – the way I like it – and lamb braised with onions, garlic and Mathania chillis smoked with cloves (Lal mas). The lamb was blanketed with spicy gravy and the meat tender, but it was a bit on the greasy side. Both curries paired well with soft butter-y naans and paratha with chilli and onions. Although I ordered my own dessert – a champagne and lychee sorbet – when I saw my partner's dessert, I couldn't resist helping myself to the coconut payasam (pudding).
It was light, milky and a little sweet – the perfect Indian dessert! Overall, the dishes ranked high on flavour but we found the appetiser portions on the smaller side.
If you want to go: Around Dhs850 for three-course meal for two. Call 04-4409300.
Best for: A special-occasion celebration
– Nicola Monteath