Peruvian-meets-Japanese cuisine at the newly-opened Club Vista Mare on Dubai's Palm Jumeirah What's the concept? Aji specialises in Nikkei cuisine, a word which now refers to describe the mixture of flavours and cooking techniques that resulted when Asian cooking techniques met Latin American ingredients (the term comes from the original Japanese word 'nikkeijin' used to …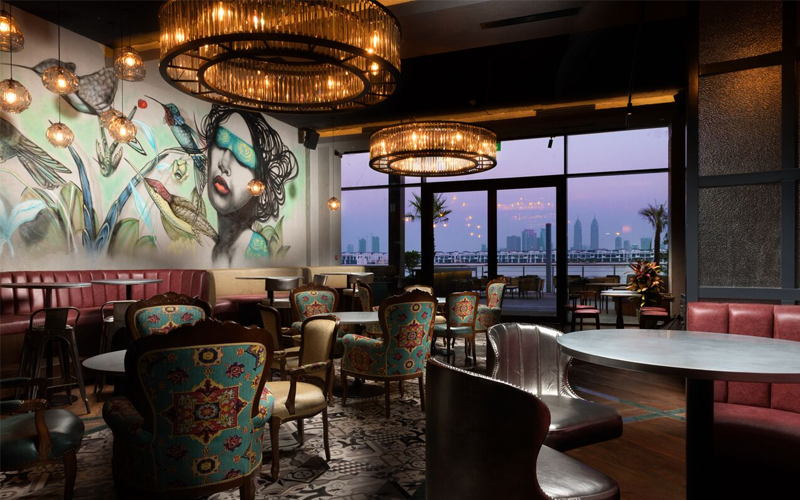 Peruvian-meets-Japanese cuisine at the newly-opened Club Vista Mare on Dubai's Palm Jumeirah
What's the concept?
Aji specialises in Nikkei cuisine, a word which now refers to describe the mixture of flavours and cooking techniques that resulted when Asian cooking techniques met Latin American ingredients (the term comes from the original Japanese word 'nikkeijin' used to describe the Japanese people who immigrated to South America in the late 1800s The cuisine is currently taking the food world by storm, and Peru has given rise to a particularly large Nikkei dining scene – indeed, celebrity chef Nobuyaki Matsuhisa (of Nobu fame) champions this type of cooking.
Food highlights?
Typical of any fusion restaurant, you get a mixture of cooking styles and ingredients. Traditional sushi rolls sit alongside more contemporary ones; including nigiri made with scallops and truffle butter and Futumaki filled with wagyu beef and avocado. The ceviches – seafood marinated in citrus juice and spices – certainly aired toward the more traditional South American, while mains – some served over a Yakinuku barbeque – was more Japanese.
How is the service?
Considering the menu requires knowledge of both Peruvian and Japanese cuisines, the staff were well -versed in what each dish was, and the ingredients involved. They were happy to point out when another dish was required (Aji is definitely the place to share) but didn't go over the top and recommend more than was required.
What's the atmosphere like?
It is 'hip', to say the least. Located among the outdoor terraces and beach bars of Club Vista Mare, Aji certainly stands out. And while we can't imagine why anyone would want to sit indoors over the cooler months – not with the views of Palm Jumeirah outside – during the hotter months the cool, artistic interior (exposed brickwork, vintage mirrors, moody lighting) is definitely worth a visit.
Details: 12pm-4pm every Friday, soft drinks package AED 275, house beverages package AED 440, bubbly package AED 660. Aji, Club Vista Mare, Palm Jumeirah, Dubai, UAE. For more information visit Aji's Facebook page