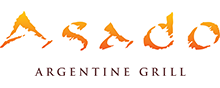 Classic prawn ceviche
This classic 'ceviche de gambas' (prawns, mango and passionfruit dressing) is perfect for a quick lunch or starter. Packed full of South American flavours, this dish was created by Chef de Cusine Josefinna Vallve at popular Argentinean restaurant, Asado in Palace Downtown.
Ingredients
50g sweet potato
190g prawns, cleaned, shells removed
20g red onion
20g mango
1g black pepper
4g salt
34ml passionfruit juice
12ml lime juice
4g coriander
Method
Cook the sweet potato for 25 minutes, then mash it together until you get a puree texture. Put to one side.

Blanch the prawns in boiling water for 30 seconds and let them cool down in ice water. Then cut them into cubes.

Cut the red onion in fine julienne and then wash five times.

Cut the mango into small cubes.

Mix the prawns, the mango and onion, season with salt and pepper, add the passion fruit and the lime juice.

Place prawn mixture in a cold bowl. Add some drops of the sweet potato puree and the coriander cress on top to garnish. Serve immediately.
Suggested recipes from this collection...