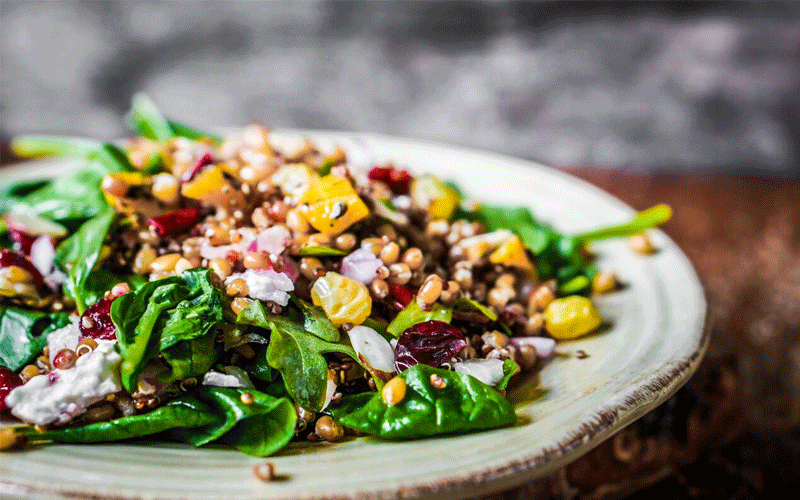 No time to cook during the working week? BBC Good Food Middle East has put together a list of the best healthy food delivery services in Dubai…
Stm'd
What's the deal?
Everything on the menu is steamed. Most of the dishes have a healthy base (such as mashed broccoli and feta for the 'green' base), two types of vegetables, one protein and a dressing. There's also a 'make your own' option. Recent additions to the menu include healthy Dim Sum and Chinese dumplings (both are delicious).
Pros
The portion sizes are large (they don't skimp on the meat or fish) and although the max delivery time is 40 minutes, the food usually arrives in under 30 minutes. Their 'make your own' option means they're flexible to different dietary requirements. There's something for all – including vegans, paleo, gluten free and dairy free. Stm'd is also one of the cheaper healthy food delivery services in the city, with their dishes starting from around AED 36 with free delivery. They also offer card and cash payment, and even an option to 'split the bill' when using card.
Things to consider
They currently don't have calorie, protein and carb content listed on their dishes, which would be a welcome addition to their menu. The delivery map on their website can also be a bit confusing to users, (the trick is to enter your area e.g. 'Tecom' on the map, rather than a building name), and then fill out your full address in the 'apartment' section which then populates the page.
Details: To find out more, head over to Stm'd.
Under 500
What's the deal?
All dishes on the menu are 500 calories or less. The menu includes all day breakfast options, soups, healthy burgers, super bowls and protein pasta dishes and even cheat-day treats.
Pros
The menu is varied, offering everything from avocado smash and acai bowls to lean steak wraps, organic lentil salads and a chicken burrito bowls. The calorie, protein, fat and carb content is also clearly labeled on each dish, and their website is user-friendly and easy to order from.
Things to consider
The minimum delivery order is AED 50 (which for many options requires ordering more than one dish), along with a AED 5 delivery charge. Many of the dishes are also have quite a high number of carbs, and there are limited options for those on a specialist diet.
Details: To find out more head over to Under 500.
Richy's
What's the deal?
This delivery service is a one stop shop for salads, soups and wraps. Perfect for week-day lunches, Richy's delivers to most locations in Dubai.
Pros
There's plenty of salad and wraps on the menu, along with a 'make your own salad' option. The latter is a standout option on the menu, the salads are large, and include up to six toppings. If you go for the tuna option, you get tuna steak, rather than the cheaper canned tuna. Payment options are flexible too, with both card and cash on offer.
Things to consider
Although the wraps are healthy, they come with a tub of Pringles that is not mentioned on the menu and therefore provide a surprise unnecessary temptation for those trying to stick to a healthy diet.
Details: For more information visit Richy's.
@blend
What's the deal?
The name of this café and delivery service comes from the fact that @blend offers a number of blended smoothies and juices. Also on the menu is a range of healthy breakfasts, salads, wraps and sandwiches.
Pros
The smoothies are well thoughtout and of a high standard. There's healthy smoothies (with ingredients like green tea, kale and almond milk) fitness smoothies, which are all high in protein for a pre or post exercise fuel and dessert smoothies for those with a sweet tooth.
The menu lists the calorie and protein content of each dish and drink (although sadly not the carb or fat content). You can pay by card or cash and can order via telephone or through deliveroo.
Things to consider
The main dishes on the menu are a little on the plain side, and the only water available on the menu is Voss, pushing up the cost of the bill.
Details: For more information visit @blend.
Kcal
What's the deal?
A stalwart of the healthy food delivery in Dubai, Kcal has an extensive healthy food menu, which users can order either ad hoc or sign up to a specific month long meal plan.
Pros
Kcal has a well thought out low carb menu. All their burgers come with a 'without bun' option, where the burger is served sans bread, and instead wrapped in lettuce. There's also a pasta-free lasagna and a low-carb cauliflower mash side dish. All of the ingredients, calorie, carb, fat and protein content are all clearly labeled on each dish on the menu.
Things to consider
There's limited options for those with a specialist diet, even well-known diets such as vegetarianism or gluten free.
Details: For more information visit Kcal.