From exotic epicurean experiences to rooftop brunches and innovative coffee creations, here's our suggestions for everything exciting in the UAE
Abu Dhabi
Hakkasan Abu Dhabi, Emirates Palace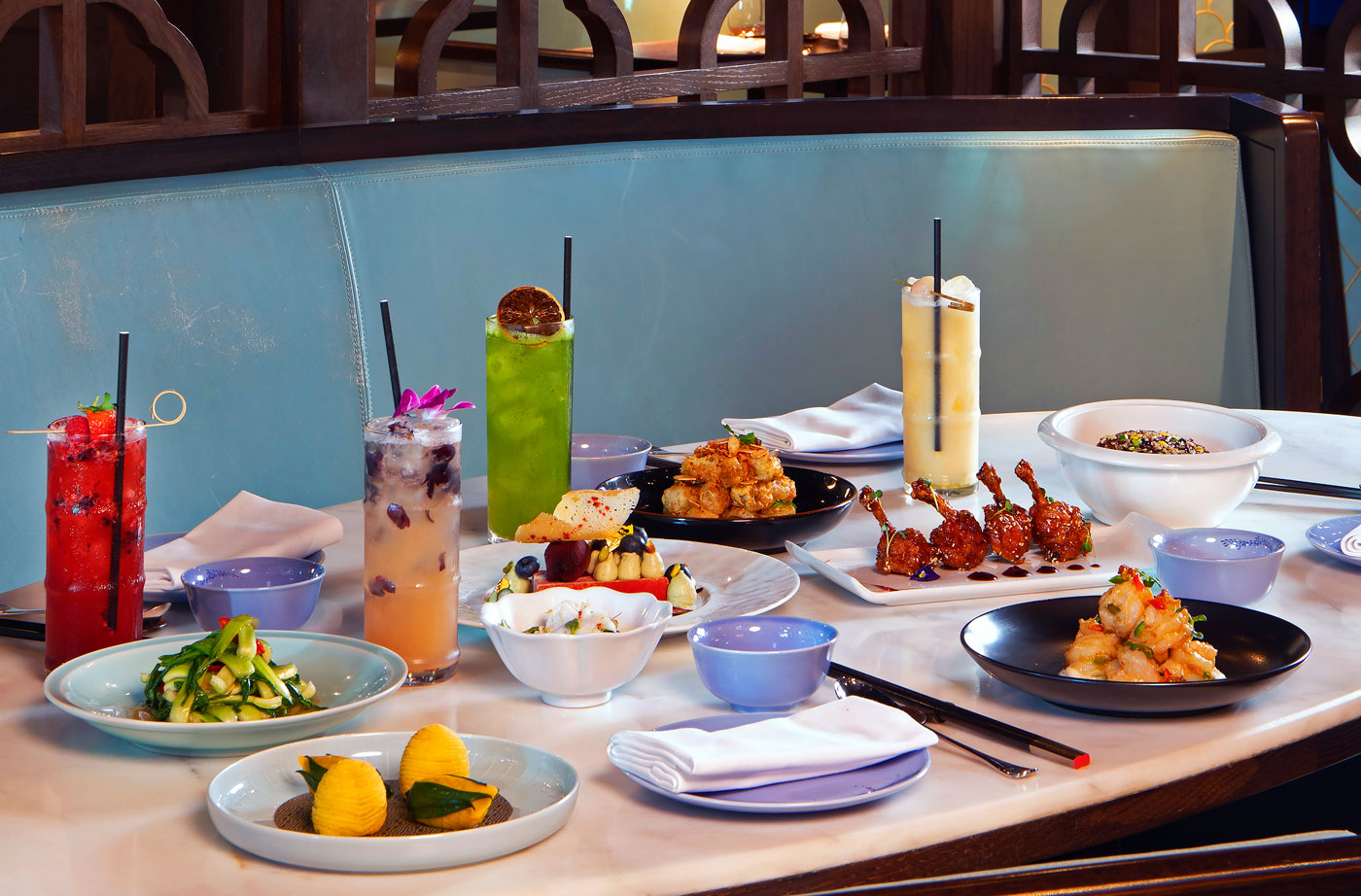 Hakkasan Abu Dhabi has welcomed the summer season with its refreshingly spectacular Cantonese Journey menu. Brimming with vibrant dishes starring locally-sourced ingredients, the menu offers diners a modern interpretation of authentic Cantonese cuisine, taking inspiration from both contemporary and ancient China. The three-course feast begins with a fresh Cuttlefish salad with a zesty lemongrass dressing, a dim sum duo and Crispy eggplant with Chinese five spice. The starters are followed by mains, where diners can enjoy Sticky sesame chicken, Wok-fry local wild prawn with XO sauce, Stir-fry baby bok choi with garlic and a hearty Fried trio organic rice. A sublime sweet in the form of a Blueberry cheesecake rounds off the epicurean experience.
Cantonese Journey Menu, daily from June 1 to September 15, from 6-11:30pm. AED298 per person. Call +9712 690 7739 or email EPAUH-Hakkasan@mohg.com. Visit the website or Instagram.
Dubai
Panorama Brunch, Raia Rooftop Bar and Lounge, Taj Exotica Resort & Spa Dubai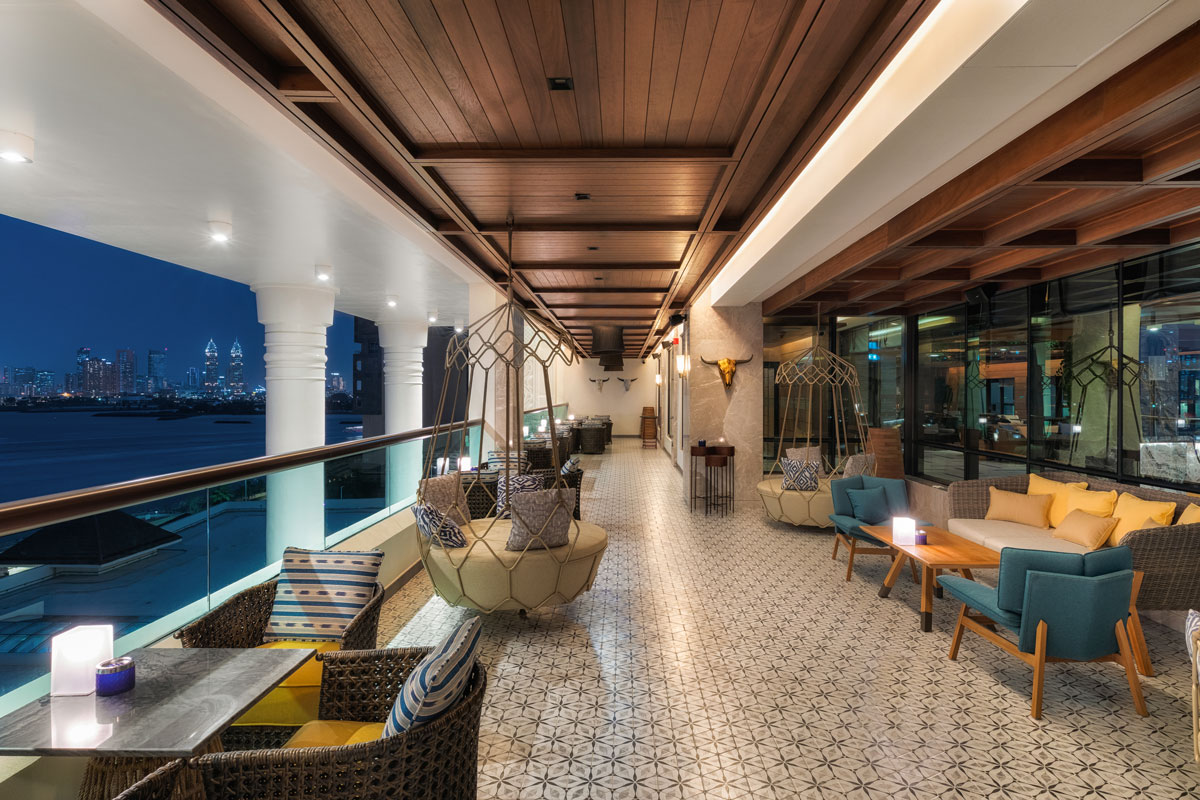 Taj Exotica Resort & Spa, The Palm, Dubai is an exquisite new property perched on the East Crescent, away from the hustle and bustle of the city. The resort is home to Raia Rooftop Bar and Lounge, a glamourous rooftop setting exuding elegance and sophistication, elevated by irresistible flavours and panoramic views of the Palm's horizon and Dubai's iconic skyline. The destination has launched a fabulous new Saturday brunch, complete with lively entertainment, a sensational set menu of contemporary Middle Eastern flavours and punchy sips within a vibrant Arabesque atmosphere.
Saturdays from 1-4:30pm. AED300 per person (inclusive of soft beverages), AED450 per person (inclusive of house beverages), AED600 per person (inclusive of bubbly) and After Party package from 5-7pm at AED150. Visit the website or Instagram.
Bleu Blanc Brunch, The St. Regis Downtown Dubai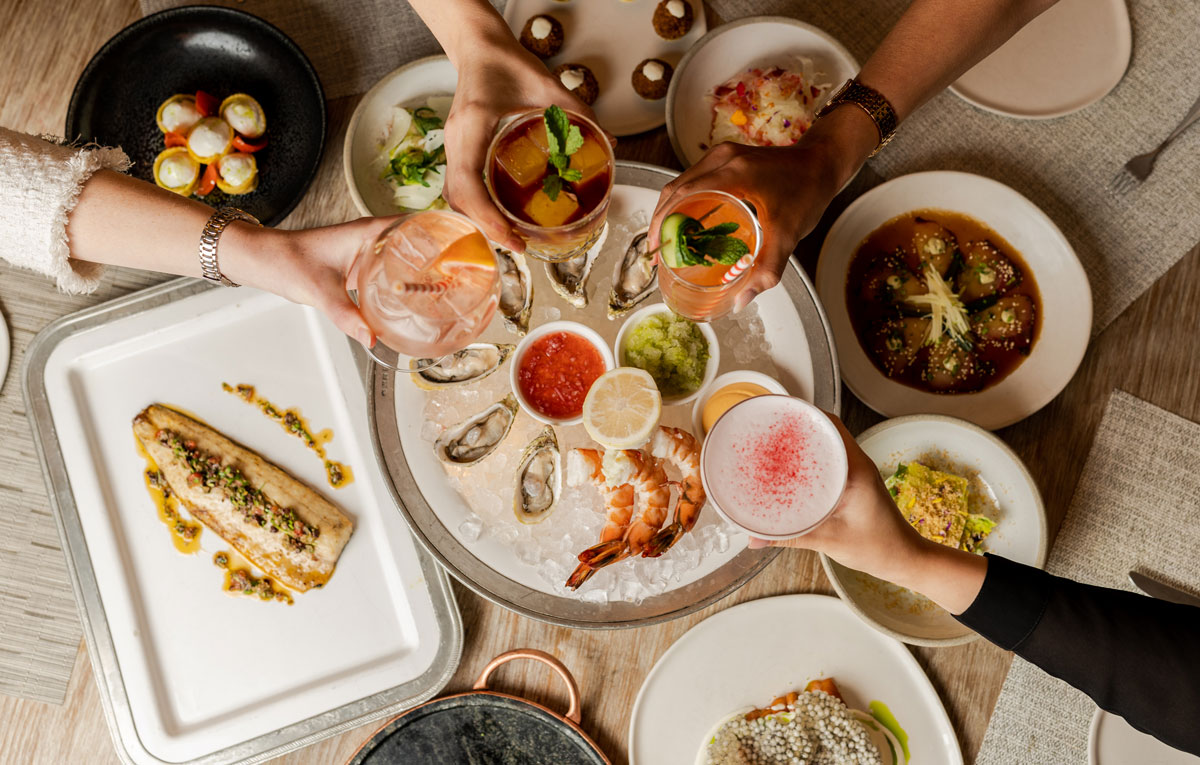 Set in French-inspired vintage decor, Bleu Blanc bistro invites discerning diners to enjoy a new laid-back table service Mediterranean brunch. The gourmet journey takes places amidst chic surroundings, elevated by gorgeous water views, exquisite fare and refreshing sips. Food will be a mix of live crudo station, table service starters, mains and a dessert trolley; accompanied by a collection of cracking creative concoctions in true Bleu Blanc style.
Saturdays from 1:30-4:30pm. AED350 per person (inclusive of soft beverages), AED450 per person (inclusive of house beverages) and AED700 per person (inclusive of bubbly). Call +9714 512 5533 or email SR.DXBDX.Reservations@stregis.com. Visit the website or Instagram.
Gold, Caviar & Fizz, SLS Dubai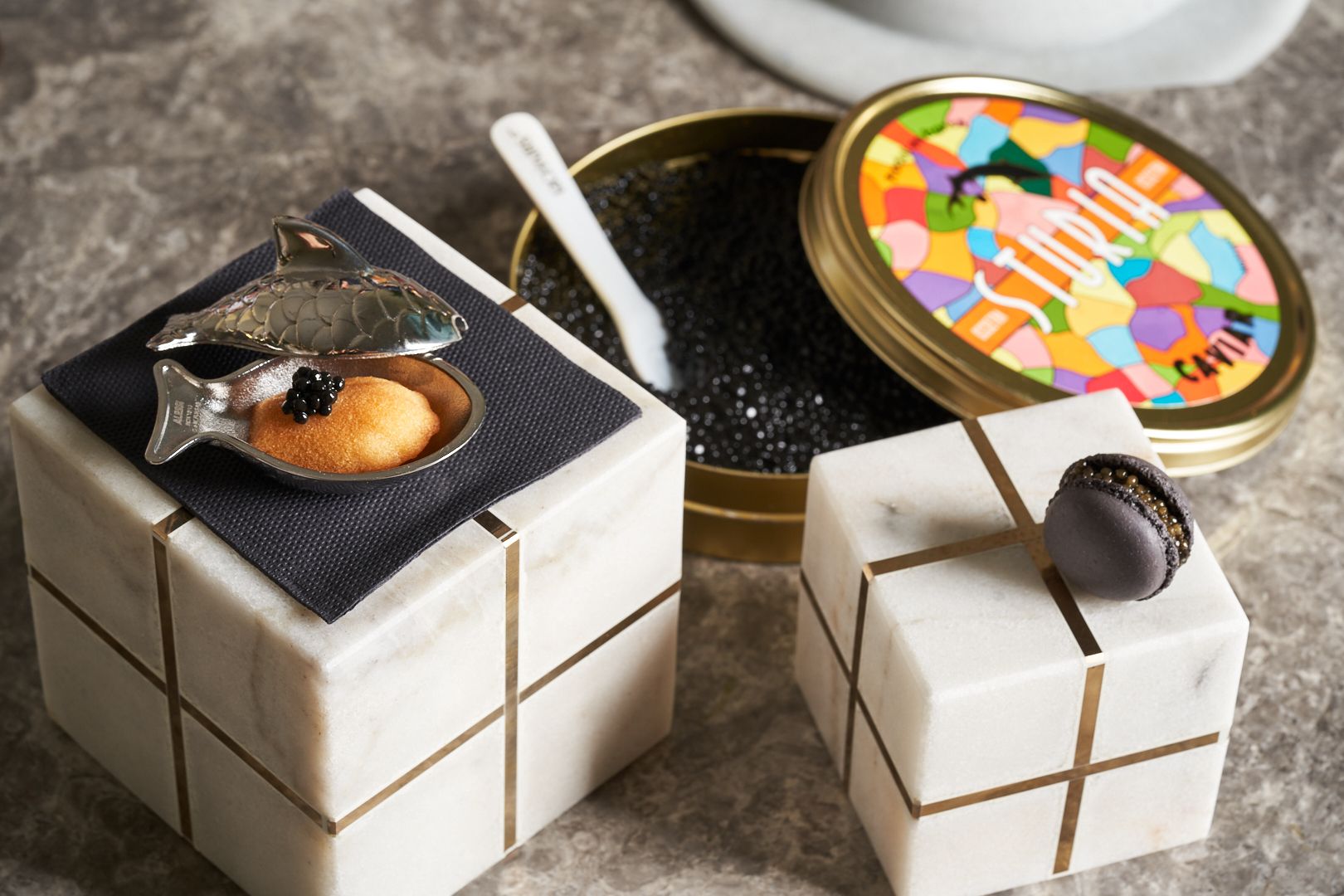 The sophisticated SLS Dubai welcomes you to a luxurious afternoon in the city.  Soaring above Dubai's skyline, on the 69th floor of the iconic Downtown Dubai hotspot, Ciel Spa is the starting point for this exclusive Gold, Caviar & Fizz experience. Experience a 24k Gold treatment, specially designed to buff and polish; followed by an indulgent afternoon tea featuring the finest caviar from 12 Chairs and sumptuous bites from SBar, accompanied by a bottle of premium bubbly on the 71st floor.
Gold, Caviar & Fizz at Ciel Spa, open from 10am-8pm and Sbar, open from 12-10pm. AED2,400 for two persons (inclusive of 90-minute Gold Treatment and a bottle of premium bubbly with afternoon tea and bites from SBar and 12 Chairs. Call +9714 607 0654 or +97156 417 388. Visit the website or Instagram.
All Emirates
Intellect Coffee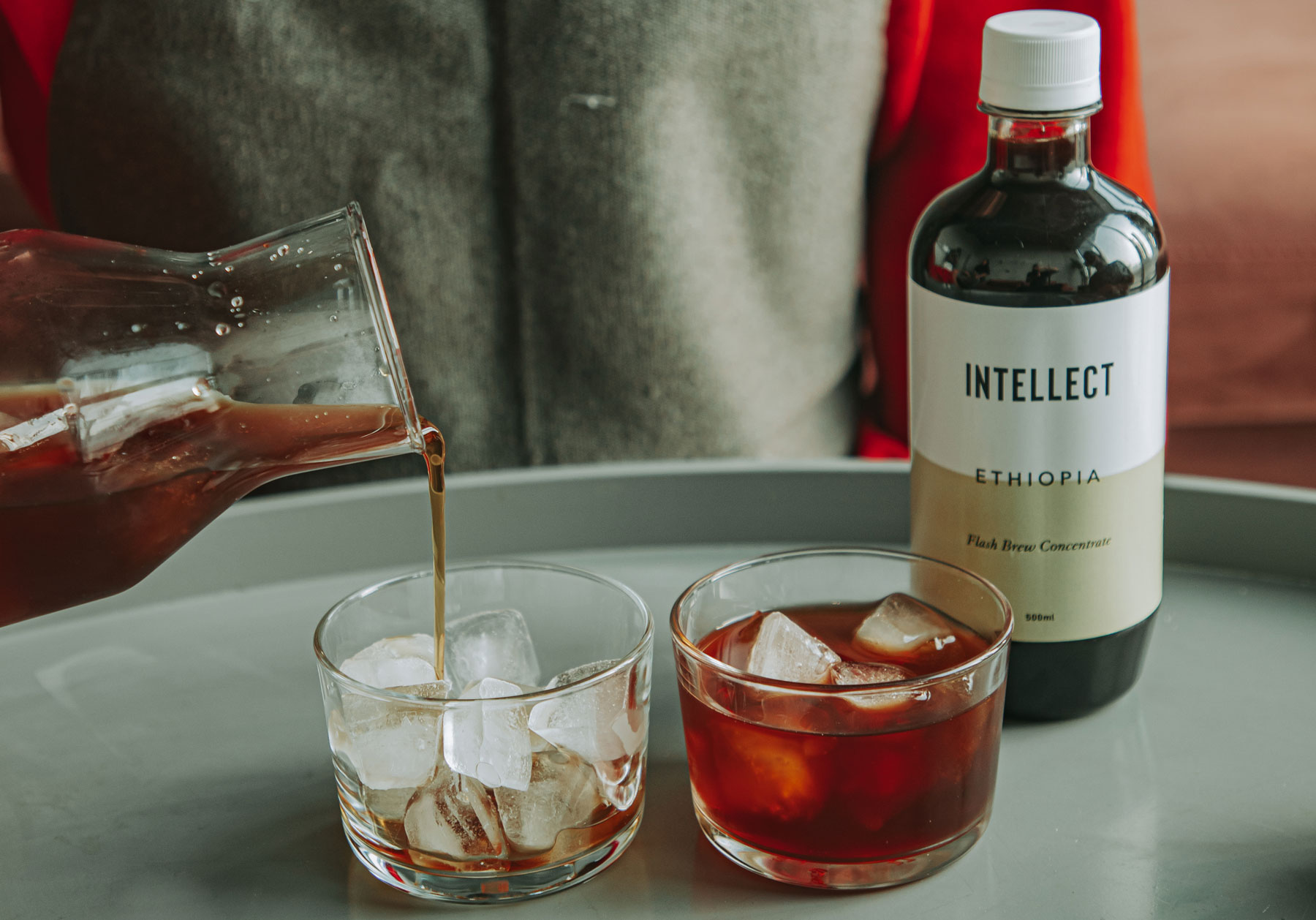 Prefer staying home? Cool down this summer season with the homegrown coffee brand's latest offerings. These include three exclusive coffee concentrates to give you that caffeine kick in the most refreshing way, whether diluted in milk, soda, tonic, still or sparkling water. Intellect's Industrial flash brew concentrate, made of single origin Brazilian coffee, has an intense velvety taste and exudes flavours of milk chocolate, hazelnut and vanilla. The Cascara concentrate is made of the dried pulp of Coffee Cherries from Ethiopian fresh crops; and offers a tangy and refreshing flavour that is sure to remind you of a fresh summer breeze. Finally, Intellect's Ethiopia flash brew concentrate is made of single origin Ethiopian coffee and has a rich, floral and fruity taste.
AED43 for The Ethiopia, AED65 for The Industrial and AED85 for The Cascara. WhatsApp +97150 466 9376. Visit Instagram.