This summer, head to these exquisite venues with loved ones and experience exciting UAE dining deals and offers
OĀNJO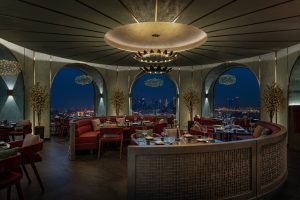 Sushi enthusiasts are welcome to experience Oanjo, a culinary journey that fuses Portuguese and Japanese influences. Delight in a laid-back atmosphere while savouring an unlimited selection of sushi with a lively musical backdrop. For those looking to enhance their sushi extravaganza, you can pair it with a refreshing beverage.
Every Friday, from 5-10pm. AED125 per person including sushi. Call +971-43772356.
The Stables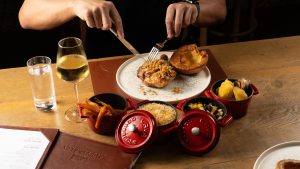 The Stables Dubai will present a family-friendly feast, featuring a variety of delectable roast meats, fresh salads, hearty soups, and tempting appetizers. Whether you have a penchant for succulent roasts or prefer a savoury vegetarian choice, The Stables Dubai caters to all tastes. The Stables Dubai is renowned for its inviting atmosphere, hospitable service, and dedication to delivering an authentic British dining experience.
Every Sunday, from 12pm. From AED110. Visit website.
The Greedyman Pizzeria
Delight in an exclusive 50% discount, with potential savings of up to AED30 on every order. Relish your preferred Neapolitan-inspired pizzas, and discover a variety of favourites in the comfort of your home.
Throughout September and October. Order via Talabat, Deliveroo, and Careem.
Villamoré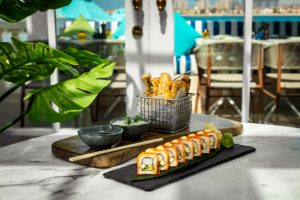 For individuals seeking a captivating dining experience enhanced by Dubai's renowned skyline, Villamoré introduces Dubai's 30 Degrees of Summer. This dining deal encompasses a 30% discount on a remarkable selection of sundowners and tantalizing beach-inspired bites such as California maki and Fried sardine fillet.
Daily, from 8pm to 11pm. Call +9714 444 2000 or email fbreservation.thepalm@kempinski.com.
Waldorf Astoria Dubai Palm Jumeirah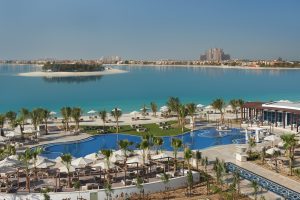 Guests can revel in stunning sea and city vistas while enjoying six renowned restaurants and bars, catering to even the most discerning palate. The acclaimed Social presents a contemporary spin on Italian cuisine, while LAO offers comfort dishes from Southeast Asia. For a diverse culinary journey, Mezzerie's international buffet has something for everyone. During the day, the relaxing pool with cabana rentals provides family entertainment, giving parents a chance to escape to The Waldorf Astoria Spa. Here, rejuvenation awaits with signature treatments, traditional Hammam, sauna, steam room, and hydrotherapy. The young ones are in for a treat too, with special check-in, child-friendly amenities, and the vibrant Coco's Kids Club offering a range of engaging activities.
From AED850. Call +9714 828 2245.
ASIA ASIA
An enticing experience awaits with Asia Asia's Sushi Sundays bringing an exquisite culinary affair to elevate your Sundays. The UAE's acclaimed Pan-Asian restaurant invites sushi enthusiasts to relish a bountiful spread of unlimited sushi and dim sum, perfectly paired with a bottle of grapes. Held at their Dubai Marina, Business Bay, and Yas Bay Abu Dhabi locations, the event showcases an array of meticulously crafted rolls, nigiri, sashimi, and delectable dim sum, all prepared with the finest ingredients. Whether it's a lively gathering with friends, a romantic evening, or a gourmet escapade, Sushi Sundays at Asia Asia promise a distinctive dining escapade, allowing you to conclude the weekend on a high note.
Every Sunday from 2pm-6pm. AED330 per couple. Visit website.
Tonino Lamborghini Mare Nostrum
Tonino Lamborghini Mare Nostrum has introduced its Friday "Dolce" Pool Brunch for guests to kickstart their weekend with a Mediterranean-inspired three-course menu. The brunch presents a delightful array of delicacies including a light Salmon carpaccio with beetroot or a refreshing Cantaloupe melon with buffalo mozzarella and rocket. The appetizers are followed by the tantalizing Mushroom risotto or the Wagyu beef patty with cheese on a brioche bun. The brunch concludes on a refreshing note with a Fruit platter.
Every Friday. Start from AED350 per person for tables by the pool and AED495 per person for sun beds. Call +97158 559 4222. Visit Instagram.
Trattoria by Cinque
Indulge in a memorable dining experience at Trattoria by Cinque, where Chef Marco is prepared to enchant you with Nonna's treasured kitchen secrets for an elevated lunch break. Gather your colleagues and step into the inviting trattoria, where steaming plates of delectable pasta and signature beverages await. Menu highlights include tantalizing Arancini, Tagliatelle alla bolognese to pinsa, and the classic Tiramisu.
Monday to Friday from 1pm-5pm. From AED105 per person. Visit website.
Bla Bla Dubai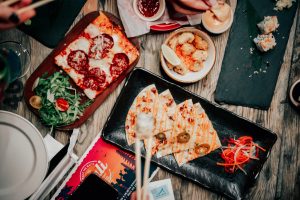 Escape the heat with Bla Bla's Friday night brunch going indoors for the season. The renowned Bali-themed brunch will be taking place in The Backroom featuring three eclectic bars, a disco ball DJ booth, live performances by percussionists and dancers, and tantalizing dishes including Salt and pepper squid, Dynamite mushrooms, California roll, Margherita pizza, Sausage rolls, and Cheese Quesadillas.
Friday from 8-11pm. AED149 including soft beverages. AED299 including unlimited house beverages. Contact +9714 584 4111. Visit Instagram.
The Coterie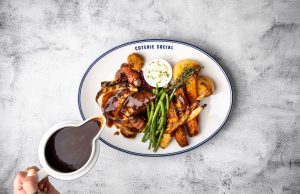 With a focus on using fresh, locally sourced ingredients, The Coterie offers a range of hearty English dishes including a delightful selection of meats including succulent Roast beef, tender Roast lamb, and Roast chicken. In addition, vegan alternatives are also available, accompanied by a delectable array of accompaniments such as Yorkshire puddings, rich gravy, and an assortment of root vegetables, ranging from cauliflower and leek cheese to perfectly roasted potatoes and sage-infused onion stuffing. Conclude your meal with desserts such as Eton mess, Sticky toffee pudding, or caramel Tia Maria tipsy cake.
Weekends only. Visit website.
Le Meridien Abu Dhabi
Indulge in Italian gastronomy at Little Tuscany's Weekend Brunch, which commences with a tantalizing sharing platter showcasing freshly baked Focaccia, an assortment of mixed Bruschetta, a refreshing House salad, crispy Frito mista, and Mozzarella sticks. Diners can then savour a choice of made-to-order pasta from the dedicated station or craft their own pizza adorned with an array of irresistible toppings. The dessert selection features Lemon meringue pie, Tiramisu, and other treats.
Saturday and Sunday from 12:30pm-4pm. AED129 per person including food (additional AED20 for soft package). AED80 per adult for pool and beach access and AED65 per kid aged under 12. Call +97156 688 5361.
Ibn AlBahr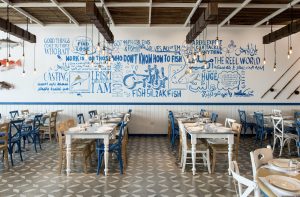 Situated within Palm Jumeirah's Club Vista Mare, Ibn AlBahr invites diners to indulge in Paella Tuesdays, set against panoramic views of the sea with a cosy dining experience. Savour the signature Paella featuring a combination of local vegetables and the freshest catch of the day, prepared in the traditional Paella pan.
Tuesday from 12pm-2am. AED220 for two and AED380 for four. Call +9714 553 9575.
Jones the Grocer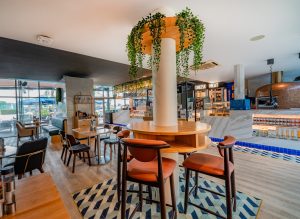 Calling all trivia enthusiasts! Put your knowledge to the test with the brand-new Quiz Nights hosted by Quiz Master Steve Shore. Gather your friends for an exciting Quiz meal or explore the enticing à la carte menu offering a variety of classic dishes and beverages including mouthwatering charcuterie boards with gourmet meats and cheeses, succulent burgers, and plenty more.
Last Saturday of each month. 7pm-9pm. AED99 per person. Call +9714 602 1814 or restaurantreservations@hyatt.com.