From traditional Indian restaurants to modern fusion eateries, the city boasts a diverse range of venues where you can celebrate Navratri in style
The Crossing
The Crossing is introducing an exclusive Navratri menu that adheres to traditional dietary restrictions associated with this revered festival. From a specified duration, The Crossing will offer a meticulously tailored Navratri thali, celebrating pure vegetarian cuisine by excluding cereals, onions, and garlic. The thali features various delectable takes on traditional dishes, including the shakarkandi sweet potato chaat, aloo rasa, ajwani lauki, spinach saag with himalayan jamboo spice, and sabudana khichidi. dessert options include makhana kheer and badam halwa.
October 15-24. Call +9714 491 9695.
Dhaba Lane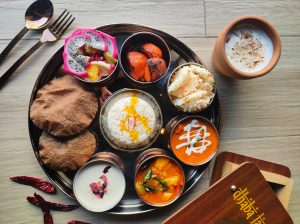 Dhaba Lane, a popular Punjabi restaurant in Dubai, is celebrating the upcoming Navratri festival by offering a special Navratri Thali. This limited-time thali features 9 delectable dishes made from locally sourced ingredients, including Fruit Chaat, Shakarkandi Tikka, Kaddu Ki Sabzi, Paneer Matar Makhana Curry, and more. Available for both lunch and dinner from October 15th to 24th at all Dhaba Lane outlets in Dubai, the Navratri Thali is priced at AED45. It's a festive feast menu curated by the renowned executive chef, Chef Harangad Singh, and provides a flavorful way to indulge in Navratri traditions.
October 15-24. Visit website.
Punjab Grill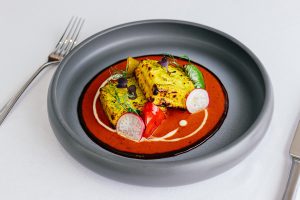 The set menu at Punjab Grill starts with a diverse selection of chaat flavours, offering choices like Khasta Arbi Chaat, Shakarkand Kamrakh ki Chaat, and Aloo Singada Dahi Wada, infusing a Navratri twist into the classic dahi wada. Next up, a pre-plated Tikki platter offers Kacche Kele Ki Tikki, Aloo Sabudana Tikki, and Suran ki Tikki, each with its unique blend and textures. For the main course, enjoy familiar classics like Paneer Makhana Curry and Malai Kofta, along with Khatta Meetha Kaddu, Til Moongfali Aloo, Samak Rice, Rajgira Roti, and a refreshing Kachumber salad. No meal is complete without dessert, and Punjab Grill's Navratri Set menu caters to your sweet tooth with options like Kesar Rasmalai and Lauki Ka Halwa, offering delightful treats to conclude your dining experience.
October 15-24. Call +97150 194 1107.