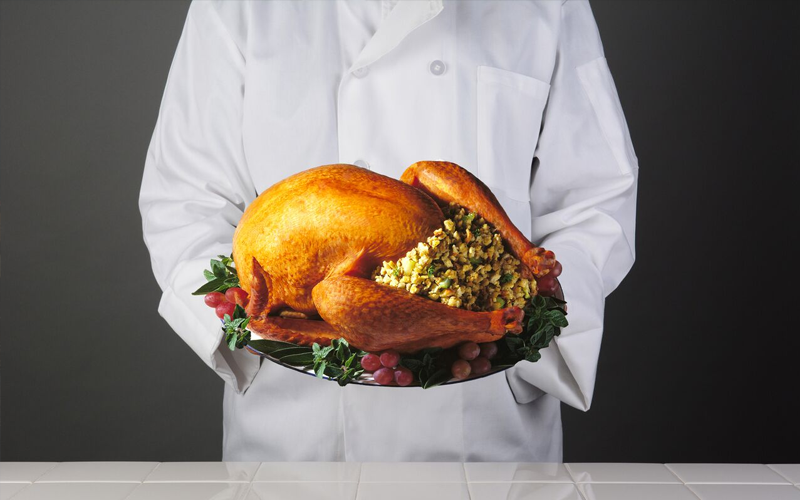 Do you want to enjoy a turkey Christmas dinner at home this year, without spending hours in the kitchen? Look no further, we've put together a list of the best takeaway turkey offers this festive season…
Best for… 24-hour home delivery service
Crowne Plaza
What do they offer?
Throughout December, Cappuccino at Crowne Plaza are offering a roasted turkey with all the trimming for collection or home delivery. Best of all, you only need to give 24 hours' notice to get your bird. Aside from the turkey and trimmings, there's an extensive deli collection including pumpkin pie, Christmas pudding and chocolate log amongst others.
Prices? Roasted turkey plus trimmings from AED 110 per kg.
For more information email fbreservations.cpdubai@ihg.com or call +971 800 276963 or click here
Best for… lots of trimmings
Shakespeare and Co
What do they offer?
The much-loved UAE restaurant chain is offering pick up roasted turkey and trimmings from all of its restaurants across the country this festive season. There's also plenty traditional festive sides on offer too, from Brussels sprouts, to roasted chestnuts and roast potatoes. Customers are advised to book their turkey at least 48 hours in advance.
Prices? Prices for a 5.5kg turkey with trimmings start at AED 600.
For more information email catering@shakespeareandco.ae or call +971 4329 1040 here
Best for… lots of guests
Paul Bakery and Café
What do they offer?
If you've got a lot of relatives flying in this festive season and don't fancy cooking, Pauls' has you covered. Available to pick up from all 17 of its branches in Dubai, the restaurant chain is offering a festive feast that can cater to up to 12 people. Aside from turkey, you can expect plenty of festive roasted veg and roasted chestnuts. Be sure to book 48 hours ahead.
Prices? Prices start from AED 599
For more information call +971 4 422 4502
Best for… traditional desserts
JW Marriot Marquis
The chefs at French restaurant La Farine are offering a tasty traditional dinner this festive season. Expect roasted root vegetables, traditional stuffing, cranberry sauce and of course- a roasted turkey. There's also some delicious dessert options on offer too. You can pick from Traditional yule log, Christmas cake or a beautiful centre piece gingerbread house. The restaurant offers pick-up only, and 48 hour's notice must be given.
Prices? Prices for turkey and the trimmings start from AED 750
For more information email jwmarriottmarquisdubailife.com or call +971 4 4143000 or click here