From ultimate spots to celebrate special occasions to exciting new offerings to indulge in, here are the things to do in the UAE in September
CÉ LA VI Dubai
Enjoy a meticulously curated three-course meal by Chef Howard Ko, accompanied by stunning city views. Join us on Level 54 for an extraordinary dining experience during this extended break. Savour favourite dishes including the tempting Burrata salad, California roll, succulent Roasted salmon, and the exquisite Black truffle "sushi rice" risotto. Conclude your meal with the delectable Vegan coconut tart.
Sunday to Friday. 12pm-3pm. From AED140. Call +9714 582 6111 or email reservation-dxb@celavi.com. Visit website.
Yalla Return
'Yalla Return,' a recycling initiative, has been launched in Jumeirah Village Circle (JVC) and Sobha Hartlands residential communities in Dubai, in collaboration with PepsiCo and talabat. This initiative encourages residents to embrace sustainability through a gamified approach using the 'Yalla Return' mobile app and Smart Bins. The program reflects PepsiCo and talabat's commitment to sustainability and aligns with their ESG agendas, aiming to contribute to climate change action. 'Yalla Return' promotes circular economic practices by promoting resource recovery, supporting the UAE government's vision for a greener future. Residents in specific buildings receive an onboarding kit with recycling bags and app access to participate in the community recycling initiative. Through the app, users can track their environmental impact, earn credits for recycling, and redeem rewards such as vouchers and discounts.
To download the app now, visit Google Play or the Apple Store.
Salmontini Le Bistro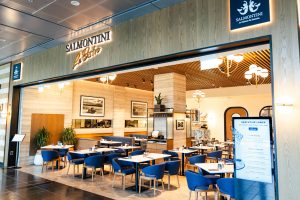 Salmontini Le Bistro, located in DIFC, welcomes sushi enthusiasts and food aficionados to indulge in its all-you-can-eat sushi dining offer, where you can choose from a wide array of traditional nigiri, sashimi, and makimono rolls, along with savoury and zesty edamame as a delightful appetizer.
Every Wednesday, Thursday, and Friday, from 3-9pm. AED175 per person.
Vietnamese Foodies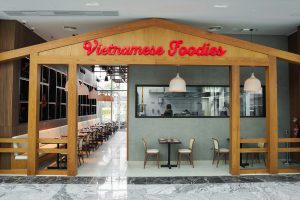 The award-winning Vietnamese restaurant has opened a new location in DAMAC Mall on the first floor near Spinneys in Dubai & UAE. This new location aims to serve residents in Al Barsha South and surrounding areas, including Sustainable City, Damac Hills, Damac Hills 2, Mira Oasis, and Townsquare. Look forward to signature Vietnamese dishes including their signature Pho, known for its authentic flavours reminiscent of Ho Chi Minh City.
Visit website.
Shang Palace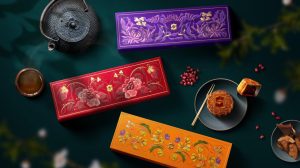 The Mid-Autumn Festival is a time for families to come together and celebrate the joyous occasion. This year, Shangri-La celebrates the festival by embracing the beauty of Asian flowers. Let the vibrant floral interiors set the stage for your Mid-Autumn festivities while relishing the delectable flavours of each mooncake.
September 25 until October 7. Mooncake Reunion Boxes from AED288. Call +9714 405 2703.
Sonamu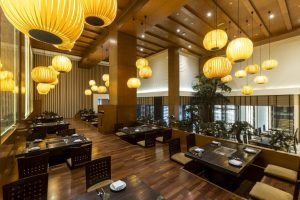 Nestled within Asiana Hotel, Sonamu has emerged as one of Dubai's premier Korean dining establishments. Whether you're yearning for the sizzle of Korean BBQ, comforting bibimbap, the savoury delight of pancakes, or the goodness of a hotpot, Sonamu boasts an extensive selection to fulfill your cravings. Moreover, the restaurant's ambience exudes a truly traditional and authentic atmosphere, enhancing the overall dining experience. For those seeking an authentic Korean BBQ encounter, advance reservations are advised to secure a spot at the specially equipped BBQ tables. These tables feature built-in grills, allowing you to cook your meat on the spot and relish it immediately—an engaging experience perfect for group gatherings, families, and children.
Contact +97155 609 9704 or email restaurantreservations@asianahoteldubai.com. Visit website or Instagram.
i am Burger
Earning considerable acclaim since its inauguration in 2020, this locally established burger brand presents an array of the city's finest double patties. The menu features a delectable selection of beef, chicken, or plant-based patty options complemented by freshly hand-cut fries, milkshakes, and a special burger sauce that is an absolute must-try.
Visit Instagram.
DIN TAI FUNG
Renowned Taiwanese restaurant, DIN TAI FUNG, is set to dazzle Dubai's culinary scene with its latest venture on Bluewaters Island. The all-new licensed venue offers a selection of new delicacies such as Lobster pot stickers, Lobster mapo tofu, Sea urchin noodles, and Black truffle egg fried rice, catering to a wide range of palates.
Visit Instagram.
CASSETTE
CASSETTE, a locally rooted eatery, is set to unveil a fresh menu on September 4th, marking five years of resounding success since its inception at The Courtyard, Al Quoz. Under the guidance of Executive Chef Shaunne Cordier, the revamped bistro-style menu brings forth over 20 exciting additions, enhancing its all-day-dining selection with innovative culinary creations, each imbued with CASSETTE's distinctive contemporary touch.  Diners have an array of fresh salad options to explore, including Avocado and tomato chicken salad, French country salad, and Country quinoa. For those seeking more hearty options, the new menu comprises Roasted salmon, Crispy skin snapper with salsa verde, and the Risotto de quinoa a la provençale.
Visit website.
Acres Grill House
Indulge in a sophisticated dining experience at Acres Grill House, nestled within Abu Dhabi's Yas Acres Golf & Country Club. The restaurant offers an elegant ambience with a wood-panelled dining room adorned with contemporary artworks and a wine cabinet spanning the length of the room. Inspired by American grill houses, the menu presents signature dishes such as Bloody Mary prawn cocktails, Burrata with heirloom tomatoes, Dungeness crab cakes, Australian wagyu striploin with a marble score of nine, Hot chocolate tiramisu, and Baked cheesecake with a Lotus biscuit crust. Complementing the meal is a curated collection of 100 hand-selected grapes from around the world.
Tuesday-Sunday, from 5pm-12am. Contact +9712 207 7331.
Soul St.
With its alluring blend of creative artistry and culinary excellence, Soul St. emerges as a must-visit destination where gastronomy meets vibrant street culture. Upon entering, you'll find yourself surrounded by a kaleidoscope of colours with stunning works of internationally acclaimed street artists, from the mesmerising 3D mural by PichiAvo that transports you to the streets of Europe to the intricately hand-painted Asian area by LAUCKY. Among the various exciting offerings at Soul St., the Ladies' Night deal takes guests on an unforgettable journey through the world of Asian street flavours with dishes such as Vietnamese roll, Steamed seabass, Stir-fried chicken, Green Thai curry, Green tea tiramisu, Mango pudding, and plenty more. Don't forget to pair your street food favourites with Soul St.'s signature concoctions!
Every Wednesday, from 7pm -10pm. AED150 for Ladies and AED250 for Gents (including five beverages and three courses). From 10pm, AED100 for three house beverages. Contact +9714 455 9989 or email fpjd.dining@fivehotelsandresorts.com.
Cinque
Experience a culinary odyssey under the guidance of Chef Mauro di Leo, as he immerses you in the alluring essence of his Sicilian heritage. The Cinque Chef's Table brings Sicily's true spirit to the forefront with a lavish 11-course set menu brimming with a selection of prime ingredients from the Mediterranean Sea and the Sicilian terrain. Delight in succulent Red prawns from Mazara del Vallo, exquisite Bluefin tuna, Homemade ricotta, and the signature Modica chocolate.
AED650 per person for the 11-course menu. AED1,050 per person for the 11-course menu and Italian grape pairings. contact +9714 455 9989 or email fpjd.dining@fivehotelsandresorts.com
Strand Craft Kitchen
Strand Craft Kitchen, renowned for its Mediterranean-inspired cuisine, introduces its special vegan menu, offering a thoughtfully curated array of breakfast delights, tapas, main courses, and delectable desserts, all designed to cater to health-conscious diners and vegans. The innovative menu features nourishing options such as Truffle mushroom toast, Acai bowl, Eggplant dip and guacamole, Impossible meat loaf, Tofu coconut laksa, and a sweet end to your meal with homemade Sorbet or zesty Lemon cake. 
Contact +9714 430 2221.
ASIA ASIA
An enticing experience awaits with Asia Asia's Sushi Sundays bringing an exquisite culinary affair to elevate your Sundays. The UAE's acclaimed Pan-Asian restaurant invites sushi enthusiasts to relish a bountiful spread of unlimited sushi and dim sum, perfectly paired with a bottle of grapes. Held at their Dubai Marina, Business Bay, and Yas Bay Abu Dhabi locations, the event showcases an array of meticulously crafted rolls, nigiri, sashimi, and delectable dim sum, all prepared with the finest ingredients. Whether it's a lively gathering with friends, a romantic evening, or a gourmet escapade, Sushi Sundays at Asia Asia promise a distinctive dining escapade, allowing you to conclude the weekend on a high note. 
Every Sunday from 2pm-6pm. AED330 per couple. Visit asia-asia.com.
Attiko
Ideal for intimate gatherings or grand festivities, the rooftop lounge has introduced its all-new Summer Social experience. Guests can now savour an extensive sushi platter, paired with a premium bottle of grape. Drawing inspiration from an Asian garden, the space is adorned with continuous floor-to-ceiling windows and envelops lounge seating encircling a bar, reminiscent of a mysterious paradise adorned with natural elements, creating an enticing and vivacious backdrop with 180-degree panoramic vistas. Anticipate an eccentric ambience, amplified by high-energy house tracks played by the resident DJ, ensuring an enthralling atmosphere that resonates throughout the night.
Until September 30. Monday to Thursday from 5pm onwards. AED295 per person. Contact +9714 350 9983 or email reservations@theattiko.com.
YUi Ramen House
YUi introduces a fresh summer menu featuring light and revitalizing dishes, perfect for the warmer months. Tuck into the Hiyashi chuka (cold ramen bowl with Japanese flour noodles in a zesty citrus ponzu-tare marinade, accompanied by prawns, vegetables, and an antibiotic-free atsu-yaki egg), the YUi salad (atsu-yaki egg, shaven carrots, and white radish atop mixed leaves with cherry tomatoes and crunchy chips), vegetarian Summer roll, and Prawn spring roll.
Contact +9714 243 4217.