Everything to look forward to at this Palm Jumeirah destination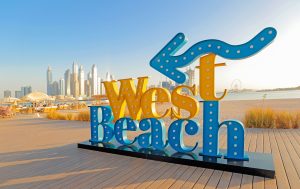 Palm West Beach showcases a lineup of year-round activations with fuss-free access to the Palm's pristine beaches. From world-renowned restaurants and bars to beach clubs and luxury hotels, meander the beachfront promenade while viewing the iconic Dubai Marina skyline.
Situated along the west side trunk of the Palm, this buzzing destination shares an up-close view of hotels such as the Fairmont The Palm, FIVE Palm Jumeirah Dubai, and Hilton Dubai Palm Jumeirah, to name a few. Open daily from 8am until 10pm, Palm West Beach also has a packed schedule of things to look forward to during the year. From interactive parades to fitness challenges on the beach, keep an eye out for a roster of events on their website.
GET ACTIVE
Morning workout
Kickstart your mornings with an energetic workout at the licensed beach strip, against the stunning backdrop of the pristine waters and sunrise.
Dog Walk
Jog or walk your furry friends while enjoying the fresh sea breeze and Marina skyline views.
Dining
Palm West Beach is home to a plethora of licensed restaurants and beach clubs, offering everything from breakfast to lunch, nibbles, sunset beverages, and dinner.
Water sports
Discover a range of water sports at Palm West Beach by choosing from activities such as kayaking, pedal boats, standup paddling, and more.
THE CLUB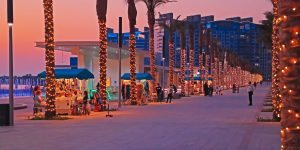 One of the most exclusive venues at Palm Jumeirah, The Club is home to multiple dining venues as well as private pools with beach access. Visitors can catch the free buggy from Koko Bay or Lucky Fish to visit a selection of beach concepts at The Club including SĀN Beach, EVA Beach House, Playa, Ristorante Loren, and AYLA Beach, to name a few.
Anchorage and jetty services are also available for visitors to dock their boats and yachts on West Bay at The Club and enjoy dining experiences at Palm West Beach.