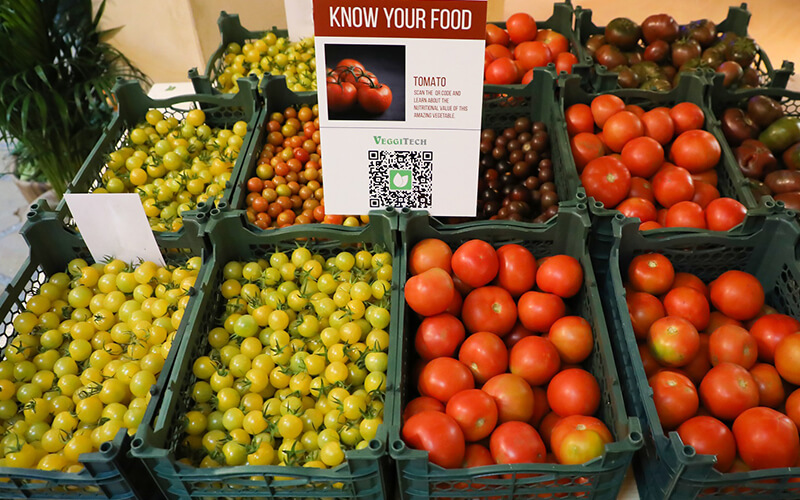 The Noodle House – the Asian food arm of Sarood Hospitality, has launched a new community-based campaign to give back to those on the frontline of the COVID-19 outbreak.
In partnership with VeggiTech, a UAE-based agri-technology start-up, the pair have curated nutritional care packages of fresh, locally grown produce to supply healthcare staff across the UAE – free of charge.
Speaking to BBC Good Food Middle East, Nicola Walsh, Sarood Hospitality's marketing director, recalls how the idea first came about after the team began assisting the community to run errands with the support of their Noodle House bike fleet.
"A conversation with one of our key partners VeggiTech, with whom we have so many shared common values, helped us fine-tune the 'Help Our Heroes' campaign, where both Sarood Hospitality and VeggiTech could give back to all frontline healthcare staff for working tirelessly during this pandemic," she says.
VeggiTech's Sharjah-based hydroponics farm, and the source of the fresh produce used in the packages, is located 80 kilometres from Dubai and tackles key challenges of traditional farming through its innovative technology.
Through its inhouse designed and manufactured system, the produce is grown using 95% less water usage and fertilizers; no pesticides, herbicides and fungicides, meaning the produce used in the packages is completely organic. The farm also boasts a 25-day harvest cycle compared to the 75-days in the field in conventional agriculture.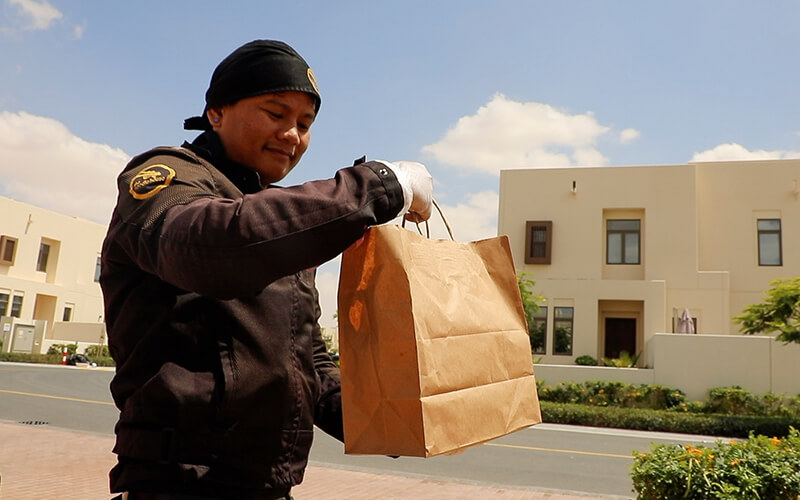 Available to "all healthcare staff," from nurses and surgeons, all the way to housekeeping, maintenance, reception, those wishing to apply for the package themselves or on behalf of a friend, can do so via The Noodle House on Facebook. In order for each application to be processed, the full name of the healthcare staff, role at the hospitality, delivery address with contact details must be sent via direct message to the page. In a bid to streamline the process and instill trust amongst the community, there is currently no process in place to verify applications.
"Our intention is to help as many people as possible," says Walsh. "We'd like the process to be as easy and accessible as possible hence there's no need for them to present their Emirates ID upon delivery, unless it's required from their end."
Inside each care package, recipients can expect a selection of highly nutritional fruits and vegetables such as tomatoes, cucumbers, peppers, aubergines, curly parsley and kale. "Up to 500kg of locally grown produce will be available per day from the onset of this initiative," says Walsh.
In line with Sarood Hospitality's green initiatives, each package will be delivered pre-packed in eco-friendly, compostable packaging. "All the care packages will be dropped off to the recipient as soon as possible after receiving the request – employing contactless delivery to maintain the highest safety and hygiene protocols," adds Walsh. "All our drivers – known as our 'Doodlers' – follow stringent personal hygiene routines, are equipped with hand sanitizers and use state-of-the-art high visibility delivery bikes, uniforms designed to enhance safety and driver visibility with speed limited to 100 kph."
For those wishing to utilise the package to recreate their favourite recipes from The Noodle House, or any of the Sarood Hospitality brands, can access online masterclasses from the Sarood Hospitality team across their social media channels.
The Noodle House is also offering a 40 percent discount on its signature Asian dishes when you order direct at order.thenoodlehouse.com. If you enjoyed this article, you may also be interested in reading about these delivery discounts on Dubai restaurants.