Whether you choose to celebrate the holiday in the comfort of your home, or dine out at a restaurant, here's our suggestions for sumptuous Thanksgiving and Festive turkeys
The holiday season is upon us and with it, a slew of festive feasts and tempting treats. Thanksgiving is celebrated around the world on various dates and in various ways. No matter the tradition, a Thanksgiving dinner comprises a roast turkey with all the trimmings and sauces.
Here are options from where you can get your celebratory meal, including vegan and alternative meat options, for the occasion or the rest of the season.
Jumeirah Zabeel Saray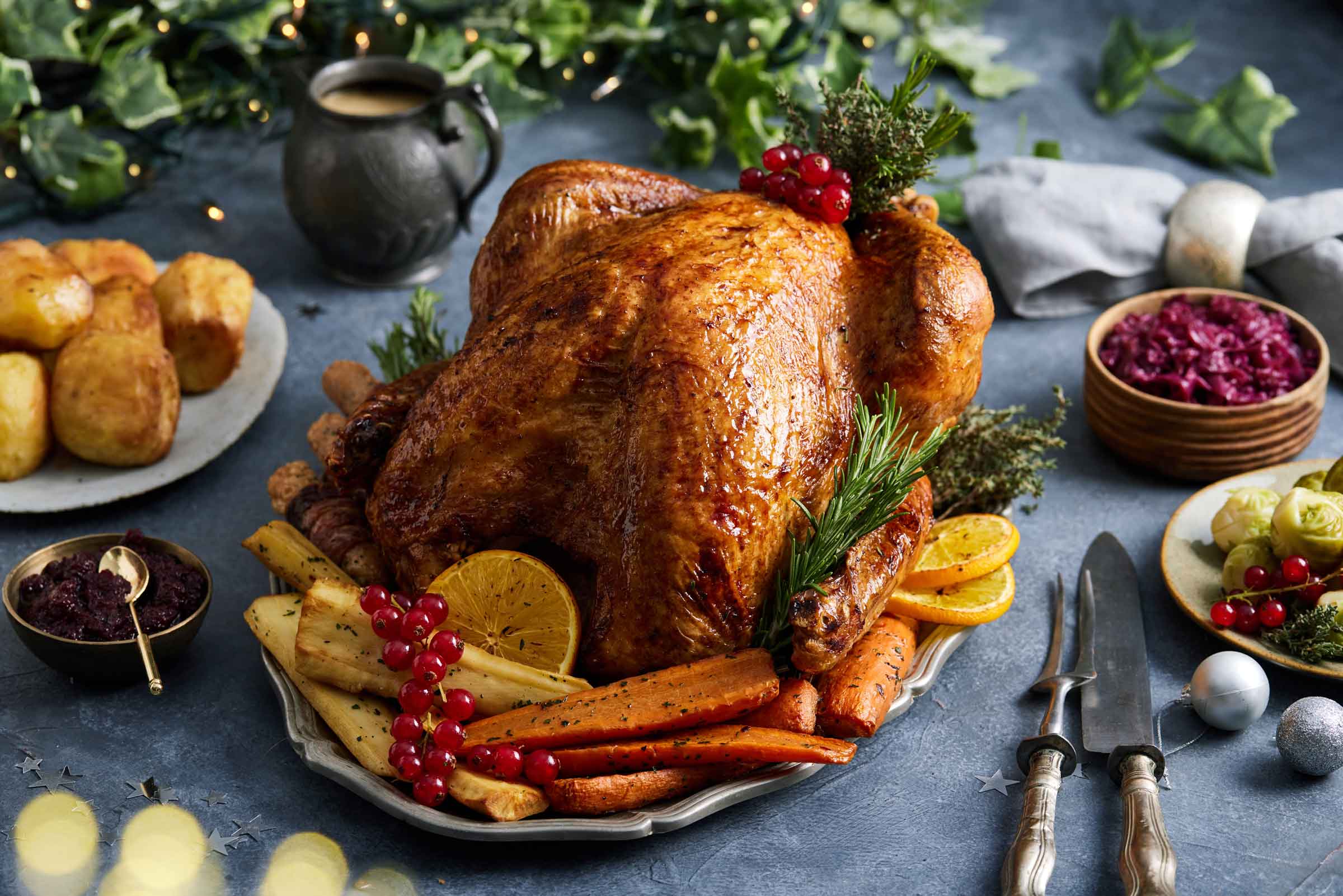 Take the stress out of cooking up a big bird, whether for a Thanksgiving spread or Christmas, and treat yourself to a decadent dinner from Jumeirah Zabeel Saray. The property's lavish Turkey Takeaway sees a foie gras parfait appetizer paired with preserved fig jam and homemade truffle brioche, to accompany roast Norfolk turkey with duck fat roasted potatoes, pumpkin and truffle mash, sausage and prune patties and cauliflower cheese sides, along with seasonal vegetables for the main event. For dessert, enjoy a traditional Christmas pudding with confit orange and much more, all rounded off with mince pies and a Christmas cracker. Even better, you even get an instructional video to help ensure you reheat and serve your turkey dinner to perfection.
November 25 to December 26. AED399 per turkey (serves two), AED699 per turkey (serves four), AED949 per turkey (serves six), AED1199 per turkey (serves eight) and AED1399 per turkey (serves 10). Bespoke packages are available with 48 hours' notice. Vegan alternative available upon request. Call +97155 138 6937 or email jzspd@jumeirah.com. Visit Instagram or the website.
Carna By Dario Cecchini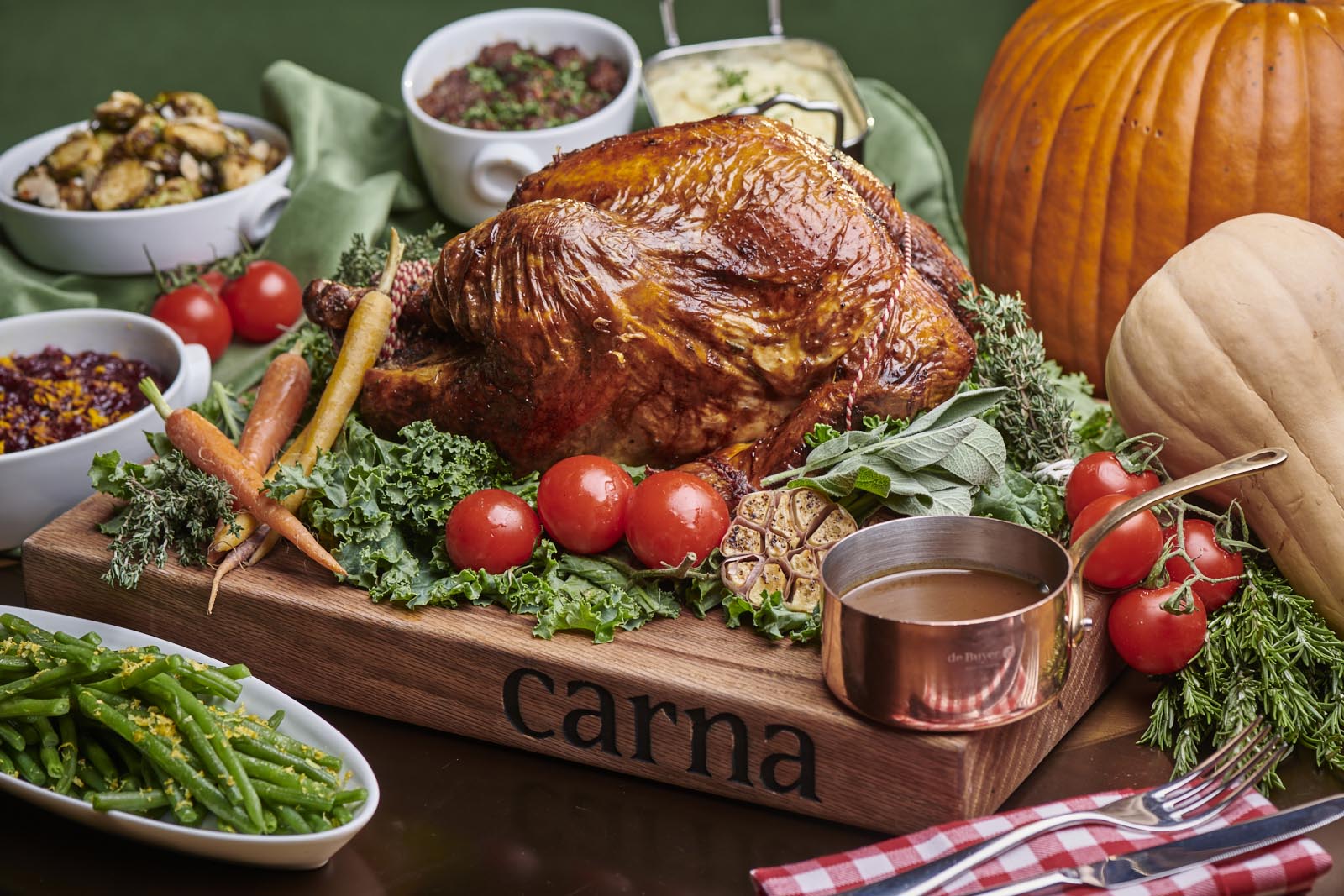 Visit the culinary concept by butcher-chef Dario Cecchini and indulge in a grand turkey feast, complete with delightful trimmings. Get into the festive spirit and toast to the season with specially crafted Thanksgiving themed beverages, as you enjoy the upbeat background music and good company.
November 25 for dinner. AED350 per person (inclusive of four-course dinner). Call +9714 607 0761. Visit Instagram.
Café Society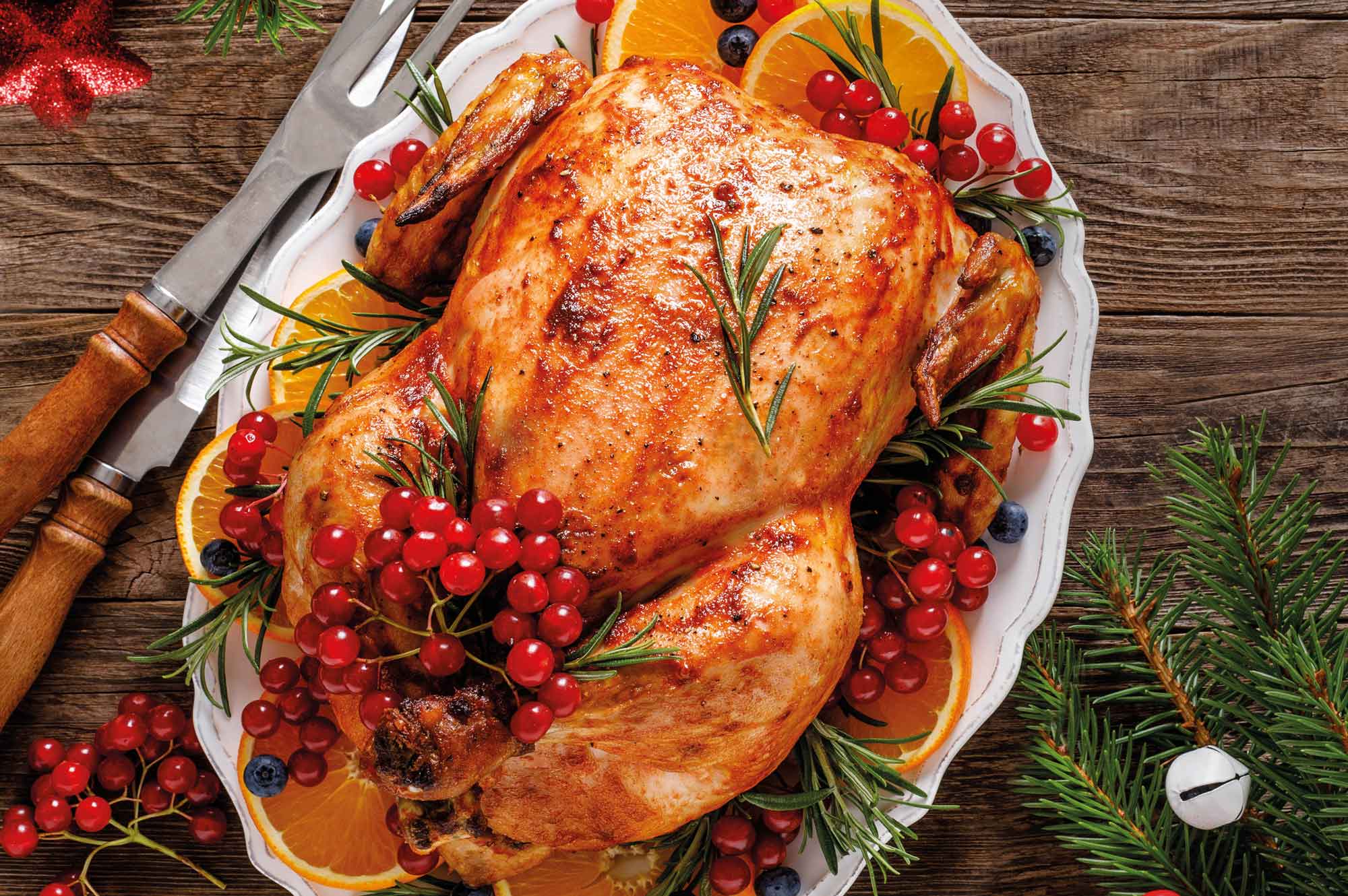 If you're looking for your festivities to include more time with loved ones and less time in the kitchen, Cafe Society is the answer. The elegant eatery has put together a special Turkey-to-Go offering that comes in three sizes and includes a complimentary dessert.
AED350 per 6kg, AED450 per 8kg for AED600 per 10kg (inclusive of complimentary dessert with each). Call +9714 318 3755 or email info@cafesociety.ae.
Mama Rita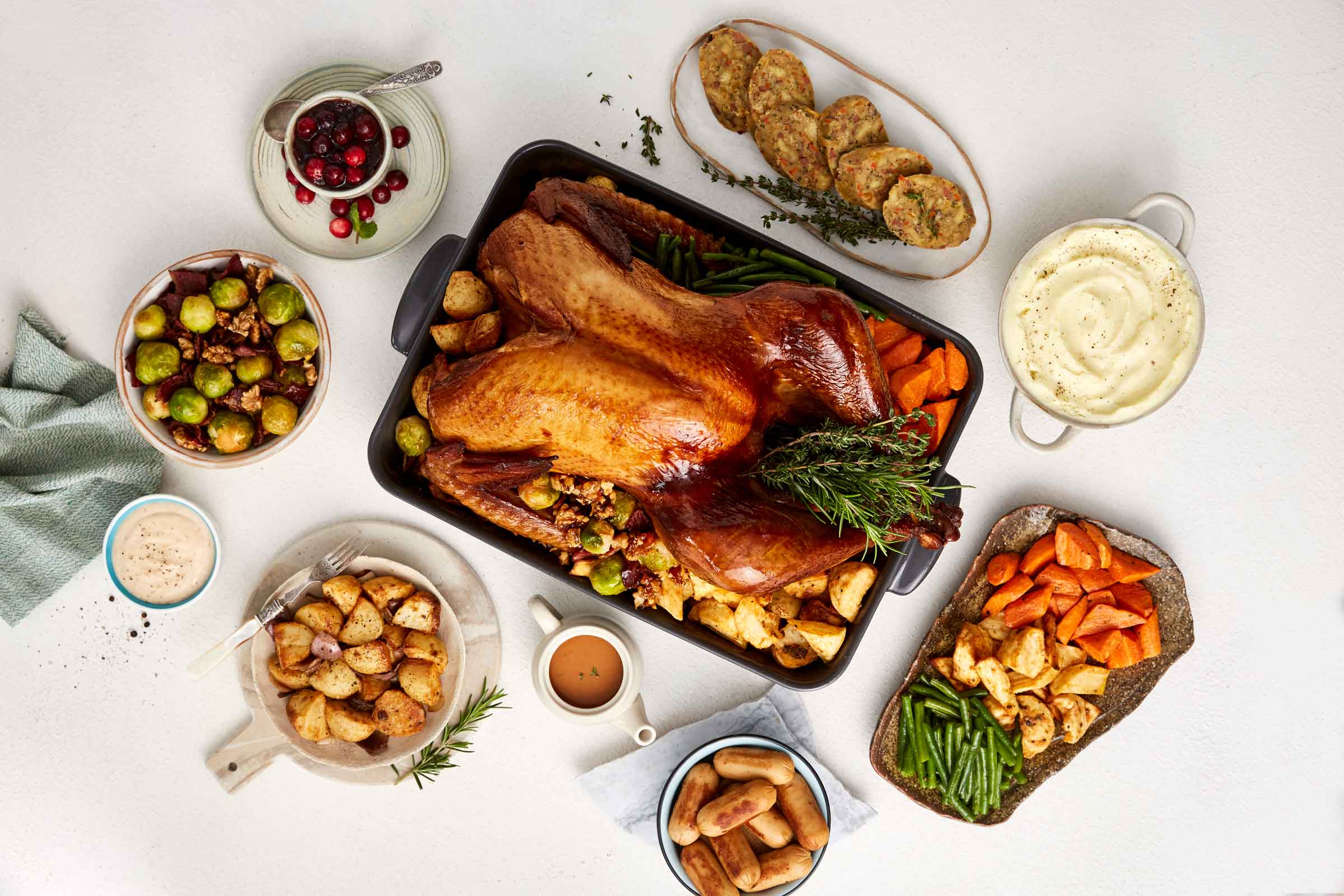 Lay the dining table with a mouthwatering banquet from Mama Rita. You have the option to pick an International turkey package, complete with turkey sausage, roasted potato, parsnip, carrots and green beans, mashed potato, Brussel sprouts, walnuts, turkey bacon and gravy, cranberry and bread sauces; or the Oriental turkey package with oriental rice, chestnuts, gravy, cranberry and bread sauces.
November 25 to December 31. International Turkey Package (serves 8) or Oriental Turkey Package (serves 8). Book your Turkey package 72 hours in advance. Order online.
Jones the Grocer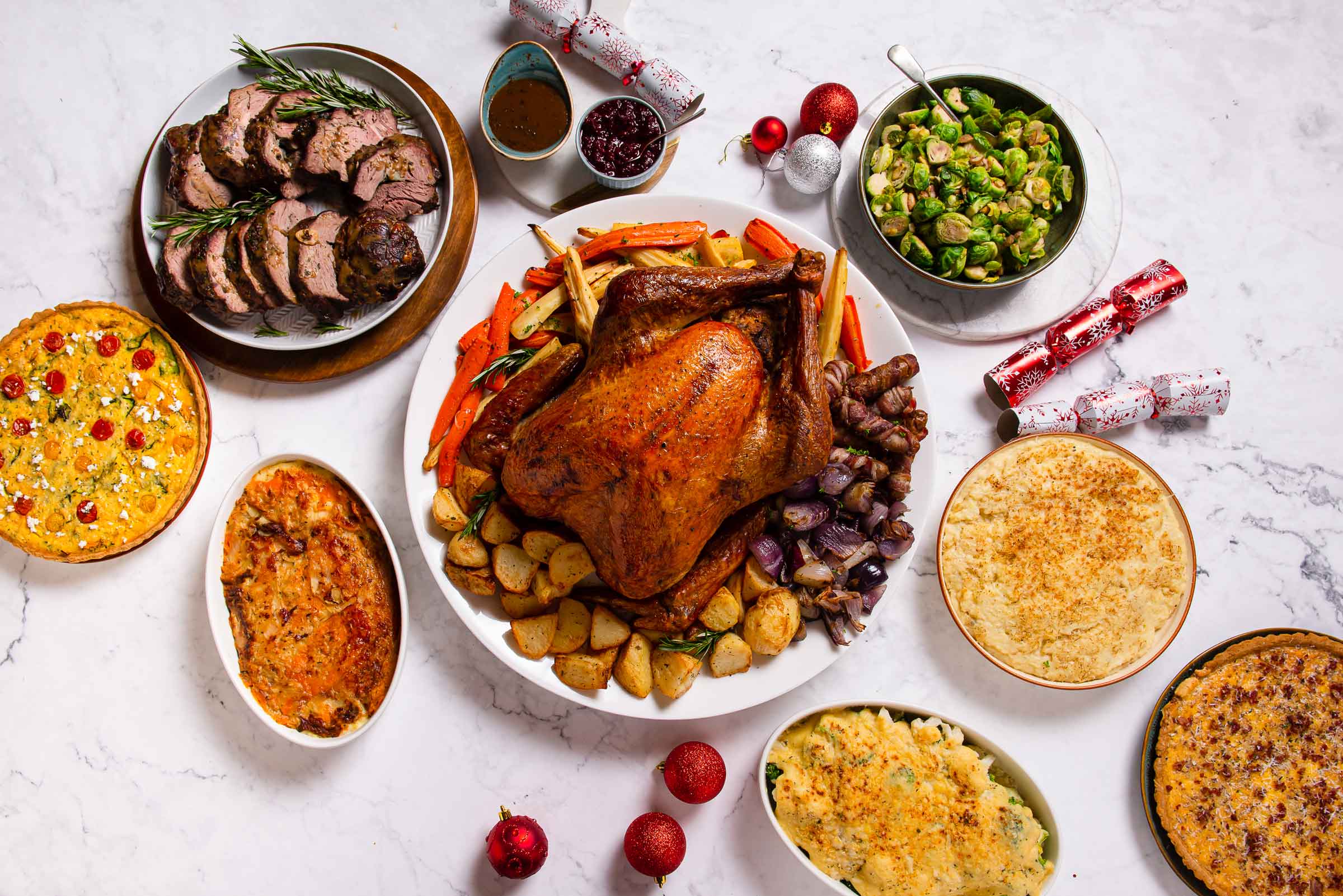 Enjoy Jones the Grocer's scrumptious Roast turkey served with cranberry sauce, juniper-infused gravy, sage and stuffing; or opt for a different choice featuring an Aussie Roast leg of lamb with roasted caramelised garlic and a rosemary-infused gravy. Sides include duck fat roasted potatoes, sautéed caramelised Brussels sprouts, gourmet sausages wrapped in beef bacon, honeyed parsnips and cauliflower cheese.
AED695 onwards (serves up to 8). Available for collection. Order online.