Sponsored: Experience daily delights at The Cove Rotana Resort, where a harmonious fusion of flavours and entertainment awaits 
Nestled in a postcard-worthy landscape, the five-star resort beckons with its thoughtfully curated range of dining experiences, promising a journey of indulgence like no other.
Basilico Restaurant
The acclaimed Basilico Restaurant offers a medley of attractions through its Happy Hour, Hops of the Day, and Ladies' Night specials. Engage in the lively spirit as Basilico's skilled mixologists craft an array of beverages, accompanied by the enchanting melodies of a live pianist. Happy Hour further impresses with half-priced beverages, inviting you to explore inventive concoctions that cater to diverse palates.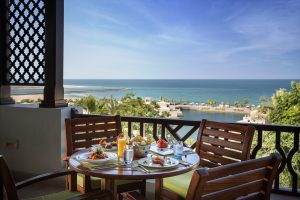 Set against the backdrop of the resort's panoramic vistas, embark on a daily journey of flavours with the Hops of the Day offering, which introduces a novel selection of handpicked hops, each designed to take you on an exploratory voyage.
50% discount on all beverages for happy hour, from 4pm-8pm and 10pm-12am. Ladies are invited to 2 complimentary beverages from 8pm-10pm.
AED9.9 on Hops of the Day, from 4pm-12am. 
Breeze Bar
Another jewel in the resort's crown, the Breeze Bar, elevates your culinary escapade with its Sushi Delights featuring expertly crafted sushi. Enveloped by the ocean breeze on Breeze Bar's idyllic terrace, a magnificent dining experience unfolds against the backdrop of mesmerising views.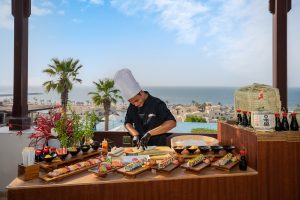 On Wednesdays, head to Breeze Bar and enjoy the Unlimited Sushi extravaganza for an unending assortment of delectable sushi creations.
Daily sushi, from 3pm-1am.
Unlimited sushi every Wednesday, from 7pm-11pm. AED149 including soft beverages. AED199 including house beverages.
Call +97150 463 7216 or email fb.cove@rotana.com. Visit website.