Sponsored: Leading British retailer Marks and Spencer teams up with award-winning Chef-Owner Reif Othman from Reif Kushiyaki to create a Moroccan-inspired Japanese speciality for Ramadan, with Marks and Spencer produce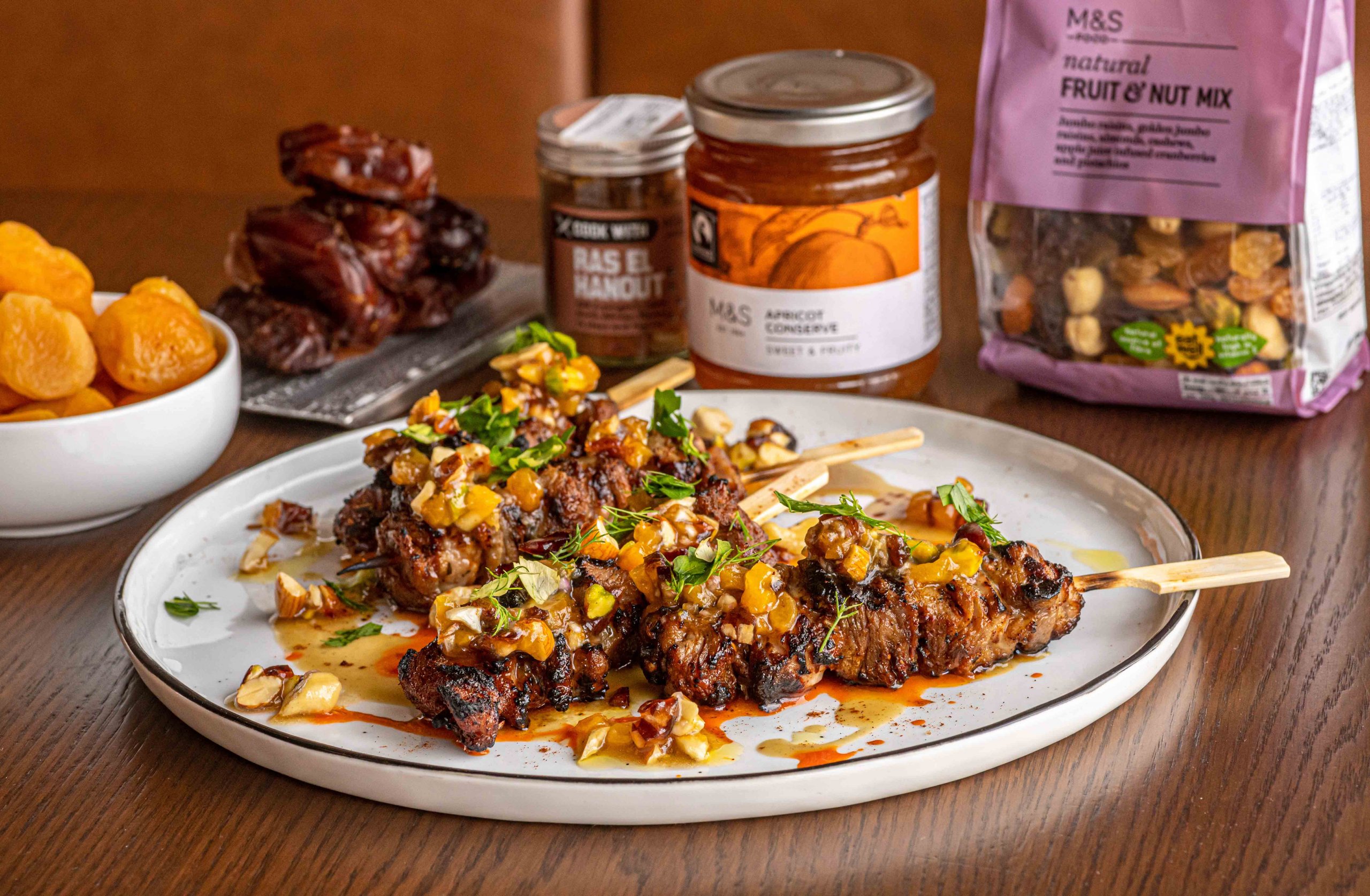 Get to know your ingredients from Marks and Spencer
The Boneless Lamb Roast consists of premium lamb joints from select known and trusted New Zealand farms, ensuring unbeatable quality, taste and traceability.
The Chef's Style Carrots are peeled, washed and ready to cook, making them a timesaver for speedy dinners.
'Cook with Ras El Hanout' comes from a range of flavoursome ingredients that makes for easy and quick cooking. This specific aromatic blend contains cinnamon, cardamom, allspice and nutmeg, lending the perfect flavour to this dish.
Fresh British Goats Milk is procured direct from UK farms that meet the high welfare standards of Marks and Spencer.
The Natural Fruit & Nut Mix is a convenient mix of blue Thompson and golden jumbo raisins, almonds, cashew nuts, apple juice-infused dried cranberries and pistachio nuts; while making for a natural source of fibre and vitamin E.
Each of these ingredients, and more, have been used in this recipe.
Moroccan-inspired Lamb Kushiyaki
Serves 6
2 pcs boneless lamb roast
1l goat's milk
10g salt
For the marination
100g gochujang
3 tbsp ras el hanout
2 tbsp coriander ground
1 tbsp fresh thyme, chopped
1 tbsp black pepper, crushed
50g honey
2 tbsp salt
For the nut and dried fruit mix
1 tbsp dates, roughly chopped
1 tbsp golden raisins
1 tbsp dried cranberries
1 tbsp cashews, roughly chopped
1 tbsp pistachios, roughly chopped
1 tbsp almonds, roughly chopped
For the relish dressing
2 tbsp shallots, chopped
5 tbsp apricot conserve
1 tbsp white balsamic
2 tbsp sherry vinegar
1 tbsp lemon juice, freshly squeezed
50g olive oil
For the lentil sauce
100g onions, chopped
10g garlic, chopped
10g young ginger, chopped
150g carrots, chopped
50g celery, chopped
1 sprig fresh thyme
1 tsp ground coriander
1 tsp ras el hanout
1 Knorr vegetable cube
Salt and pepper, to taste
500ml filtered water
For the carrot glaze
100g carrot juice
100g orange juice
Place the lamb in a deep tray, add goat's milk and salt. Brine for six hours. Remove and discard the liquid. Place brined lamb in the fridge.
Mix together all the marination ingredients with the brined lamb. Refrigerate overnight. The following day, chop the lamb in cubes or square chunks (2cm x 2cm). Use 50g per skewer and set aside.
Place the nuts and dried fruits in a mixing bowl and set aside.
Combine the relish ingredients in a bowl.
To make the lentil sauce, place a saucepot over medium heat. Sauté all the vegetables until soft and add the spices. Cook for another 2 mins, until the aroma rises. Add water and the stock cube. Let it boil and reduce to low heat. Use a hand blender to combine, until the sauce is smooth. Strain over a colander into a new saucepot.
Reduce the carrot and orange juices in half. Strain and set aside.
Grill the lamb kushiyaki skewers over a BBQ to a medium cooking temperature – 3 mins on each side. While the lamb is cooking, mix together the nuts and dried fruits with 3 tbsp of the relish dressing. Once the lamb is cooked, plate and drizzle with lentil sauce and carrot glaze. Finish off by sprinkling the nuts and dried fruits relish all over the lamb skewers.
"The high quality and diversity of Marks & Spencer ingredients, spices included, is inspiring. Lamb can sometimes have a gamey flavour which can be off-putting for some – but this boneless leg cut was very fresh with only a hint of earthiness. I also chose goat's milk, over cow's milk or yogurt for the marination, to add another flavour dimension,"
Chef Reif Othman
Selected Marks & Spencer Ramadan ranges available at Marks and Spencer stores in Dubai Mall, Dubai Festival City Mall, Festival Plaza, Mall of the Emirates, Ibn Battuta Mall, Marina Walk and The Springs Souk, as well as the M&S Food, Instashop, Deliveroo and NowNow apps.