A guide to Palm Jumeirah's culinary hotspots that received accolades by Michelin Guide and World's 50 Best Restaurants
Hakkasan Dubai
Dubai Michelin Guide 2022: One Michelin star
Since its inception in 2001 in London, the Michelin-starred restaurant has expanded across Asia, Europe, India, Middle East and the United States. Hakkasan's menu boasts authentic Cantonese cuisine with premium ingredients and traditional techniques seen in dishes such as Chilean seabass and Crispy duck salad. Starring modern ethnic decor by interior designer Christian Liaigre, the restaurant welcomes diners to a world-class culinary experience at Atlantis, The Palm.
Visit website.
Trèsind Studio
Dubai Michelin Guide 2022: One Michelin star and No.2 in Middle East & North Africa's 50 Best Restaurants 2023
Led by chef Himanshu Saini, Trèsind Studio offers a contemporary, innovative take on traditional Indian cuisine and stays true to its brand ethos by locally sourcing ingredients from organic and sustainable farmers. The sole Indian Michelin-starred restaurant in the UAE, the epicurean destination located at Nakheel Mall, offers a sublime multi-course tasting menu to entice the senses.
Visit website.
Torno Subito
Dubai Michelin Guide 2022: One Michelin star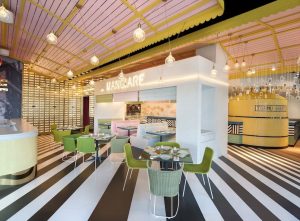 W Dubai – The Palm's renowned Italian restaurant, Torno Subito, is helmed by creative mastermind and celebrity chef Massimo Bottura. Embark on a gastronomic journey as you experience 1960s Italian Riviera and dine al fresco or at the vibrant beach cabanas. Diners can also explore the Saturday brunch and indulge in a variety of dishes, while enjoying live entertainment.
Visit website.
Ossiano
Dubai Michelin Guide 2022: One Michelin star and No.4 in Middle East & North Africa's 50 Best Restaurants 2023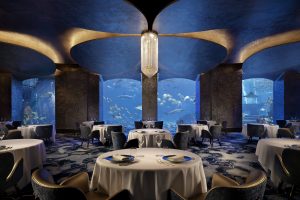 This award-winning restaurant features floor-to-ceiling views into one of the largest aquariums in the world, The Ambassador Lagoon. Brimming with distinctive culinary offerings by Chef De Cuisine Grégoire Berger, the menu draws inspiration from the oceans and seas to offer a memorable experience. The Metanoia menu, in particular, is inspired by chef Grégoire's childhood memories and dishes. Pierce Brosnan, David Guetta, Mike Tyson and Akon are amongst the celebrity diners who have visited the famed dining venue.
Visit website.
STAY by Yannick Alléno
Dubai Michelin Guide 2022: Two Michelin stars
STAY (the acronym for Simple Table Alléno Yannick) is a spectacular French fine-dining experience showcasing traditional cooking methods infused with modern culinary advancements, to display an enhanced seasonal offering of signature dishes and tasting menus. From starters such as Langoustine to the Milk-fed lamb maturated for 12 days in a salt moss cave; STAY truly is a force to be reckoned with. Keep an eye out for the monochrome dining room, impeccable service, and the exquisite Pastry Library, where diners can create their very own desserts with the assistance of the Chef De Patisserie.
Visit website.
Ibn AlBahr
Dubai Michelin Guide 2022: Bib Gourmand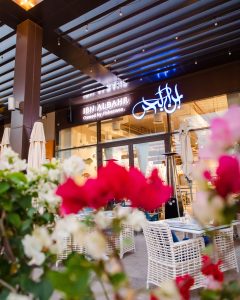 Club Vista Mare's Ibn AlBahr offers stunning ocean-side views, fresh seafood and mouthwatering dishes such as Deep-fried ladyfish, Lobster Provençal, Spicy octopus, Deep-fried crispy calamari and more for seafood lovers.
Visit website.