Sponsored: Embark on a remarkable gastronomic journey at Dinner by Heston Blumenthal, a first-of-its-kind fine dining experience in Dubai.
Brace yourself for a reimagined gastronomic menu created by the acclaimed Michelin-starred chef, brimming with dishes dating back to the 14th century and inspired by Tudor dining experiences, Alice's Adventures in Wonderland, and even savoury ice creams from the late 1800s.
Dinner showcases an unrivalled fine dining affair, complimented by an expansive terrace and floor-to-ceiling windows that offer a magnificent panorama of the sky-blaze fire and water fountain show, all while tucking into Chef Blumenthal's curated menu crafted through meticulous research into 14th-century cookbooks, resources from the British Library and King Henry VIII's Hampton Court Palace, and collaborations with renowned food historians.
Upon arrival, prepare to be awestruck by two magnificent inventions: the Pineapple rotisserie and 'The Dinner Escapement' clock. The Pineapple rotisserie not only brings the fruit's luxurious history in the late 1800s to life but also adds a storytelling element to one of the restaurant's signature dishes, the Tipsy cake.
As you watch the pineapple slowly turn on the rotisserie, powered by a complex mechanism inspired by the watchmakers of Greenwich and the royal kitchen of Tudor England, you'll be transported back in time to a world of luxury and indulgence coupled with culinary innovation. On the other hand, the remarkable clock incorporates a unique sense of "escapement" and utilizes a 16th-century pulley system that was once employed by the British Royal Court to power a clockwork spit roast in the kitchen.
Nestled within the ultra-luxurious resort Atlantis The Royal, step into a world of wonder and be captivated by an extraordinary culinary voyage at Dinner by Heston Blumenthal.
Signature dishes
Dinner's menu draws inspiration from the diverse tastes and flavours of Britain, spanning from the farmers' table to the royal courts of England. Guests can enjoy signature dishes such as Meat fruit (c.1500), Powdered duck (c.1846), Salamugundy (c.1723), Tipsy cake (c.1858), and Liquid nitrogen ice cream trolley (c.1901), each dish telling a story of its own.
Meat fruit (c.1500)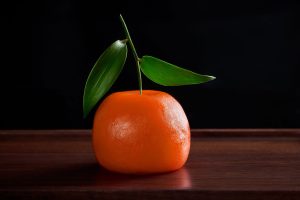 Indulge in the tantalizing Meat Fruit, a contemporary take on the medieval masterpiece Pome Dorres, also known as "apples of gold." Imagine a rich and velvety chicken pate, artfully crafted to resemble a mandarin fruit in every aspect. Achieving the dish's exceptional quality requires the expertise of three highly skilled chefs who dedicate five hours every day to perfecting each element of the multi-day recipe at the cold larder.
Salamagundy (c.1723)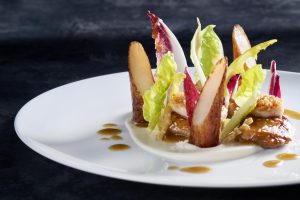 Inspired by the elaborate salads of the 17th century, the dish pays homage to the legendary dish, Salamagundy, which has graced cookbooks since the early 1600s under various forms, including salmagundi, salamongundy, sallad-magundy, and Solomon Gundy. Picture a succulent smoked confit chicken, tender beef bone marrow, tangy pickled walnuts, and braised salsify, all meticulously layered with crisp and refreshing bitter leaves and topped with freshly grated horseradish.
Powdered duck breast (c.1846)
The preparation of this highly intricate duck recipe is a prime example of the exceptional effort and attention to detail that goes into crafting each dish on the menu at Dinner by Heston Blumenthal. Drawing inspiration from the historic recipe "Garnish of braised cabbages" by Charles Francatelli, this dish is a modern twist on a classic featuring sous vide duck breasts precisely cooked to perfection and served alongside delectable duck hearts, pickled cherries, rainbow chard, braised red cabbage, and finished with a red cabbage fluid gel.
Tipsy cake (c.1858)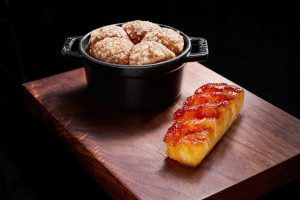 Inspired by the English court's introduction of pineapples in 1700, Heston created a delicate brioche cake doused in grape and served with slices of roasted pineapple, slow-cooked to perfection for six hours on a spit.
Liquid nitrogen ice cream trolley (c.1901)
The signature dessert is inspired by the groundbreaking work of Agnes B Marshall, renowned as the "Queen of Ices". Her book, The Book of Ices (1885), featured illustrations of an ingenious ice cream machine that could churn out frozen treats in less than five minutes, as well as the earliest known mention of using liquid gas to expedite the process. With the use of a table-side trolley, this extraordinary dessert is prepared and served, offering a unique combination of innovation and culinary mastery.
Dinner by Heston Blumenthal, Atlantis The Royal. Daily from 6pm-11pm. Contact +9714 426 2444. Visit website or Instagram.