The iconic destination has launched a chic unlicensed dining venue, Le Petit Beefbar, at a brand new location in DIFC
With multiple locations across the globe, Beefbar has extended its repertoire with Le Petit Beefbar offering a laid-back cosy atmosphere while reigning on the brand's core values. Located beside Caviar Kaspia and La Table at DIFC Gate Village, the menu boasts signature favourites and sharing-style street food such as Insane rock corn, Signature bao buns, Steak, frites and sauce with an extract of sauce Originale Relais de Paris, and Relais shawarma, served in Beefbar's famed emoji plates.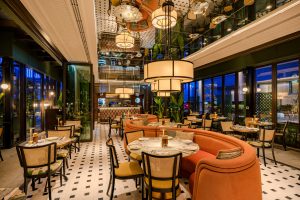 In addition, discerning diners can look forward to indulging in the delectable Marbled Chocolate Bar (a chocolate crispy biscuit with melted caramel) or The French Toast (a caramelised brioche, salted caramel sauce served with yoghurt ice cream). For breakfast, Le Petit Beefbar differs from its flagship and serves breakfast with an a la carte breakfast menu, alongside the lunch and dinner menu. Rainbow avocado on toast, Beefy benedicts, the Frenchy burger, Truffled scrambled on an English muffin, and Poached pineapple, are the breakfast menu highlights here.
Call +9714 580 2599.Visit website.