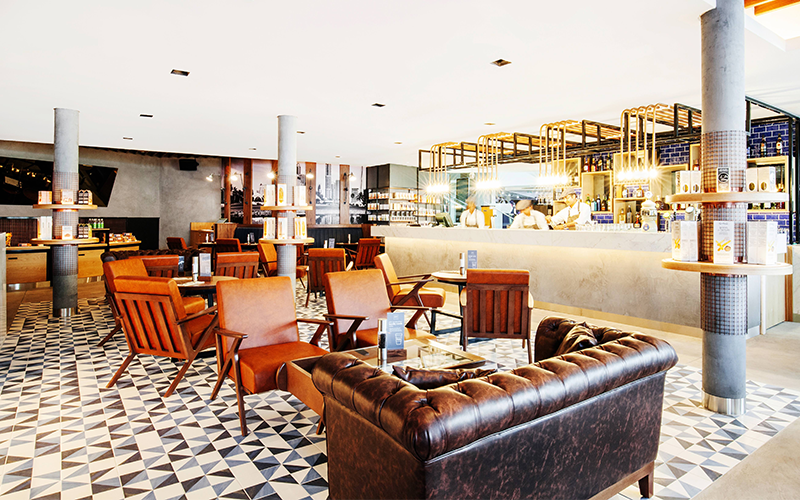 The newest branch of Jones the Grocer opened in Dubai this week. It's the first to open on a golf course and the second in Dubai to hold a license.
Alongside a range of beverages, the café will be serving up its usual eclectic mix of sandwiches, soups and light bites. There is also popular Australian dishes on the new menu, such as pan-roasted barramundi with olive oil mash and grass-fed ribeye steak with thick cut chips.
On the breakfast menu diners can enjoy a traditional English breakfast, poached eggs and asparagus on toasted sourdough, homemade buttermilk pancakes, along with a range of other Western and Arabic breakfast dishes.
The popular Australian café is the 14th to open in the UAE, and the 24th branch worldwide. Joans the Grocer first opened in 1996 in Sydney, with further branches also in operation across New Zealand, Thailand and Singapore.
The new restaurant can host up to 250 diners, has a dedicated children's play area and fantastic views across the green golf course cityscape.
Don't fancy dining in? There's plenty of takeaway dishes on the menu including sandwiches, snacks, pasteries, salads and coffees.
There's also a deli shop attached to the new café, with a dedicated charcuterie counter, stocked with artisan cheeses and premium cuts of meat. There's also a range of olive oils, tea, coffee, jams and chutneys, plus select homewares.
"Dubai Golf opened Emirates Golf Club in 1988 and as part of our 30th year celebrations, we are bringing a modern look and feel to the club and its facilities," said Barney Coleman, club manager of Emirates Golf Club.
"The brand new Jones the Grocer is an exciting addition and demonstrates our commitment to making Emirates Golf Club an inclusive place for the Dubai community; somewhere residents can come and relax, regardless of whether they play golf or not," he continued.
Details: The new branch is open daily, from 6am-10pm. For more information, call 04 417 9999 or visit Jones the Grocer. If you enjoyed this article, you may like this story on Gordon Ramsey cooking brunch in Dubai.