Sponsored: Izakaya, situated within the iconic JW Marriott Marquis Hotel Dubai, invites guests to partake in its latest, immersive Teppanyaki dining experience
Nestled within the world's tallest five-star hotel, Izakaya presents an array of delectable Japanese dishes, artisanal beverages, impeccable service, and a lively ambience for guests to savour. Whether it's a social gathering with friends or a family celebration, Izakaya's novel Teppanyaki Experience offers an ideal blend of entertainment and gastronomic delight.
The Teppanyaki Night encompasses a four-course meal, commencing with appetizer choices such as Edamame, Japanese Potato Salad, Tuna Tataki, and Chicken Karaage. The second course offers delectable options like Salmon Carpaccio, Okonomiyaki, and Seaweed Salad, followed by the third course featuring a captivating live Teppanyaki performance with a selection of Chicken, Beef, or Salmon Steak, served alongside buttered vegetables and rice.
To conclude this culinary journey, guests can choose from an assortment of Seasonal Fruits or indulge in Izakaya's Ice Cream selection.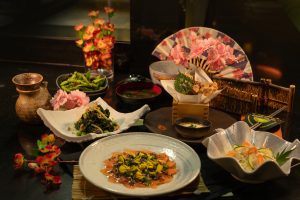 Experience Izakaya's unique live Japanese cooking presentation and delight in the flavours of Japan within a vibrant, chic setting.
Advance booking required. Every Wednesday, from 6-10pm. AED225 per person including food. AED325 per person including food and house beverages. Call +9714 414 3000 or email jwmmrr@marriott.com. Visit website.