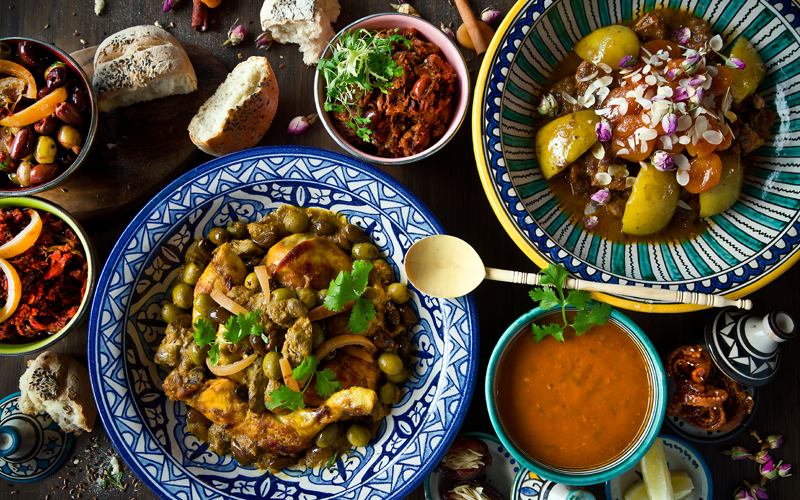 Iftars in Dubai Ramadan 2018: Here's a round up of our favourite Iftars across the city this holy month
Asateer Tent, Atlantis, The Palm
This Ramadan, the Asateer Tent returns to Atlantis, The Palm with the addition of culinary delights from celebrity chef restaurants, Gordon Ramsay's Bread Street Kitchen and Giorgio Locatelli's, Ronda Locatelli. Offering both Iftar and Suhoor buffets, the Asateer Tent will showcase dishes designed by each kitchen to pay homage to traditional Emirati cuisine, while offering a modern twist on some classic dishes. The Iftar buffet is priced at Dhs220 per person, which is inclusive of water and Ramadan juices, and Dhs110 for those aged 3 – 12. The minimum spend for Suhoor is Dhs160 per person, with food being served from 9.30pm until 11pm for groups. Guests are welcome to stay and enjoy the tent and its offerings until 3am. For more information or to make a reservation, e-mail restaurantreservations@atlantisthepalm.com or call 04-4262626.
Al Bahou, Mövenpick Hotel Ibn Battuta Gate Dubai
Welcome the arrival of Ramadan by celebrating the descent of the sun amidst the perfect backdrop of Al Bahou's stunning 88 Arabic lanterns at the Mövenpick Hotel Ibn Battuta Gate. Bring your family and friends along to 'The Gate' and indulge in a sumptuous Iftar buffet inspired by Ibn Battuta's travels through India, Italy, Morocco and Asia, accompanied by the soothing sounds of a traditional Oud player. Al Bahou's Iftar will feature a customary range of luscious dates and homemade Ramadan drinks, alongside an extensive spread of traditional Iftar dishes from all over the world. Taking place daily, Iftar is priced at Dhs185 per person. For more information or to make a reservation, e-mail dine.ibnbattuta@movenpick.com.
During the first week of Ramadan, you can download a 2 for 1 Iftar voucher to avail at participating Marriott International properties. The offer is applicable at nearly 15 hotels including JW Marriott Marquis Dubai, Renaissance Downtown Dubai and more. You can also get a neat deal with their 9+1 group booking offer where you pay for 9, and the 10th person dines for free. Visit http://ramadanwithmarriott.com to download your voucher or to find out more.
Fairuz Arabian Tent, Fairmont The Palm
Designed to surround you in the true spirit of Ramadan, the Fairuz Arabian Tent comes alive this Iftar with a delectable buffet and traditional entertainment, whilst its Arabian Courtyard offers shisha and Suhour delights until the early hours. Meaning 'precious stone', the gem-like Fairuz Tent is set within the 581-square meter extravagant Palm Ballroom that seats over 350 guests. Decorated in a modern Arabian style, guests can witness an Arabian theme with Moroccan touches, showcasing hues of white, blue, and purple with hints of turquois. The extensive Iftar buffet will provide irresistible traditional delights, indulgent desserts, lavish date displays and Ramadan inspired beverages, while Arabian entertainment will play whilst you dine, with dedicated oud player during the week and eccentric tannoura dancers every weekend. The Iftar buffet will be available at the Fairuz Tent from sunset to 9pm daily during Ramadan for Dhs215 per person inclusive of Ramadan juices. Children 0-5 years old are complimentary and 6-12 years will have 50% discount. For reservations, call +971 4 457 3457 or e-mail palm.dining@fairmont.com
IZU Brasserie & Bakery, City Walk
This Ramadan the family-friendly IZU Brasserie & Bakery will be extending its opening hours for dine in and take away. IZU Bakery will open from 7am – 6pm and IZU Brasserie will welcome guests to enjoy its a la carte offering from 11-1am. During the holy month the Brasserie will offer complimentary dates to guests breaking their fast and for those who prefer an evening at home, freshly baked goods can be picked up throughout the day to enrich any family Iftar. The menu at the unique Brasserie boasts tasty Mediterranean and Italian favorites while the Bakery offers a delectable spread of freshly baked fare, light bites and freshly brewed coffee. Call +971 4 403 3031.
Galeries Lafayette Le Gourmet, City Walk
Throughout the month of Ramadan, Le Gourmet – City Walk introduces 'My Morocco At Your Table', a concept developed by Le Gourmet Culinary Director Chef Russell Impiazzi in collaboration with Moroccan TV Presenter and Chef Hanane Ouaddahou. The menu will feature an authentic Moroccan daily Iftar for Dhs125. 'My Morocco At Your Table' set menu includes a selection of 4 starters, 3 main courses, a dessert platter, tea and house beverages. From 7pm to 2am, every day and there will be a new menu every Sunday. The program is complimented by cooking classes every Sunday where guests can learn how to recreate traditional Moroccan dishes, cooking classes throughout the week, activities for kids including storytelling with the all-round inspiring Amna Al Haddad (the first female Emirati weightlifter, a vocal advocate for mental health and one of the women featured in 'Good Night Stories for Rebel Girls'), zumba classes (taught by the first certified Zumba instructor with Down syndrome), health talks and more.
WAKA, The Oberoi Dubai
Enjoy an Iftar menu with a twist this Ramadan at WAKA. Every day from sunset until closing, a sharing-style Iftar menu will be available priced at Dhs150 per person, inclusive of traditional drinks and water. For more information or to make a reservation visit waka.ae or e-mail reservations@waka.ae.
Grand Hyatt Dubai
Share the ceremonial breaking of fast with loved ones in the majestic, yet family-friendly setting of Al Ameera Ballroom at Grand Hyatt Dubai this Ramadan, followed by a delectable mixed Sohour in the Laylati Café (Ramadan air-conditioned tent) or an exclusive Ladies only Suhoor – HIA at our Lebanese Awtar restaurant. The decadent Grand Iftar buffet will feature traditional Middle Eastern cuisine and international dishes from live cooking stations accompanied by customary hot and cold Ramadan beverages. Taking place daily during the holy month from sunset till 9pm, Iftar is priced at Dhs210 per person with soft drinks and Dhs105 for children aged 6 – 12 years, while children under 6 dine free. Call 04-3172222.
Palermo Restaurant, Dubai Polo & Equestrian Club
Discover authentic Arabic traditions and flavours in a contemporary set-up at Palermo restaurant while enjoying a family style buffet. Celebrate the breaking of fast with fresh ingredients and treats displayed in a buffet set-up. Taking place from May 15 to June 14 daily from sunset to 9pm, the Iftar buffet is priced at Dhs155 per person or Dhs80 per child. For more information or to make a reservation call 04-361811 or e-mail info@poloclubdubai.com.
Ninive, Jumeirah Emirates Towers
Ninive, the all-new dining destination at Jumeirah Emirates Towers inspired by the diversity and heritage of the Arab world, has launched special Iftar and Suhoor offers this Ramadan. Combining elements of a garden and a contemporary urban majlis, Ninive presents a menu drawn from across the Middle East and North Africa. Served at the table, in a relaxed and refined atmosphere, enjoy a set menu for Iftar served from 7pm to 8.30pm, which includes soup, cold and hot mezzes, mains and deserts, for Dhs250 per person. As for Suhoor, served from 9pm to 4am, you'll be able to choose from a special 'a la carte menu' for food, beverages and shisha, for a minimum spend of Dhs300 per person. Live entertainment, as well as games such as backgammon and cards, will add to the atmosphere. For more information or to make a reservation, call 04 326 6105 or e-mail info@ninive.ae
Amaseena Majlis, The Ritz Carlton, Dubai
Amaseena's Arabian allure finds new expression this Ramadan, at an enchanting, new Ottoman-styled Majlis at The Ritz-Carlton, Dubai. Blending traditional Arabic essences with contemporary refinement Amaseena Majlis transforms the Lou Lou'A Ballroom of The Ritz-Carlton, Dubai into a Majlis that will be serving both Iftar and Suhour throughout the holy month. An intimate ambience sets the stage for Chef Rami's culinary art, from inventive fusions such as Mandi-cooked salmon and traditional favourites flavoured with hand-roasted spices, to tagine cooked in authentic clay cookware. A lavish spread across nine food stations highlighting the best of Middle Eastern cuisine will have guest spoilt for choice, from Moroccan to Lebanon and Gulf to Persian and other international delicacies like Peruvian and Italian, garnished with a medley of oud and violin music and extensive shisha flavours during Suhour. Iftar (Dhs225 per person) will take place daily during Ramadan from sunset to 8.30pm, while Suhour (Dhs160 per person) will take place from 10pm to 2am. For reservations, e-mail dine.dubai@ritzcarlton.com or visit http://ritzcarlton.com/Dubai
Nosh, Mövenpick Hotel Jumeirah Lakes Towers
This Ramadan, Mövenpick Hotel Jumeirah Lakes Towers brings light to an Iftar buffet rich in Arabian heritage, traditions and flavours, along with a chance to win a trip to the healing waters of the Dead Sea, Jordan. The breaking of fast, graced with lakeside views will satisfy discerning palates over a luscious Iftar spread of Arabic and international favourites – from a healthy selection of fresh salads and traditional hot and cold mezzes, to meaty kebab grills and lamb ouzi carving as the centre piece. Live saj stations, refreshing Ramadan juices and a delicious spread of desserts with kunafa, mm Ali and baklava will take you on a journey through the beauty of Arabian heritage. Each Iftar diner will get a chance to win a trip for two to Jordan, inclusive of round-trip flights and a five nights' stay at Mövenpick Resort and Spa Dead Sea, Jordan. Nosh's Iftar buffet is served throughout Ramadan from sunset to 10.30pm for Dhs139 per person, including soft drinks and Ramadan juices. Kids under 6 dine complimentary, while those from 6 to 12 get 50% discount. Group reservations of 10 or more and companies can avail special rates. For more information or reservations, call 04 438 0000 or visit http://movenpick.com/jumeirah-lakes-towers
The Retreat Palm Dubai MGallery, Palm Jumeirah
The Middle East's first holistic wellbeing resort, The Retreat Palm Dubai MGallery will embrace the spirit of Ramadan during the holy month by taking guests on a serene journey to wellbeing with a unique Iftar journey custom-made to fulfill everyone's needs. Much like the bespoke retreat packages the wellness resort is famous for, during the month of Ramadan guests can choose his or her own small wellness ritual to recover, revitalise, detox or more. Available at the Vibe Restaurant and Wellness Lounge from May 15 to June 14, from 7.30pm to 9pm, the Iftar is priced at Dhs215 per person with beverages and access to the Wellness Lounge with one activity. For reservations, call 04 524 7777.
The Queen Elizabeth 2, Mina Rashid
Experience Iftar aboard The Queen Elizabeth 2 this Ramadan, as the ship opens an Arabian majlis offering a unique Iftar and Suhoor that combine traditional Middle Eastern flavours with a royal service experience. The purpose-built majlis, which is located on the ship's largest deck, can host up to 250 people and offers patrons an expansive Arabian buffet including live cooking stations, traditional Emirati dishes, fresh salads, hot and cold mezze, and abundance of desserts and a selection of classic Arabic juices and coffee. The Iftar buffet opens from sunset until 9pm and is priced at Dhs250 per person, Dhs125 for children below 12 and is complimentary for children below 4 – inclusive of buffet, soft drinks and water. The Suhoor buffet is open from 9pm until 1am and costs Dhs175 per person, Dhs85 for children below 12 and is complimentary for children below 4 – inclusive of buffet, soft drinks and water. For reservations, e-mail dining@qe2.com or call 04 526 8888.
The Bvlgari Majlis, The Bvlgari Resort Dubai
Designed as a destination to feel like home, The Bvlgari Majlis will launch for the first time this Ramadan, with the ability to seat up to190 guests for both Iftar and Suhour, and it'll also offer an intimate VIP section for 12 guests for a more exclusive private dining experience – all overlooking the world's first Bvlgari Marina and Yacht Club. From those archetypal Ramadan dishes such as ouzi, shawarma, umm Ali and an array of eight kinds of dates, to the Italian classics with gelato, Iftar will ensure guests enjoy a true fusion of classic Italy in Arabia. The Bvlgari Majlis will be open throughout Ramadan from sunset to late night. Iftar is starting from Dhs250 per person, inclusive of all food and drinks, while Suhour will offer on an a la carte basis with a minimum spend of Dhs185 per person – inclusive of soft drinks and juices selection. Children from 12 to 16 years old dine for half price and under the age of 12, on a complimentary basis. For reservations, call 04-7775433 or e-mail dine@bulgarihotels.com
Ranches Restaurant, Arabian Ranches Golf Club
For a family-friendly Iftar this Ramadan, head to Ranches Restaurant offering lakeside views over the fairways. Savour Arabic delicacies in fresh, light and contemporary interiors and enjoy a specially created menu of international dishes served specially through the blessed month from May 15 to June 14, daily from sunset to 8.30pm. Priced at Dhs159 per person, Dhs85 for children between 6 – 12 years, and children below 5 years dine with compliments. For more information, call +971 4 360 7935 or e-mail restaurant@arabianranchesgolf.ae.
Ostro, dusitD2 Kenz Hotel Barsha Heights
This Ramadan, step inside the bright and spacious Ostro restaurant at dusitD2 Kenz Hotel in Barsha Heights for a hearty Iftar buffet, created with whole food ingredients and locally sourced fresh food that is further embellished with nutritious greens. In line with its focus on wellbeing, Ostro's Iftar menu consists of selected nourishing soups, cold mezzeh, cold appetizers, salads, hot mezzeh, Mediterranean and Arabic main courses, as well as traditional Emirati dishes. Also included are live cooking stations, and desserts that include both traditional Arabian delicacies and gluten-free pastries and puddings. Taking place daily during Ramadan from sunset to 9pm, Iftar is priced at Dhs139 for buffet, drinks, coffee and tea, children under 6 eat for free (max 2), and children from 6 to 12 years old eat with 50% discount. For reservations, call 04-5672246 or e-mail ostro@dusitd2kenz.com
If you enjoyed this article you might like this Iftar lamb and dates recipe.