As the Festival of Lights approaches, these dining spots are offering a delightful array of experiences to mark this joyous occasion
Bombay Borough
Bombay Borough, the Indian bar and eatery in DIFC, presents an exclusive four-course set menu. This special menu offers a culinary journey through India's diverse festive traditions. It includes innovative renditions of popular Indian snacks, creative starters, and delightful main courses, catering to both meat lovers and vegetarians. Diners can also enjoy a selection of Diwali-inspired desserts.
November 11 and 12. Available all day for AED225 per person. Additional AED25 per dessert.
Swissôtel Al Ghurair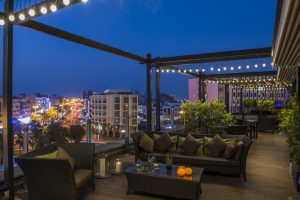 Guests can immerse themselves in the grandeur of Diwali with a culturally enriched dining experience at the restaurant, where numerous earthen lamps, or diyas, create a magical ambience. A delectable assortment of beloved dishes awaits, featuring Pani Puri, Samosa, Tandoori Chicken, Butter Chicken, and Dal Tadka, all impeccably accompanied by freshly baked tandoori rotis and naan. To add a sweet note to the celebrations, delight in handcrafted Indian delicacies like Rasmalai, Jalebi, and Gulab Jamun, set amidst a selection of international desserts. For a unique and refreshing twist, quench your thirst with our special Cardamom Lassi and Jaljeera Soda.
November 12, from 7-11pm. AED129 for adults and AED65 for children between 6 to 12 years, while children below 6 years dine for free. Email dining.alghurair@swissotel.com.
Republic Adda Bar & Lounge
Experience a delightful Diwali brunch like no other at Republic Adda Bar & Lounge, seamlessly merging age-old traditions with contemporary flair. Our expert chefs have artfully designed a menu that infuses modernity into traditional Indian culinary treasures, presenting an array of delectable dishes that pay homage to the rich cultural tapestry of the Indian subcontinent. While tucking into sumptuous flavours, let the enchanting rhythms of captivating Indian dance performances elevate your festivities.
November 12, from 1:30-4:30pm. AED185 per person for soft beverages; AED285 per person for house beverages; AED375 per person for bubbly; and AED450 per person for premium beverages. Call +971 55 314 7523 or email DXBB_Republic@Hilton.com.
Taj Exotica Resort & Spa, the Palm, Dubai
Chef Sonu and his skilled culinary team have curated a three-course culinary masterpiece that assures an extraordinary sensory adventure with fragrant spices and luxurious textures. Each dish is a vibrant celebration of the Festival of Lights, taking your taste buds on a captivating journey of flavours, colours, and aromas.
AED275 per person. November 10th to 13th, from 12-3pm and 6-11pm. Call +9714 275 4444.
Bombay Bungalow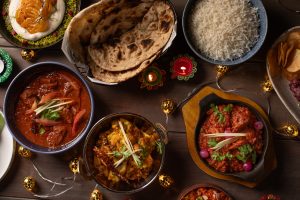 This special Diwali menu showcases an array of delectable tikkas and sweets, offering a diverse range of options to cater to every palate. Guests can enjoy indulgent starters like Kandhari Murgh Tikka and Panchpuran Mahi Tikka, followed by flavorful mains like Tawa Murgh and Adraki Aloo Gobhi, with the choice of steamed rice or a bread basket. The meal culminates with delightful desserts such as Gajar Halwa and a Diwali Dessert Sampler, promising a sweet and authentic Indian dining experience.
November 6-13. Call 800 692 8779.