Here's a quick rundown of all the new Dubai restaurants that will be unveiled in 2023.
Looking to try a new culinary destination this year? You've come to the right place. From outdoor restaurants to magnificent lounge spots, here's everything you need to know about what's upcoming in the region and where to dine.
OKKU
OKKU, the renowned Japanese restaurant, bar, and lounge, reopens its doors at Marriott Resort Palm Jumeirah, promising a remarkable culinary journey serving contemporary Japanese cuisine with an international twist. The restaurant showcases a magnificent 20-meter Sushi Bar & Robata Grill, showcasing impressive culinary skills, while the OKKU Lounge offers a relaxed setting with luxurious seating, a glamorous bar, and a vibrant ambience.
Opened: June 2023
Contact +9714 666 1566 or email reservations@okkudxb.com. Visit website.
La Petite Ani
La Petite Ani presents an enchanting extension of the homegrown restaurant, La Maison Ani. Situated on the ground floor of DIFC – Gate Avenue, this casual dining concept radiates the essence of Parisian street-style allure. Guests can relish in delectable French-Mediterranean cuisine in a relaxed café setting or opt for takeaway. Drawing inspiration from French cuisine and culture, La Petite Ani embodies Chef Izu's passion for exploring diverse destinations and the cultures that have influenced his culinary creativity. La Petite Ani warmly welcomes guests throughout the day, offering an enticing menu that encompasses a wide range of delectable dishes, including beloved favourites from La Maison Ani. Tuck into a wide selection of egg dishes, freshly baked pastries, refreshing teas, and organic-roast coffee for a delightful breakfast experience.
Opened: June 2023
Robata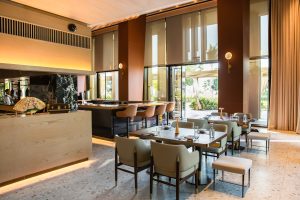 Robata, derived from the Japanese term 'robatayaki' which means 'fireside cooking', offers Dubai's first omakase yakiniku menu featuring authentic Japanese techniques prepared by award-winning master chef Kenichi Osato. The restaurant showcases a marvellous flare show accompanied by an extensive à la carte menu brimming with signature dishes such as the charcoal-grilled Nodoguro rice, Atsugiri wagyu tongue, Zaru soba with Italian truffle, and the world's highest-ranking A5 Kobe Beef certified with a marbling score of 12.
Opened: May 2023
Call +9714 556 6689.
Jixiang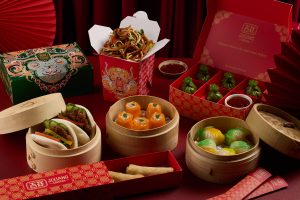 Located at Jumeirah Beach Residence, feast on exquisite Chinese dishes including delectable dim sum, noodles, and bao buns with a beachfront dining experience and uninterrupted views of Ain Dubai. Don't miss signature dishes including Crispy sweet corn dim sum, Prawn har gau, Chicken & prawn wong tong, and Crispy duck bao bun.
Opened: March 2023
Visit Instagram.
The Black Sheep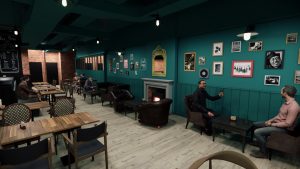 Introducing a new venture by 1720 Hospitality Group, The Black Sheep will soon be launching at the Pullman Hotel Jumeirah Lake Towers. As an independent British gastropub, the venue offers an inviting and refined dining experience featuring a ground-floor bar, a dining area, and an outdoor beer garden. Guests can indulge in delectable dishes including Chicken liver pâté, Crayfish & shrimp salad, Chicken schnitzel with mustard mash, Bramley apple crumble, and the classic Eton mess.
Opened: June 2023
Call +971 58 599 5664.
Nola Bijou Bistro & Bar
Nola Bijou Bistro & Bar is now open in The Square at City Walk, welcoming guests to a relaxed atmosphere and unique ambience inspired from 19th century New Orleans. With a blend of French influence of the era and a hint of Caribbean energy, the contemporary menu features Spanish, French, and Cajun flavours including dishes such as Burrata topped with anchovies, Char-grilled broccoli with macadamia and cabbage oil, and Wagyu beef tartare. Guests can further expect live performances by the Nuvo Soul band complemented by high-energy jazz and soul beats from the resident in-house DJ.
Opened: May 2023
Visit Instagram.
Parker's
Homegrown concept Parker's has launched its flagship branch at Dubai Mall, bringing a laid-back retreat inspired by a picturesque Parisian park and offering unparalleled views of the Burj Khalifa and The Dubai Fountain. Tuck into signature delights including Za'atar benedict (za'atar croissant, labneh mix, avocado, egg, hollandaise sauce), Shrimp taco pizza (grilled shrimp, Rocca, mozzarella cheese, avocado, feta sauce), Truffle sando (sliced tenderloin steak, Rocca, cheddar cheese, truffle sauce), and Seafood risotto (shrimp, mushroom, slow-cooked saffron rice, creamy lemon sauce). Don't miss the iconic Matilda cake!
Opened: April 2023
Call +97158 626 0395.
La Sirène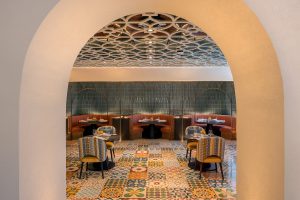 La Sirène is a new urban lifestyle eatery serving authentic Lebanese cuisine with a modern twist, inspired by the urban seaside of Beirut. The menu offers a variety of mezzes, breads and wraps, salads, fresh fish and seafood, meats with signature dishes featuring Lebanese seabass sayadiyah, Tiger prawns, Avocado salad, and Crisp red snapper. The restaurant's music and entertainment will transport guests to various eras of Beirut and offer an authentic home-away-from-home atmosphere.
Opened: April 2023
Call +9714 604 2220.
Reef & Beef
Explore a gastronomic voyage with Reef & Beef, the newest culinary destination in the bustling Downtown Dubai, offering an extensive assortment of seafood and succulent cuts. Diners can opt for intimate indoor seating or al fresco seating, delighting in the breathtaking vistas of the city, as they embark on a flavourful expedition that is sure to tantalize their tastebuds. Revel in the restaurant's signature Nebraska beef, Dover sole, the Patagonian black cod, and plenty more.
Opened: April 2023
Email reservations@reefandbeef.ae.
Above Eleven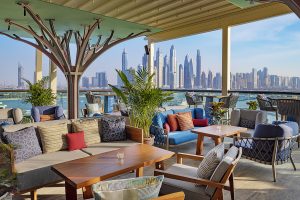 Above Eleven Dubai has opened on Palm West Beach, offering a Nikkei experience that combines Peruvian spirit with Japanese precision. Inspired by the original Bangkok concept, the restaurant boasts lush green spaces, an expansive terrace, and stunning views of the city skyline, Arabian Gulf, and Ain Dubai. The Latin-American menu with a Peruvian influence features a range of dishes, including Hamachi truffle ponzu and Anticuchos made with chicken, black angus, octopus, and portobello. Traditional Peruvian dishes such as Arroz con pato and Red snapper a lo macho are also available. The robatayaki grill offers signature Patagonian toothfish and vegan options, while the dessert menu includes favourites such as Lava cake with lucuma sauce and Matcha cheesecake with black sesame ice cream.
Opened: March 2023
Visit website.
SFUMATO Gastro Atelier
Nestled within Opus Tower designed by Zaha Hadid, the all-day dining venue led by Michelin-recognized chef Alena Solodovichenko presents a bold, elegant gastronomic adventure. Look forward to an unforgettable experience for meat lovers to vegetarians alike with menu highlights including Stracciatella with beetroot, Сauliflower risotto with scallops and caviar, and Сeleriac with caviar.
Opened: March 2023
Call +97158 101 5649.
Gallery 7/40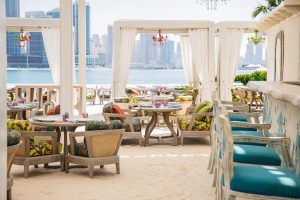 Gallery 7/40 has opened its doors at Palm West Beach, offering a unique blend of sculpture, photography, and painting coupled with culinary arts. The restaurant's modern design honours the creations of Catalan modernist architect Antoni Gaudi and showcases custom-made mosaics, Murano glass chandeliers, and artwork from renowned artists across the globe. Tantalize your tastebuds with Spanish and Greek dishes that include Tomato arancini, Smoked eggplant, Tirokafteri (Feta cheese, red pepper, olive oil, and kalamata olives), and Grilled prawns, amongst other dishes.
Opened: March 2023
Call +97158 550 0740.
Ría Restaurant & Beach Bar
Palm Jumeirah's renowned hotspot Club Vista Mare is now home to a new beach club, taking over the previously occupied Breeze Beach Grill. Look forward to an upscale dining experience indoors or outdoors and tuck into its extensive Mediterranean-inspired menu showcasing an in-house fresh fish counter with signature highlights that include the Crab salad, Red shrimp tartar, Aubergine fritters with feta and maple gochujang dressing, Lobster with salsa Americana, and Grilled yellowtail with citrus bagna cauda relish. Spend the morning at the destination's outdoor smoothie bar or enjoy a relaxing sundowner accompanied by lively beats from the resident DJ.
Opened: March 2023
Call +97154 398 9898.
Fouquet's Dubai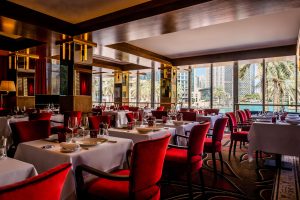 Calling all discerning diners to the scene as Fouquet's Paris has launched another outpost here in the UAE. Renowned for its iconic venue in Paris on Champs Elysées and locations across New York, Cannes, Courchevel, Saint Barth and Abu Dhabi, the destination will now be at the heart of Downtown Dubai on Burj Plaza. Fouquet's Dubai hosts a unique four-story experience featuring a pâtisserie, bar, brasserie, private dining room, and a rooftop terrace offering unparalleled views of the iconic Burj Khalifa and Opera District. Look forward to signature dishes such as Frog legs with Poulette sauce, Roasted veal carpaccio with red beetroot mousseline and Raifort cheese, and a Sea bass filet with white butter sauce, white cabbage and dill, amongst other specialities.
Opened: February 2023
Email reservations-dubai@fouquets.com.
Cucina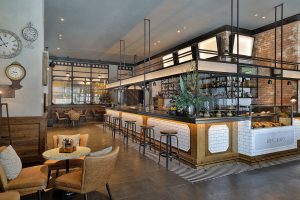 Introducing the newly opened Italian restaurant Cucina on Palm Jumeirah, where contemporary-chic trattoria meets old-school charm and a modern aesthetic. Open from breakfast until dinner, the dining venue located at Marriott Resort Palm Jumeirah, Dubai, is home to a range of distinct offerings showcasing an espresso and aperitivo bar, handmade pasta specials, naturally sweetened soda infusions, pan-fried pizza, and more. Make a pit-stop at the Gelateria by Cucina, where guests can find a rainbow array of the silkiest, most tantalisingly flavoured gelato, all house-made.
Opened: February 2023
Visit website.
PINCODE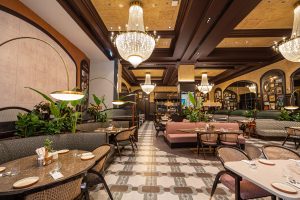 Nestled within Dubai Hills Mall, PINCODE by celebrity Chef Kunal Kapur offers a pan-Indian menu brimming with culinary delicacies such as Dhokla chaat, Pressure cooker chicken curry, Malai prawns, Chicken biryani, Lamb seekh tawa masala, Falooda, and Old Delhi style bread pudding.
Opened: January 2023
Call +9714 566 1424.
Sumosan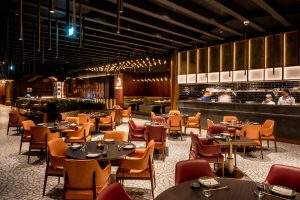 The award-winning contemporary Japanese restaurant has finally opened its doors at The Dubai EDITION, with several global outposts across London, Riyadh, Doha, Berlin, and Moscow. The upscale dining venue offers a laid-back atmosphere with Japanese artistry and craftsmanship, courtesy of the low-hanging lights, warm earthy tones, brass accents, and Japanese-inspired motifs on the ceilings.
Opened: January 2023
Call +97156 169 6901.
Bungalo34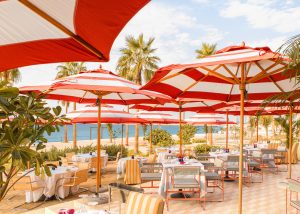 Embark on a unique Mediterranean experience at the beachside Bungalo34 by Tashas Group. Nestled within Pearl Jumeira Island, the dining venue is open for breakfast, lunch, and dinner, serving menu highlights that include Lobster Benedict, the Three Cheese Souffle Omelette, Bungalo Seafood Porridge, Grilled Calamari, Lobster Thermidor, and plenty more dishes inspired by Greek, French and Italian cuisines.
Opened: February 2023
Visit website.
Mi Amie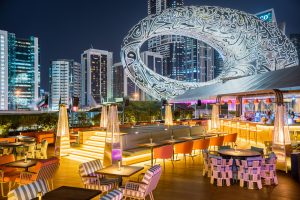 The all-new DIFC dining venue, Mi Amie, offers a fun blend of Miami, Afro-house, tribal and Latino vibes accompanied by unrivalled views of the iconic Museum of the Future. The delectable menu features Asian Peruvian nibbles such as Wild seabass carpaccio, the A5 wagyu sushi rolls, Boston lobster spring rolls and a Deconstructed raspberry and litchi tart served with Lemon Sorbet.
Opened: January 2023
Call +9714 330 0000. Visit Instagram.
Aamara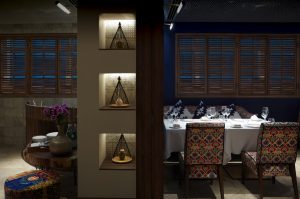 The award-winning restaurant group behind Trèsind and Michelin Star restaurant Tresind Studio has unveiled a new fine dining concept at VOCO Hotel Sheikh Zayed Road. Embark on a culinary journey at the licensed venue, following the ancient trading route from the Far East to the Mediterranean region, known today as the Silk Route. Paired with a selection of in-house crafted beverages, the menu features cold, small and big plates, and sides that span meat, fish and vegetarian dishes. Highlights include Chaat sundae, Crispy okra with Turkish yogurt and pickled onion relish, Bang bang cauliflower with saffron yogurt and black truffle, Ratatouille samosa, and Stuffed pimento with Egyptian rice and buttermilk curry, to name a few. Finish with Baklava complemented by pistachio crémeux and rose gelato, or the decadent Shahi tukra with saffron ice cream, amongst other treats.
Opened: January 2023
Contact +97152 573 5723.
Mott 32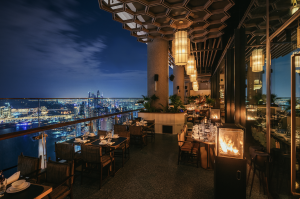 The highly anticipated restaurant celebrates the culture and food of modern Hong Kong, with traditional Chinese cookery and culinary innovation. Sited on the 73rd floor of the Address Beach Resort, JBR, the venue features an impressive indoor area, an open-air terrace with stunning views across Bluewater Island, JBR, Palm Jumeirah and the Ain Dubai, and a menu brimming with renowned specialities such as the Apple Wood roasted Peking duck (taking 48 hours to prepare and carved tableside), Jasmine flower smoked black cod, dim sum and curated concoctions.
Opened: January 2023
Contact +9714 278 4832.
Rüya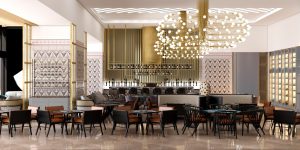 Mayfair's popular Anatolian cuisine, Rüya London, is heading to The St. Regis Dubai, The Palm in 2023. The destination offers a welcoming atmosphere, a front-row view of the open kitchen, and traditional Anatolian cuisine for guests to embark on a fine culinary trip through the terrains of Western Asia's Anatolian region, from the shores of the Mediterranean to the banks of the Black Sea.
Opened: January 2023
Visit Instagram.
VIRTUE Lounge & Club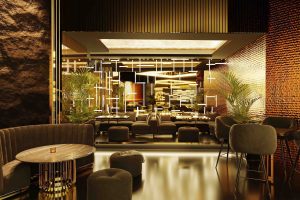 The latest nightlife destination, VIRTUE Lounge & Club, is set to open soon at the JA Ocean View Hotel in Jumeirah Beach Residence with chic interior décor and LED lights displayed across the restaurant. The menu boasts international cuisine such as Sake nigiri with royal Baerii caviar and gold leaves, Roasted bone marrow and Malaysian chilli cod. Prepare for themed nights including Ladies Night, Afro Beat Nights, and weekend brunches headed your way.
Opens: Q1 2023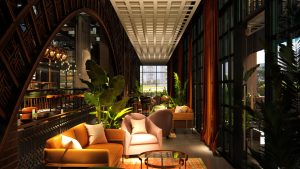 The Tap House will unveil its third branch in Dubai Hills Business Park and offer a wide array of crafted concoctions, a decadent European-inspired menu, and live entertainment. The restaurant will also host Nan's British Roast and a sports watch party for friends and family to visit.
Opens: Q1 2023
Visit website.
Keep checking this space for all the new Dubai restaurants opening in 2023.