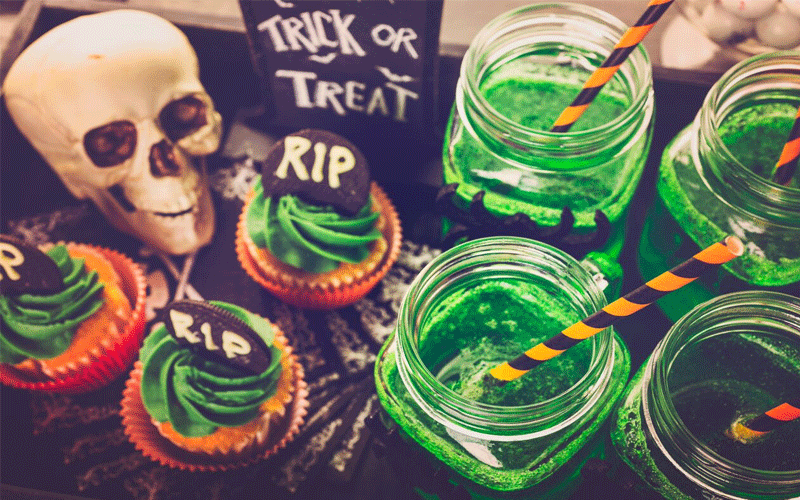 BBC Good Food Middle East has put together a run down of the best foodie venues on offer this Halloween…
The night of the living dead brunch – Saffron, Atlantis
What's on offer? Saffron's popular Friday brunch will take a frightening twist this weekend with zombie-themed drinks and dishes. There will be a best costume competition, with the stakes set high – Freddy Krueger, Hellraiser's Pinhead and Jason Voorhees will reward those with the best costume, whilst a resident DJ thrashes out some Halloween classic tunes.
Best for… an adults-only Halloween brunch
Details: AED550 per person (21 years and above). Friday 28 October 2016. For more information and booking +971 4 426 2626.
Harvest with Virgin Atlantic – Reform Social and Grill
What's on offer? The last day of the three-day festival will a family-focused Halloween extravaganza. There will be a special spooky performance from the magician, Magic Phil, along with face painting, a bouncy castle and plenty of delicious barbeque food on offer.
Best for… a family friendly outdoor Halloween party
Details: AED 50 entry to Harvestfest for adults, kids are free. 2.30pm, Saturday 29th October 2016. For booking reservations@reformsocialgrill.ae reformsocialgrill.ae
Fume, Pier 7 and Downtown Dubai
What's on offer? This Halloween Fume will be hosting a costume competition for adults, as well as serving up a delicious themed menu. Highlights include a delicious Pumpkin & Spinach salad, salted walnuts and feta cheese, Spiced" Spookcakes" with butterscotch sauce and a Ricotta and Pumpkin ravioli, roasted shrimps, brown butter & sage sauce.
Best for… a delicious autumnal, Halloween themed menu
Details: Prices vary, menu served 31 October and 1 November 2016. For booking : fume-eatery.com
Halloween evening brunch – Senara
What's on offer?
Palm Jumeirah's seafood restaurant Senara is holding an evening Halloween –themed brunch this Friday. Expect classic Halloween tunes, a fancy dress competition, games along with a delicious and fun Halloween menu (dishes called Black Bun Burgers, Googly Eyes and Severed Fingers are on the menu!) along with special Halloween-themed beverages.
Best for… a Halloween-themed evening brunch
Details: AED 299 for food and house beverage package. 8pm-11pm, Friday 28th October 2016. For bookings and more information call +971 4451 6460
American Backyard Halloween BBQ – Perry & Blackwelder's
What's on offer? This Halloween Perry and Blackwelder's are holding an all-American fun-filled Backyard Halloween BBQ. The Halloween feast will include delicious tender chicken, homemade USDA Prime Beef burgers, jumbo hotdogs, Cajun-style shrimp and adult-only Halloween drinks.
Best for… an all-American themed Halloween BBQ party
Details: AED 65 for children, AED 295 for adults (with house beverages). 12pm-4pm, Friday 28th October 2016. For more information and booking: +971 4 432 3232 / restaurants@jumeirah.com