Array
(
    [ref_id] => 994
    [photo_file_name] => Untitled-1.jpg
    [posted_by] => Sophie Voelzing
    [text_display] => <p>
	 <em style="background-color: initial;">Here's a rundown of the best places to watch the 2018 FIFA World Cup in Dubai. You'll find some great offers available at these venues. </em>
</p>
    [cover_photo_file_name] => Untitled-1.jpg
    [slider_images] => 
)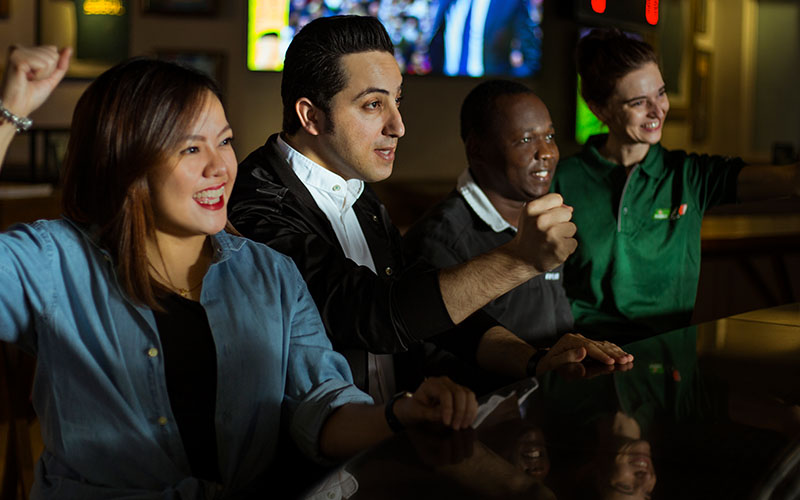 Here's a rundown of the best places to watch the 2018 FIFA World Cup in Dubai. You'll find some great offers available at these venues.
Nezesaussi Grill Dubai Marina, Address Dubai Marina
Watch live telecasts of all the FIFA World Cup 2018 games on 24 super-size screens as you savour a menu with football-themed sections, enjoy half-time entertainment and lively tunes on the jukebox. For Dhs99 per person, enjoy two drinks, chicken wings and a special World Cup-themed gift. Available from 4pm to 2am daily until July 15, 2018. Call 04-8883444 or email dine@emaar.com.
Atlantis World Cup Fan Zone, Atlantis, The Palm
There is no need to miss a moment of the match as the free-to-enter Atlantis World Cup Fan Zone is family-friendly, with a specially designated area for 'mini-fans', aged six and above. Fun for supporters of all ages, the tent features a painting station, where patriotic fans can have their country's flag painted onto their face. A great place to grab a bite to eat during the match or at half-time, the fan zone will offer delicious stadium-style snacks from the countries taking part during each game.
Split into two zones; The Stadium is the main viewing arena for die-hard fans, whereas The Bench offers a more chilled out vibe, featuring a gamer's corner with PlayStations. In addition to providing the best match coverage, the tent is the place to party on all key game dates, with a host of live entertainment acts, activities and merchandise giveaways. Call 04-4262626 or e-mail fanzone@atlantisthepalm.com
Operation: Falafel
Operation: Falafel, the authentic Levant street-food restaurant, celebrates the World Cup with a game to ensure the fans keep winning. Kick off by downloading and registering on the Operation: Falafel app. Fans can then declare their support for their team and win rewards like complimentary golden crispy Falafels, discount codes and special gifts. Exclusively available during the World Cup, guests can bite into a party size Champions Meals that include 10 Shawerma Pitas and five soft beverages, priced at Dhs175. Visit operationfalafel.com
The Scene, Pier 7
The Scene is getting ready for the ultimate football season ahead, with the launch of its indoor summer garden, and there's no risk of rain on this pitch. Hop over the hedge to view the games on five huge screens, sit back on the benches and enjoy easy access to the exclusive bar where you can enjoy five bevvies for Dhs175 all month and three bar bites for Dhs99. Alongside this football focused area, The Scene launches the exclusive WAGs area for keeping the girls entertained while the boys are distracted with the football. Giving them the option to spend their 90-minutes sipping away on unlimited drinks and savouring two courses for only Dhs149. Call 04-4222328.
Football Central, Emirates Golf Club
Embrace the hype of the season head on, and enter the vibrant atmosphere at Football Central; Emirates Golf Club's dedicated FIFA World Cup venue. The purpose-built two-story lounge features a giant centre screen and 12 extra-large screens alongside a score of fan-favourite snacks and beverages. Snack platters with chicken wings, sliders, potato croquettes, mixed satay and nachos will be on offer along with house grapes, hops and spirits. Football lovers can choose from a number of packages starting at Dhs474 for a snack platter and eight beverage vouchers. Call 04-4179999 or e-mail emiratesdining@dubaigolf.com
The Roost Rotisserie, Al Wasl
During the World Cup, The Roost Rotisserie, a homegrown, family-friendly concept will offer a special food package that's ideal for sharing with a group of family and friends at home. Specially designed for large groups, the package includes three slow-roasted chickens, six sides and six in-house crafted sauces – all for Dhs350. Sides include the likes of creamy herb mashed potato, crunchy oregano sea salt fries, wood-fired corn on the cobb and much more. The Roost only uses hormone-free and antibiotic-free ingredients. Call 800-ROOST (76678). Also Available on Deliveroo.
Azure Beach, Rixos Premium
Cool down with four draft beverages and keep your energy up with quesadillas and calamari all for Dhs230 for two people. Guests can also enjoy free shisha refills during the game, which will be shown on two large screens in the lounge area. Call +971 52 777 9472 or e-mail info@azure-beach.com
Andiamo, Grand Hyatt Dubai
Watch the World Cup from Andiamo Italian Restaurant and Bar, where the terrace will be transformed into a dedicated fan zone where football fans can get together, enjoy a bite from an extensive football themed menu with dishes including a T-bone steak and burger al Italiana', while washing them down with drinks specials including buy 5 and get 1 free, or buy 14 and get 4 free. Call 04-3172222 or visit dubai.grand.hyatt.com.